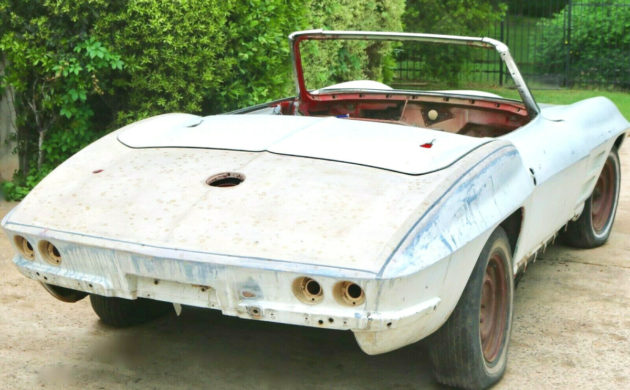 This 1963 Chevrolet Corvette convertible is selling at no reserve, and despite being a near completely bare roller, the seller indicates it is largely rust-free and an ideal candidate for either a complete restoration or a resto-mod creation. The body is sitting on the original frame, but there is very little attached to it in terms of mechanical components – some suspension parts are included, but there's no other major equipment to note. Of course, the all-important VIN plate and clear title are included. Find it here on eBay with bidding just under $8K and located in Austin, Texas.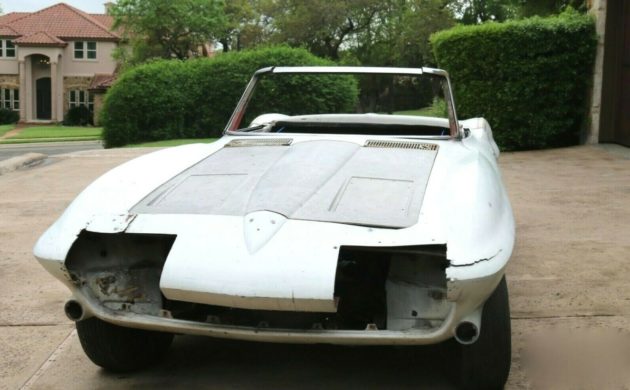 The body looks surprisingly straight for a car that is completely stripped. The seller says the car is completely solid, with the exception of the nose – but doesn't indicate what, exactly, gives him pause about the front clip. The listing also says that the body panels are believed to be original to the car, which makes you ask the question as to why this convertible was hacked up in the first place. It seems like a decent car, and even if the original engine imploded, wouldn't it have been worth a rebuild or replacement mill, rather than stripping it down and leaving it parked?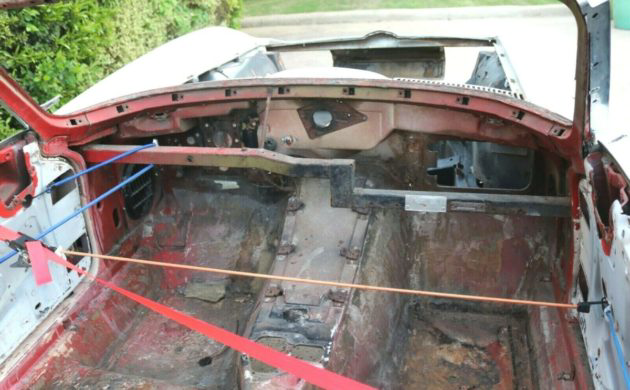 Or, was it a restoration project that never got past the disassembly phase? It does have that feel, as the Corvette looks like it was carefully stripped down, as opposed to an accident victim that was parted out in phases by a former owner or bodyshop. It does beg the question as to where all the original components disappeared to if it was intended to be a restoration project, but sometimes, projects like this are simply abandoned by the owner and there's no chance of grabbing the removed parts. I wonder what the final tally will be once the door panels, dash, carpeting, seats, and more are all tracked down.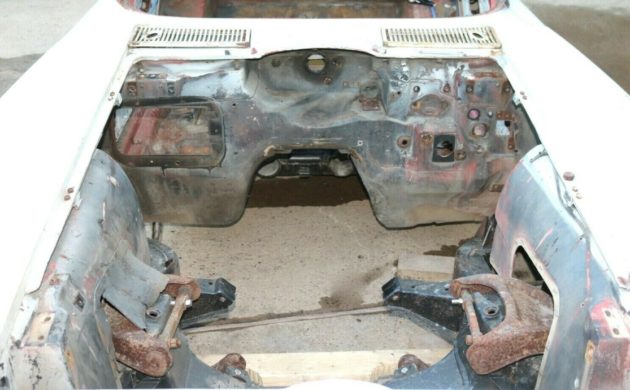 So, this empty engine bay begs the question as to what would you drop into it? While the purists will want to see this Corvette nursed back to OEM health, so much is missing that I doubt you'll ever see much of a return on investment on the basis of selling it as a sympathetic restoration project. With this much bare canvas to work with, I would absolutely choose the restomod route as the preferred option. Lower it a bit, throw on a roll bar, some period-correct wheels – yes, this could be a very slick summer cruiser that doesn't require the painstaking chore of setting it back to original specifications. How would you bring it back?
Have something to sell? List it here on Barn Finds!