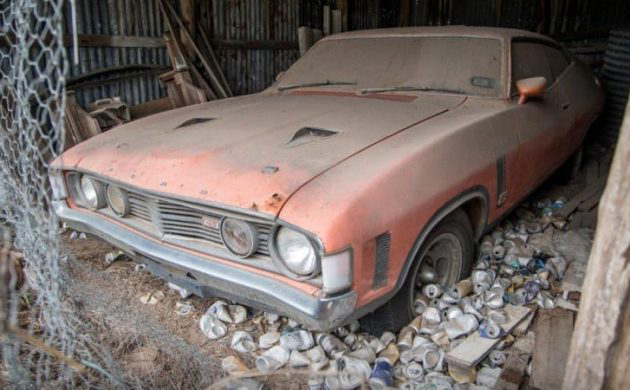 Residing in this disused chicken coop amongst a pile of discarded aluminum drink cans is one of Australia's most prized muscle cars. It has occupied this spot since 1988. The recent passing of its original owner means that it is set to be offered for sale via auction. This first photo was supplied via the Car Advice.com.au website and showed the state that the vehicle was in when it was unearthed. It has now been dragged out of hiding but remains virtually untouched. If you would like to become the next owner of one of Australia's unsung heroes, then you will find the Falcon listed for sale here at Grays Online. The significance of this vehicle can be gauged by the auction estimate. It is expected that this Falcon will sell for somewhere in the vicinity of A$200,000 (US$143,000).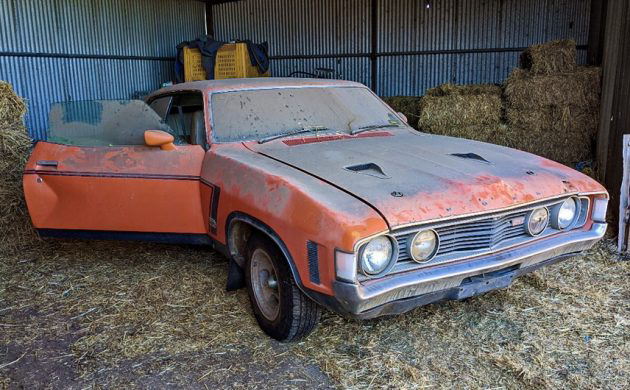 To understand the significance of this classic, you need some background into why it was created in the first place. Australia's premier motorsport category has been, for decades, touring car (or saloon car) racing. In the late 1960s and early 1970s, this form of racing was being conducted under two sets of disjointed rules. The Australian Touring Car Championship was open to a category called Improved Production Touring Cars. These rules allowed American Trans Am spec cars to compete, including vehicles like the 1969 Ford Mustang Trans Am, along with some ring-ins like a ZL-1 equipped 1969 Camaro. For Australian manufacturers, the "big ticket" was the annual long-distance race held in October at Mt Panorama, Bathurst. This race was conducted under Series Production rules, meaning that the cars had to be essential as they rolled off the showroom floor. Engines could be blueprinted, a roll bar and racing harness were permitted for safety, and brake lining material was free. However, the rules were so strictly enforced that even the interior had to remain stock and untouched. Forget about body-hugging racing seats. If your car was produced with a bench seat, that's what you ran. Working under the philosophy of "win on Sunday, sell on Monday," the big three manufacturers, Ford, GM-Holden, and Chrysler (Valiant), began to produce special vehicles in a bid to secure a Bathurst win. These cars became increasingly more potent, and by 1972, all three manufacturers had high-performance muscle cars under development. Series Production rules stated that each manufacturer had to produce and sell 250 examples of a particular model to be eligible to compete under the rules. As a result, Ford was well advanced with the production of the Falcon GTHO Phase IV.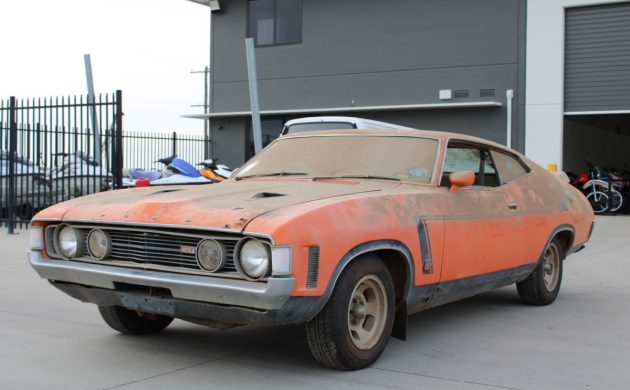 At the same time, Holden had developed a V8 Torana, and Chrysler had a Charger (either a 340ci V8 or a Hemi 6, depending on various sources) waiting in the wings. Disaster struck on June 25th, 1972. Motoring journalist Evan Green released an article in that day's Sun-Herald newspaper. He revealed that these cars were ready to go into production and that Australia was going to find itself with a brace of 160mph supercars on the roads. He raised the specter of these cars finding their way into the hands of inexperienced drivers, and the potential consequences if things went wrong as a result. Various levels of the Australian Government immediately reacted to this story, and fearing the loss of government supply contracts, all three manufacturers canceled the production of these cars. The whole Australian production muscle car scene had managed to unravel in a mere five days. At the same time, the Confederation of Australian Motorsport, the governing body in Australia, announced the end of Series Production racing at Bathurst. They chose to replace these rules with a category called Group C Touring Cars, which allowed greater freedoms for aftermarket modifications.
However, Ford found themselves left with all of the mechanical components for their production run of Phase IV Falcons, and no market to sell them into. They devised what was referred to as a Regular Production Option, or an RPO. This was known as RPO 83, and you had to "be in the know" to be aware that this pack even existed. It meant that the Phase IV components found their way into regular production XA Falcon GTs, and very few people beyond the Ford dealers themselves knew that they existed. A total of 250 cars were built, with the split being 130 in 4-door sedan guise, and the remaining 120 being the 2-door Hardtop variant.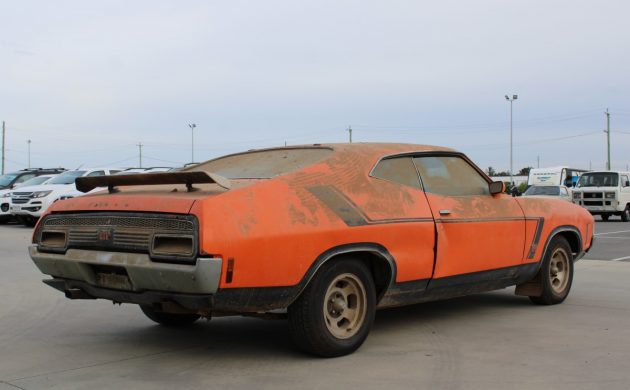 This 1973 Falcon GT started life as a dealer demonstrator in Spring Hill, Queensland. The owner purchased the vehicle from the dealership, and as a Ford enthusiast, he knew exactly what he was buying before he even walked through the door. The car is basically as it rolled off the production line, but with a few dealer-added options. The original wheels were replaced with these aftermarket items. The Black "hockey-stick" stripes were added, along with orange cloth inserts on the seats. Adding further to this car's rarity is its color. It is known as McRobertson's Old Gold. This was a corporate color for a chocolate bar manufacturer and was a color that only ever found its way onto the panels of three XA Falcon GT Hardtops. This is the only RPO 83 Falcon to wear that color, which makes it a genuine 1-of-1 car. The owner used the Falcon regularly until rising fuel and insurance costs forced him to park it in the chicken coop in 1988. He received numerous offers to purchase the car, but couldn't bring himself to part with it. Fate intervened, and the owner sadly passed away in December of 2019. As a result, the Falcon is now being offered for sale to settle his estate.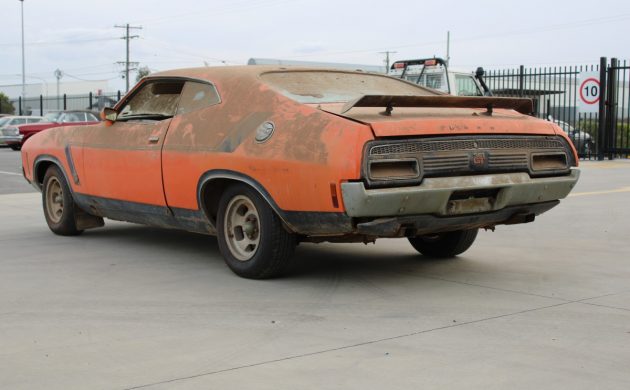 Before we delve more specifically into this car, I am sure that there are more than a few eagle-eyed readers who find the shape of the vehicle to be very familiar. This series of the Falcon Hardtop underwent two updates throughout its production run, and it was the first of these updates that you would recognize. The XB Hardtop was used as the basis for the black Interceptor in the Mad Max films. So, well spotted! These early Falcon Hardtops were known for some rust issues, and while this car does have a few, it is structurally sound. There is rust in the rockers and some of the bolt-on panels, but addressing these problems should be easy. It isn't clear whether there is any significant rust in or below the filler panel below the rear window. This is a real rust trap in the Hardtop, but new replacements are available. Thankfully, all of the GT-specific items like badges and the grille are intact, although the driving lights are damaged. The body also has its share of dings and dents, but all of these are repairable. One of the interesting items is the rear spoiler. Australian readers will have seen plenty of these bolted to the backs of Falcons in their time, but this one is very different. The majority that we see on cars today are reproduction items made from either fiberglass or plastic. This one is a genuine Ford component and is made from aluminum.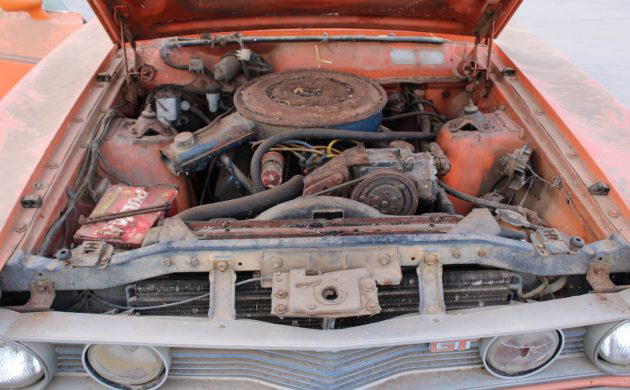 Now we get to the crux of what made the RPO 83 so special. The standard Ford Falcon XA GT was equipped with a 351ci Cleveland V8, producing an official 300hp. The RPO 83 also featured the Australian-cast Cleveland 4V, but with a few notable additions. The original cast-iron exhaust manifolds made way for a set of RPO-specific tubular HM Headers. The standard carburetor made way for a 750cfm Holley unit. There was also a special oil pan that was designed to assist cool the engine oil, as well as to prevent oil surge. Ford still listed the output as being 300hp. Yeah, right! This Falcon is a numbers-matching car, and all RPO 83 vehicles were fitted with a 4-speed Top Loader transmission, as well as the bullet-proof 9″ rear end. In this case, it is a Detroit Locker, specifically designed for racing. The previously mentioned Group C regulations allowed for modifications to be made to the base vehicle. However, specific components still had to be produced and sold in certain numbers to be eligible. The Detroit Locker was one of those components. There is a famous shot taken from the inside of this car's predecessor, the XY GTHO Phase III. The photographer is looking over the driver's shoulder, and the speedometer needle is showing a genuine 145mph…on a public road! This series of the Falcon was significantly more sleek and aerodynamic than its predecessor, so the potential for it to achieve 160mph in standard form was a real possibility.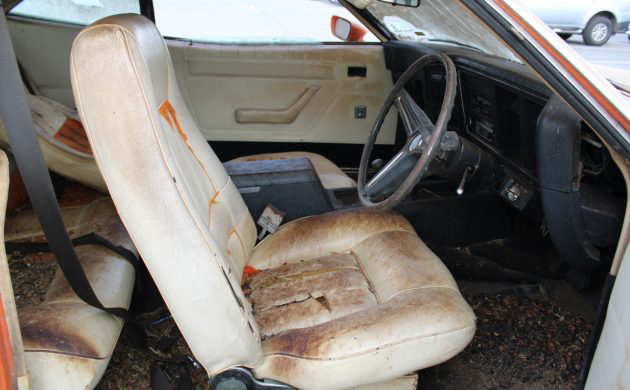 When you look at the Falcon's external appearance, it is no surprise to find the interior has also deteriorated markedly. Its time in the chicken coop has allowed a family of enormous rats to take up residence, and I suspect that it doesn't smell particularly inviting in there. These have made a meal of some of the interior trim and the wiring. Therefore, it is going to take a lot of work to return it to its former glory. You can still see traces of the dealer-fitted orange cloth upholstery, which was applied over the original vinyl. I'm in two minds about this when it comes to undertaking a restoration. While it would be nice to return it to the state it was in when the original owner purchased it, the idea of returning it to factory specifications holds a great deal of attraction. The good news here is that despite its dilapidated state, the interior is original and unmolested. All of the factory options remain intact, and they tell the story of a car that was designed to be comfortable, as well as being seriously fast. Tinted glass is a rarity in the XA Falcon, but this car features it. Also, it is equipped with air conditioning, power windows, and a factory radio/8-track player.
That Sunday in June of 1972 changed the Australian muscle car scene forever. Cars like the Falcon GTHO, the Holden Monaro GTS, the Holden Torana XU-1, and the Valiant Charger R/T E49, had become halo cars. They were the poster child for manufacturer performance cars and were designed to win the race at Bathurst. Winning that race was part of the pathway to winning the race in the country's showrooms, but that all ended with the Supercar Scare. The Australian motor industry still managed to produce some exceptional cars like the Torana A9X, but the glory days were over too soon. This car represents Ford's attempt (successfully) to slip one last true muscle car under the radar. Once restored, this is an Australian production car that should be capable of hitting 160mph and covering the ¼ mile in 14 seconds. It's paint color, and its option combination has produced a truly unique car. I would love to see the vehicle restored because, after 32-years in a chicken coop, it has earned that right.