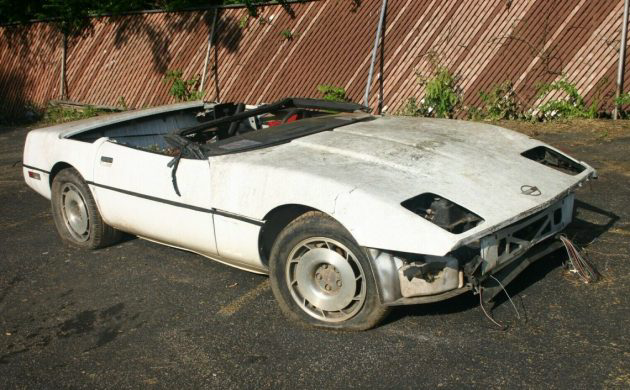 C4 Corvettes are a dime a dozen, but how many are offered with a custom chopped top? OK, this is about as far away from custom as you can get, as it's merely the case of a bored previous owner cutting off the coupe roof in an effort to create their own convertible. This is an odd choice, considering it's not particularly hard to find a factory-build Corvette convertible from this generation, but it's too late to go back now – and it has the additional insult of having been rolled at one point in time. Now, it's likely just a good parts car, as evidenced by the one bid to $200 here on eBay. There is a reserve price, and it remains unmet.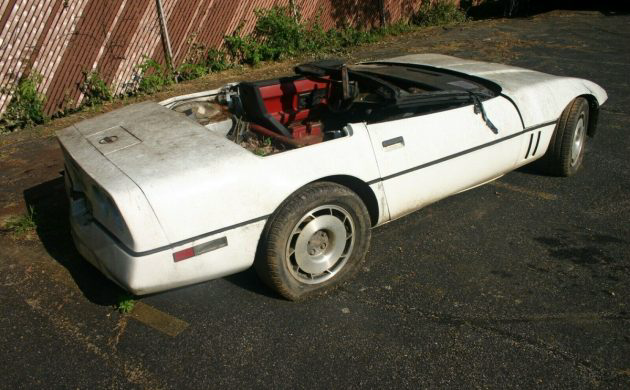 It's a strange car to put a reserve price on, as the value is limited to the engine and transmission, and the interior is likely trashed as it's been left outside with no roof. The shame of it is that the red interior is a nice look for this era of Corvette, and not seen as often as the other interior schemes. Regardless, this angle shows us that chopping off the roof wasn't perhaps done to a high level, as the remaining stub of the B-pillar isn't exactly flush with the body. What else do you get? Four factory wheels, bumpers, hood, lenses, and deck lid, all of which look re-usable. However, the condition of those panels is questionable given the roll-over.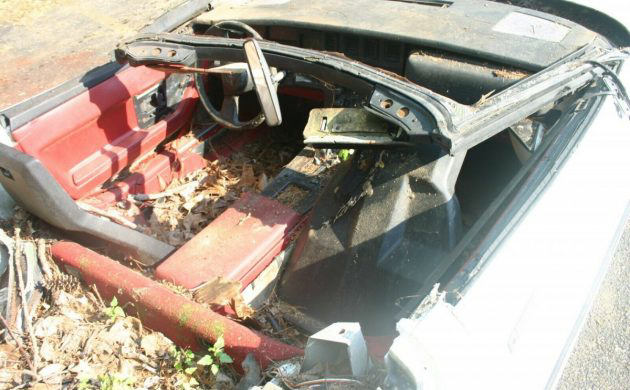 The smashed windshield frame tells you the roll-over wasn't kind, and I hope the owner that performed the conversion incorporated some means of protection in the event the car was inverted. The missing passenger seat is a concern as if it was removed due to being damaged in the accident. Maybe the Corvette was nearing parts car status when the roof was removed, perhaps due to another accident where the hardtop or glass panel roof was damaged, and removing it was the only way to keep its ongoing use viable. Regardless, it's been parked for ages, based on the scale of dead leaves found inside.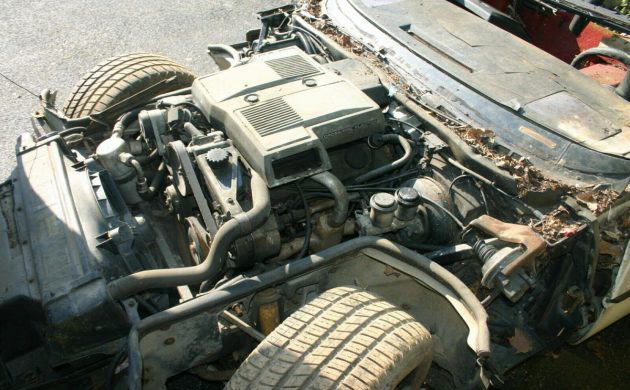 Now, the seller does point out that the C4 suspension is desirable for resto-mods and other projects, and certainly the engine – while not particularly exotic – can be used for other projects. The listing states that the frame was not believed to be tweaked in the accident and that the Corvette was rolled and parked in 1994. The Buy-It-Now price is $2,000, with the reserve number presumably (hopefully) below that by a fair amount. There's loads of C4s sitting in junkyards in better shape than this, and they rarely seem picked over when I spot them. What do you think the best use of this chopped and rolled Corvette would be?