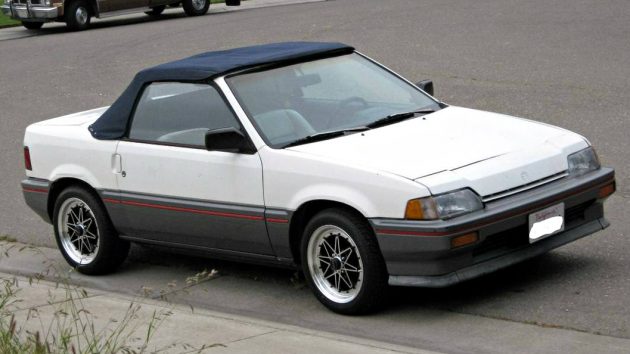 We have all seen and remember the Honda CRX as a small and short wheelbase hatchback. Fun, with a charming character, and often a thrill on back roads and tracks, the Honda CRX is a Legendary Japanese classic. But how many of you have seen a Straman CRX? Built by Richard Straman Coachworks in the 1980's, Straman offered a few convertible conversions for other vehicles. Only 300 or so CRX convertibles were built, and this car is # 73. Scarce, rare, and in nice condition this oddball is offered for $6,000. Check out this neat convertible here on craigslist out of San Francisco, California.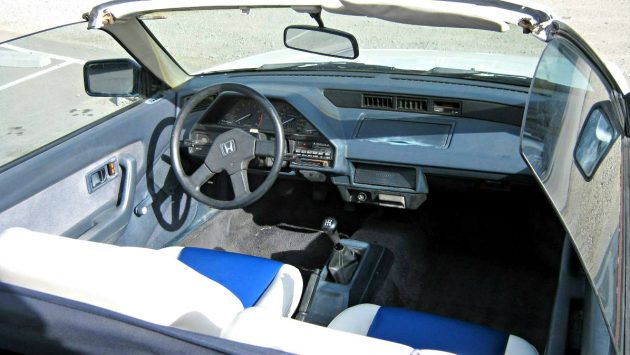 The interior of the first generation CRX is simple, and has a lot of plastic. The simplistic interior is actually very charming and very well laid out with the climate controls within quick reach. Overall the interior looks good but there are a few things to point out. The dash cubby is faded, but is easily replaceable. The seats are likely beat up and need a recover, but there are some seat options available that would look great, and offer comfort. There is a radio delete plate, but there is apparently a blue tooth enabled radio mounted somewhere inside. The ash tray is faded, but again a quick thing to replace. One thing in particular that catches my eye is the gauge cluster. The owner mentions this CRX is an "HF" model which is a High Fuel economy car. The gauge cluster that is installed is a standard DX cluster. There are no photos of the engine, but I am guessing this is either an HF or a DX car. The HF engine is a 1.5l 8 valve CVCC engine that has little in the way of power but offers excellent fuel economy. An engine conversion is quite simple as there are loads of options available thanks to a few mainstream companies.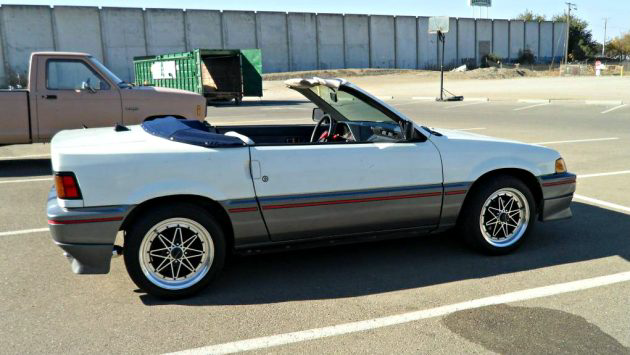 First Generation CRXs have become rather scarce along with other Hondas of this vintage. Sadly many parts are no longer available for the 84-87 civic, and the aftermarket has dwindled as well. One thing that always seems to surprise people unfamiliar with these cars is that the front fenders, nose panel, side skirts, and lower door caps are a composite plastic. Once flexible when new, this OEM plastic seldom survives without cracking or disintegrating. Looking over this car reveals no cracked plastics, and an excellent paint finish. The only item that stands out is that someone has either added, or removed a rare Honda optional Aero kit. The Aero kit front and rear bumper additions can be seen in some of the photos and some without. The appropriate Aero kit side skirts are not seen in any of the photos, but they are standard 86-87 CRX SI side skirts. Although this Honda doesn't have a tremendous amount of power, anyone who has ever driven one of these cars will tell you that it is an experience worth exploring. Have you ever seen one of these rare coach built Honda CRXs?