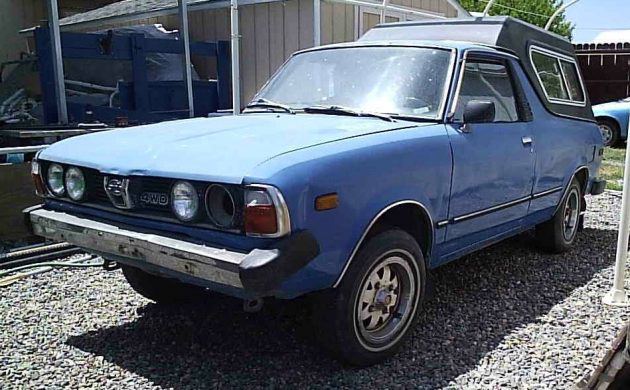 Subaru Brats are getting increasingly hard to find; I have a saved-search notification for new listings on Craigslist in my area and sometimes go months at a time without a new one popping up, let alone a decent one worth buying. Maybe that's because this guy was keeping them all to himself! Thanks to Rocco B. for the tip on this lot of five Brats, which can be found for sale here on Craigslist and is only being offered as a bulk deal. The seller is located in Grand Junction, CO and is asking $4500 for everything.
The seller's five Brats are all first-gen models and range from 1979-81 model years. They are in varying states of disrepair, with none currently fully functional but the seller indicates that two of them are close. The best of the bunch is the blue 1980 (third in the gallery above) which has just had a lot of recent, documented work done but needs a carb rebuild and other TLC before it's road-ready. The rest need a good bit more work, but all appear to be conceivably restorable and have clean CO titles.
Many of the Brats have had their engines pulled, and are sitting in their respective beds; all except for the red '81 come with the 1.6L EA-71 flat-four engine (red truck has the 1.8L). Some were removed in running condition but certainly, all will probably warrant a rebuild before they go back in.
Probably the best thing about this guy's collection is the literal mounds of spare parts, which are all included in the price. A lot of this stuff is pretty tough to find, and you could probably wheel and deal with other Brat owners online to trade for any other stuff you may need to fix these up. I've always had a soft spot for these cute little trucks and would love to own one someday; sadly, I don't have room for five! If you've got the space and the time to fix these up you could probably do pretty well for the price.