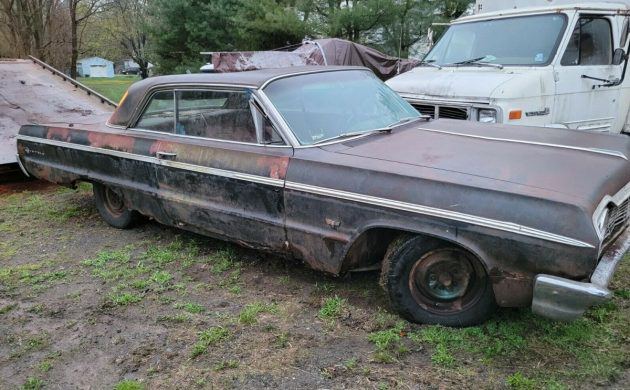 Chevrolet would have a big year in 1964 with the launch of the new mid-size Chevelle.  Ironically, the Chevelle had similar dimensions to the full-size 1957 Bel Air. Quieter news was that the Impala Super Sport (SS) would become a series of its own with special trim to set it apart from the rest of the big Chevies. This '64 SS has been laid up for years in the same location and needs a full restoration. Not for the faint of heart, this project car is in Linden, New Jersey and available here on eBay where the most recent bid is $3,652.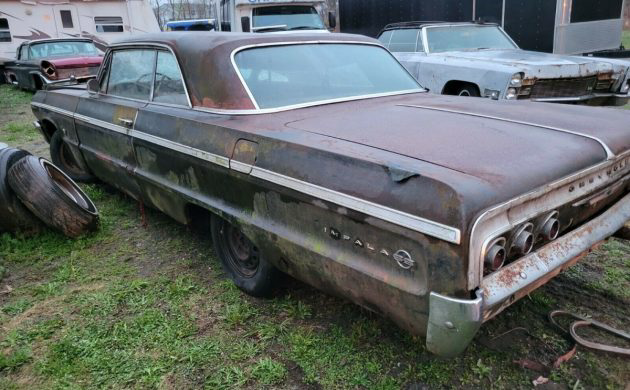 Already popular, the SS sold extremely well when it was promoted. The 1964 Impala SS accounted for more than one third of Impala production, with about 155,000 being 2-door hardtops and maybe another 30,000 as convertibles. The hardtop was priced at just under $3,000 new and could be recognized by different side moldings, SS wheels covers and the SS emblem on the rear quarter panels. Super Sport models also came with an all-vinyl interior that had bucket seats and a center console for the 4-speed manual or Powerglide automatic transmissions. These cars had a squarer appearance compared to the '63 models, although on the same basic platform since 1961.
Several engine choices were available for the Impala SS and the seller says the powerplant in this car is original but doesn't say which one. Safe money would bet on this motor being a 327 with 2 or 4-barrel carburetion, but the 283 and 409 were available in the car in 1964. We're told this is a two-owner automobile, but we don't how long the second owner has let the car sit. The mileage is said to be 82,000 but use of the car has likely had less affect than time and Mother Nature have.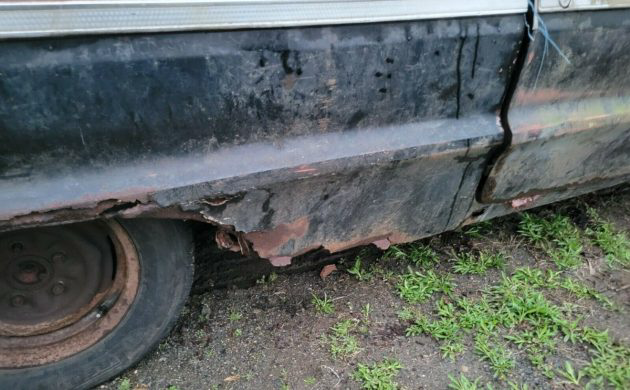 There is rust most everywhere you look, especially in the quarter panels and doors. While we're told the frame is good but there are parts of the car we don't see, so it wouldn't be surprising to find more lurking about. The floor pans will require relacing at a minimum. The buyer's body man is going to be able to send his kid to college after working on this one. The interior is loaded with parts and other debris that may or may not be related to this car and could be dirtier than worn. A thorough cleaning will be needed to ascertain how good or bad the red interior really is. The driver's side bucket is askew suggesting it has been taken out and just set back in.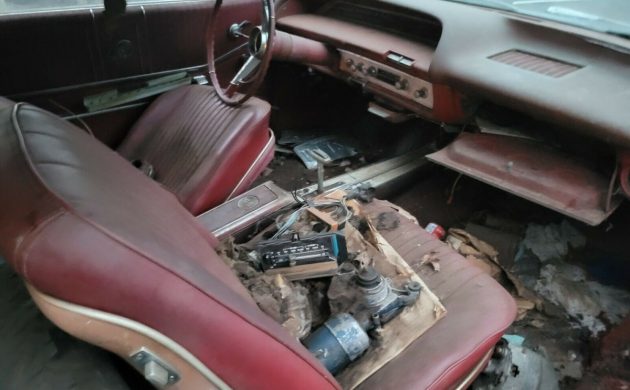 When this Chevy was new, the window sticker included quite a few items, including air conditioning which added $364 to the purchase price. If you got A/C, then you probably also ordered tinted glass ($36) and maybe the Impala convenience group (whatever that was) for $31.  A top-notch 1964 Impala SS is said to be worth in the mid-$30,000s according to Hagerty. Maybe more with a big block V8. Fair condition is about $12,000. This car will require a lot of time and money to reach either condition again. Is it worth fixing?