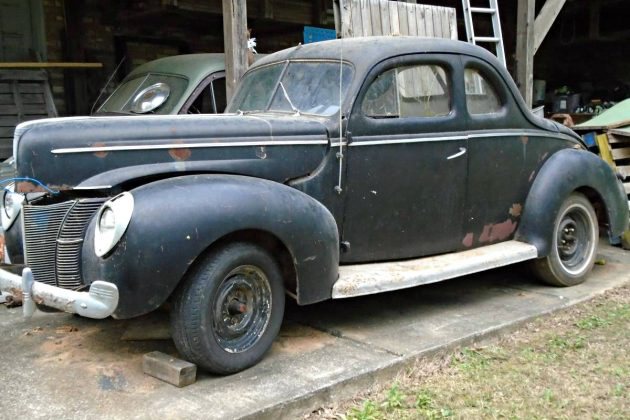 After 62 years of ownership, and several decades spent in a barn, this '40 Ford Coupe is up for sale. Very solid, and even in running and "driving" condition, this Ford is a sweet project with great styling. This appealing find is offered for $14,500. Check it out here on craigslist out of Gardendale, Alabama. Thanks to Michael for this remarkably solid and stylish find!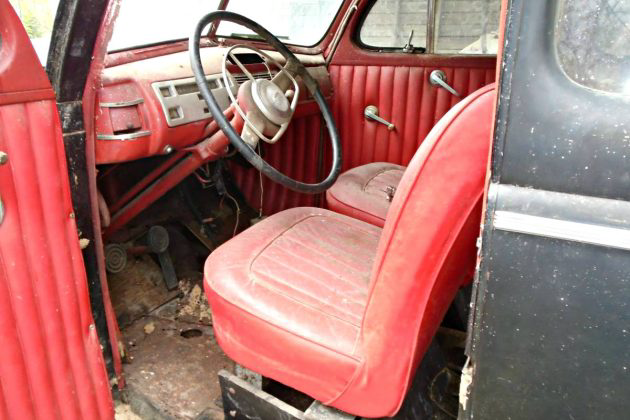 Taking a peek at the interior reveals a rather nice appearance with a fair amount of dust and dirt from the nearly 50 years spent in a barn. The carpet has been removed from the front floor boards, and there is some evidence of surface rust on the floors, and maybe even a small amount of rot. I dare say that the upholstery could be cleaned up nicely, and that this Ford could possibly be enjoyed in its current state of patina.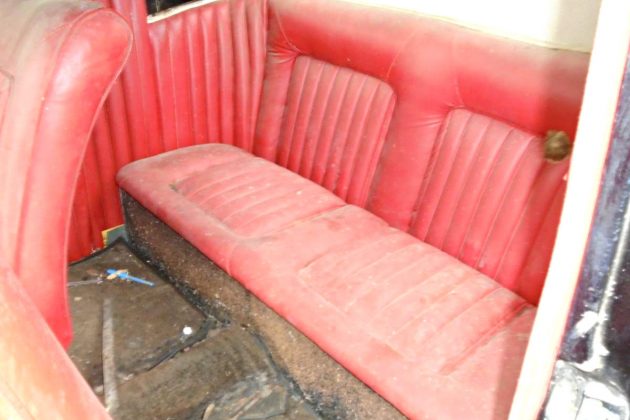 The rear seating area is equally as nice as the front, but again would benefit greatly from a good cleaning. I will say I am rather pleased with the interior as it avoided becoming a mouse motel over the long period of storage. There are no pictures of the engine, but I am assuming it to be a 49-50 Mercury Flat head V8, and it is apparently in running condition. The car is listed as running and driving, but with no brakes. Perhaps they throw a ships anchor out the window to stop this old Ford?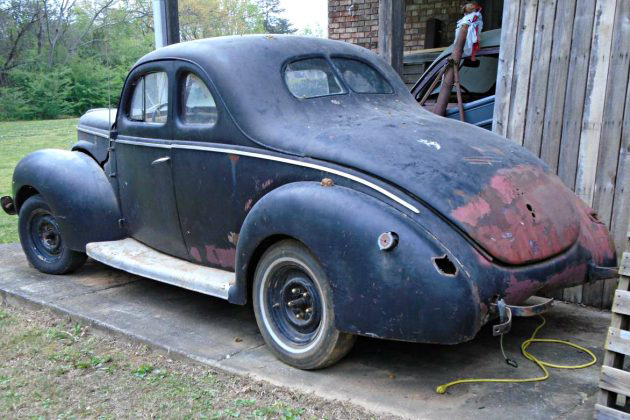 Weathered but solid, the exterior of this Ford is quite promising, and looks as if it could be enjoyed as is depending on your flavor. There are some trim pieces and lights missing, but as a whole this seems like a great project. The seller has mentioned "one dent" but I am unsure of where it is. It may be my imagination, but the rear roll pan area below the trunk looks to have a dent, and I am curious if the car has been bumped before due to all of the visible primer in that area. I see no extensive damage, but a lot can happen in 78 years.  The rear bumper is missing, and the front bumper is in place but its chrome is peeling. The hood has some surface rust, but seems solid. Considering the fact that this project runs is a great start to having a possible driving project to work on and enjoy at the same time. The styling is nice, and it seems there are so many directions that this project could go in. What would you do with this '40 Ford Coupe?
Have something to sell? List it here on Barn Finds!