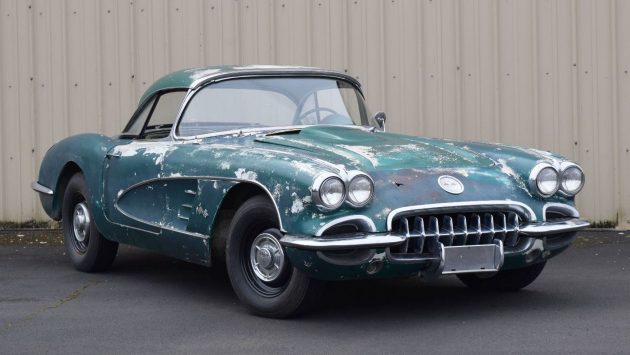 This '59 Corvette may look a little ratty, but there are some clues here that lead me to believe that it was customized in the seventies. It was parked for many years, but the seller has cleaned it up and gotten it running again. Most people would want to restore this back to original condition, but I have a different picture for it in my mind. Keep reading to get the vision and let us know what you think in the comments below. The car is located in Portland, Oregon and is listed here on eBay with no reserve.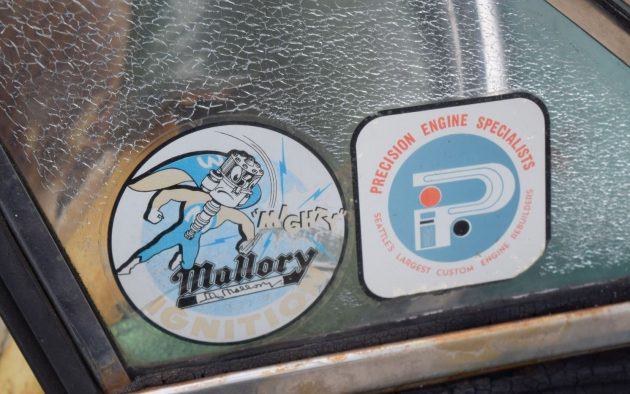 We would love to show you a photo of the engine, but the seller forgot to include one in the auction listing. They do mention that it's a 283 that has been bored out to 301 cubes. It was supposedly rebuilt by Precision Engine Specialist in Seattle Washington 15-20 years ago and never ran. They also mention an old Edelbrock intake, Mickey Thompson valve covers, and Cyclone headers. They have done the worked needed to make it run again and claim that it starts right up.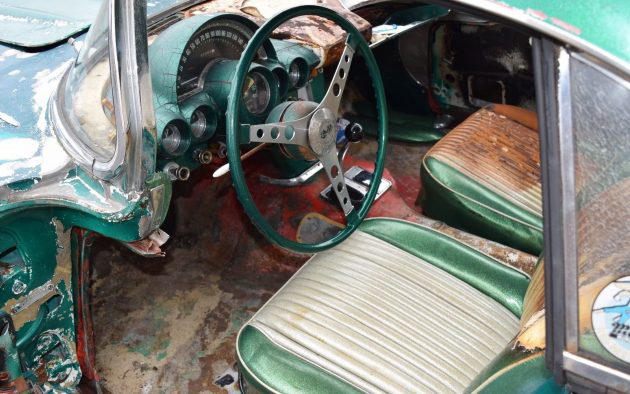 You won't want to go too far though without doing something with that interior. This Corvette obviously went through a seventies style makeover. There's bright metal flake paint on the outside and sparkly vinyl on the inside! The seller believes that the original color scheme was white over red and there is some visible evidence to back that up. It would be handsome in that combo, but all that green does make it different…
That Hurst shifter is attached to a Borg Warner T10 tranny. The T10 was offered in '59 so it could be the original gearbox, but the seller mentions a scattershield. Perhaps this Corvette experienced some drag racing action back in the day? It would be fun to see some photos of this car when it was all done up and looking good. I'm sure there's some good stories to tell here. The previous owner had the car since '74 so perhaps they could help you find out more about the car's past?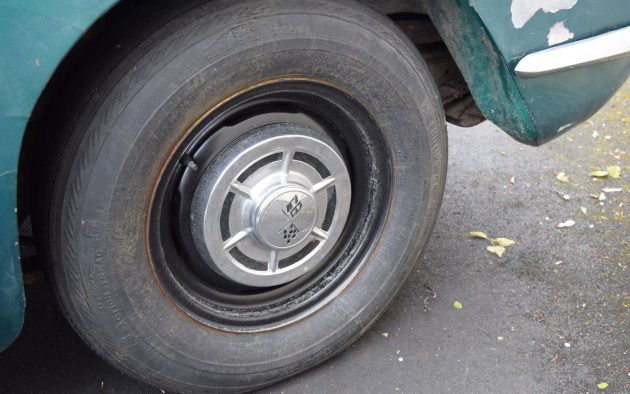 Not only did the seller get the engine running, but they went through the brakes and flushed all the fluids. That means you can drive the car short distances, but those bias ply tires are going to keep you from getting too crazy. The steel rims and hubcaps look good, but seem like a strange choice on a car that has been completely customized. Perhaps the Cragars and chunky tires are still up in the rafters of the garage where this was found?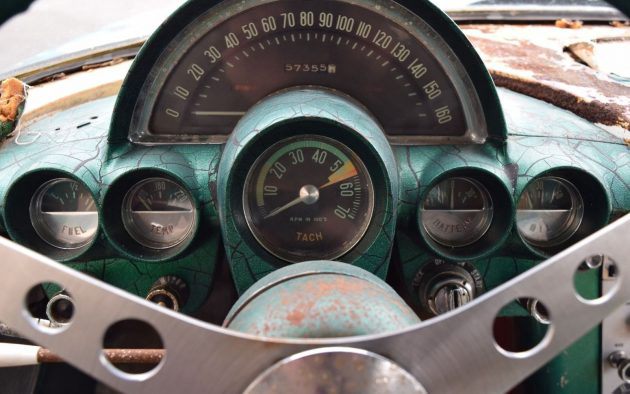 There are lots of obvious needs here, but at least the frame is claimed to be solid. It runs, stops, and isn't going to fall apart, so I'm going to propose something crazy here. Most Corvette guys would want to restore this to factory fresh condition, but there are already a ton of restored Vettes out there. So why not do something different and keep the crusty custom look? Clean everything up, redo the interior in the same materials, and slap some new tires on there! I guarantee you'll draw a larger crowd at a car show than you would with a shiny version of itself. Anyone brave enough to try?