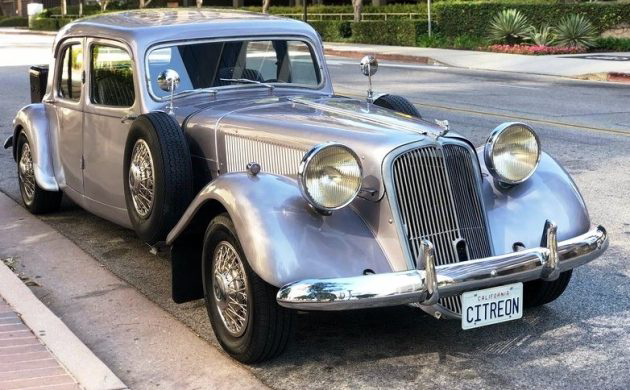 In parts of California you'd have to strip naked, stand up through the sun roof, and set your hair on fire to be noticed driving a Ferrari. Even in that rarefied air you will definitely catch motorists and pedestrians staring at this custom V8-powered Citroën! The 1950 Citroën 15C9 in Glendale, California comes to market here on eBay classifieds where $17,500 guarantees an end to your anonymity in traffic and parking lots everywhere. French car-maker Citroën produced similar variants of the long-running Traction Avant from 1934 through 1958, according to citroen.co.uk. Humans with a keen eye may recognize this 15C9 as resembling the 1948 Citroën 11 BL used in the 1965 film The Sound of Music.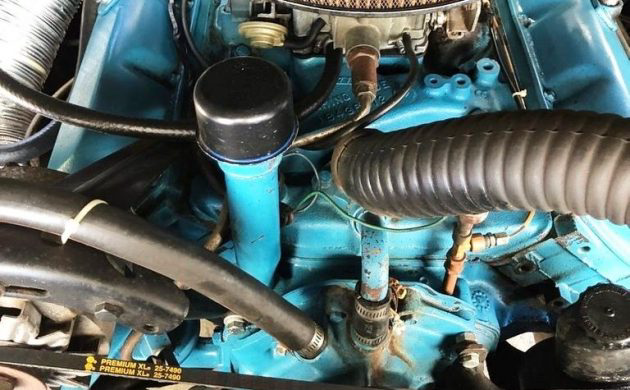 While details on the car's clearly-American V8 escaped the listing, it appears nearly stock and I'm guessing from the early 1960s. The rear distributor and water pump bypass suggest Chevrolet, but I couldn't find one with valve covers like this. A virtual beverage of your choice to the smarty-pants who recognizes this one straight off. I have personally plumbed a "T" just like the one shown on the vehicle's left for a mechanical pressure gauge.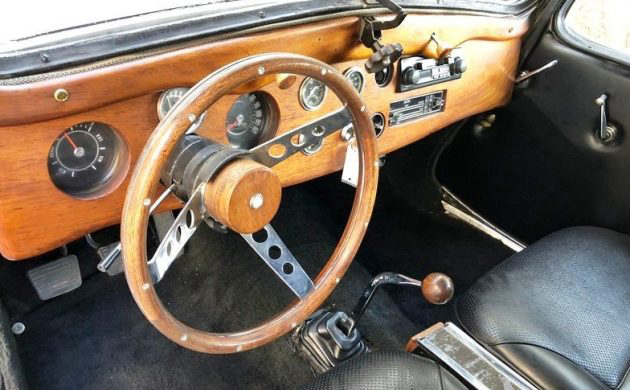 That's right; a standard transmission backs the unknown V8, with a Hurst-style shifter that calls to mind Ford's Boss 302 Mustang. Most wooden dashboards feature a thin veneer of exotic hardwoods, but this one suggests more of a block of walnut? bored and finished in high school Wood Shop, especially the core-sample horn button. Nevertheless, the instruments provide vital information despite lacking the elegance of this 1952 Traction Avant instrument panel.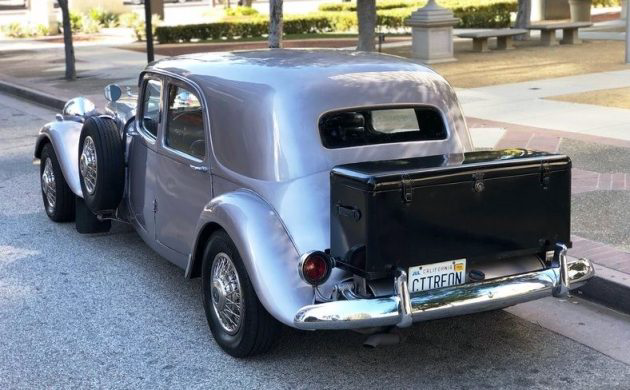 Beneath the French bodywork lies mechanical bits from a 1957 Chevrolet including Chevy suspension, brakes, and rear differential. The rear bumper suggests an intention to resist parking damage. Said to run, drive and stop "great," this V8-powered Franco-American sedan may appeal to those who appreciate a meaty American burger with a side of French fries. Such a person might also forgive the misspelling of Citroën as a compromise likely necessary to obtain a personalized license plate. Is this hot-rod Citroën pushing the right buttons for you?