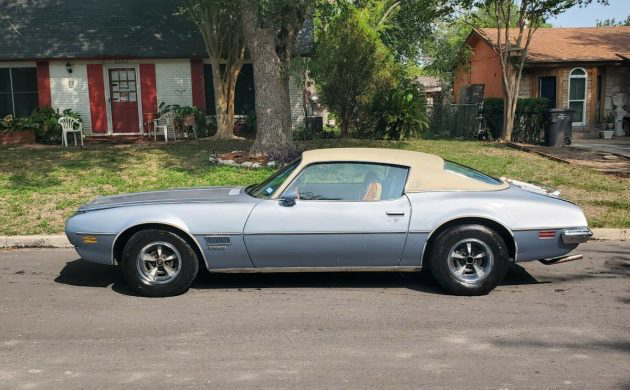 The seller has a 1971 Pontiac Firebird Esprit listed for sale here on eBay as a 1970 model year. The seller correctly notes that he/she thinks its a 1971 model which is evident by the faux grill behind the front tires and the data cowl tag. The car is located in sunny San Antonio, Texas and there are two days remaining in the auction. Currently, there are 17 bids lifting the price to $4,200. The car is not in good shape and the passenger rear quarter has been crunched.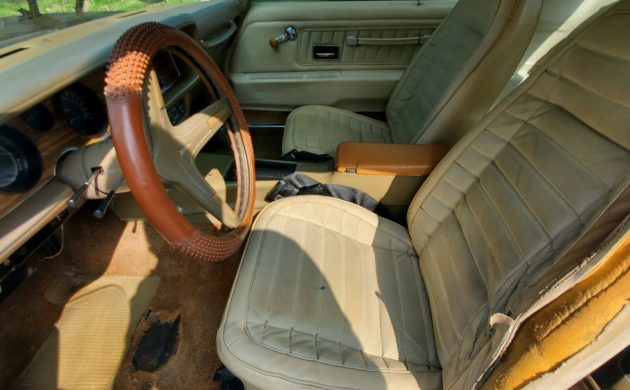 While the odometer shows 43,000 miles it has been around the block once or maybe twice. The interior is dirty and aged with the front drive seat showing a little foam. The carpet is worn through on the driver side but all these things could be fixed. The car is not highly optioned but does have tilt steering. This car represents an interesting color combination. The exterior is painted in steel blue but left the factory painted in Code 42 Limekist Green Poly with a Code 217 Sandalwood custom interior. The car has manual crank windows but has power steering and power locks.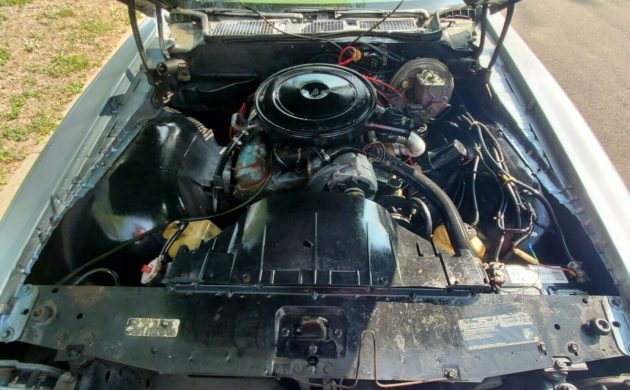 The engine compartment looks fairly original even though its been sprayed with engine dressing. The Firebird Esprit is one step above the base Firebird model. This car is equipped with a 350 cubic inch V8 engine and 3 speed automatic transmission. While a buyer could opt for a Trans Am or Formula with an HO455 V8 engine, this car was purchased with the L30 designated 350 cubic inch engine that delivered 250 gross horsepower and about 165 net horsepower.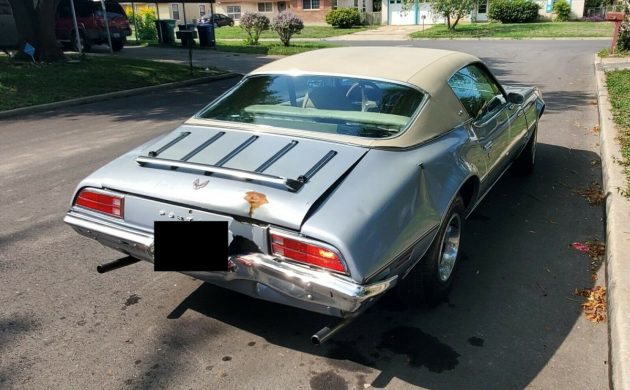 The vinyl top on this Firebird might be hiding some rust damage but overall the car looks solid except for the rear passenger quarter. I will not make much of a comment about the luggage rack but I hope it is not reinstalled with the buyer puts a new trunk lid on the car. As reflected the damage has effected the rear bumper, trunk like, taillight, quarter panel and the upper and lower rear filler panel.