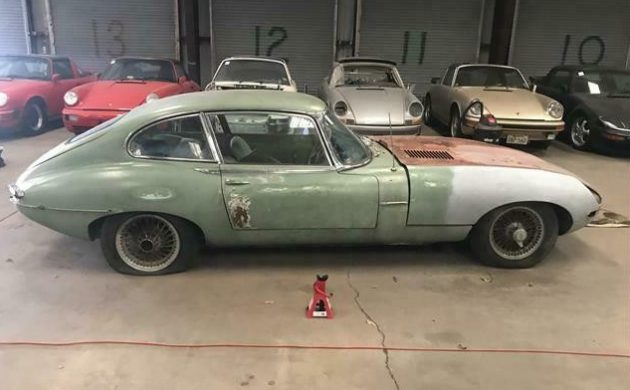 I have covered Jaguar E-Types before but this 1967 example really caught my attention. Why? It's mint green of course. Actually, the color did standout probably because I don't recall seeing one like this before, and of course, there is a story behind this car too. This XK-E is located in Dallas, Texas and is available, here on eBay for a classified ad price of $26,000.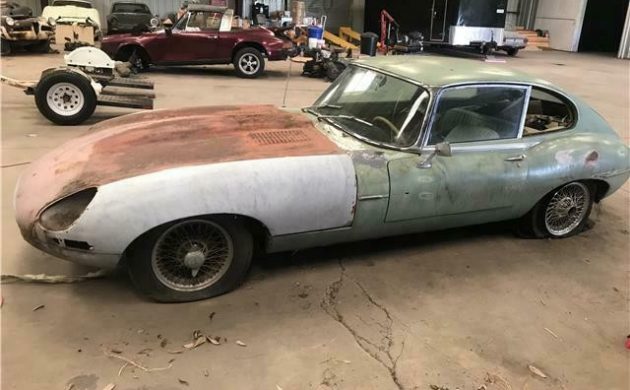 The story around this Jag is that it was partially disassembled years ago for painting but then never completed. That seems so odd, dismantle a car for refinishing and then just forget about it? Apparently that's what happened.  This Series 1 ('61 to '68) XK-E is a 2+2 version, albeit with a minuscule back seat, and is somewhat unique in that it has an automatic transmission, '67 being the second year that option was available. Total Series 1 production was about 38K total copies with approximately 5,600 being the 2+2 variety.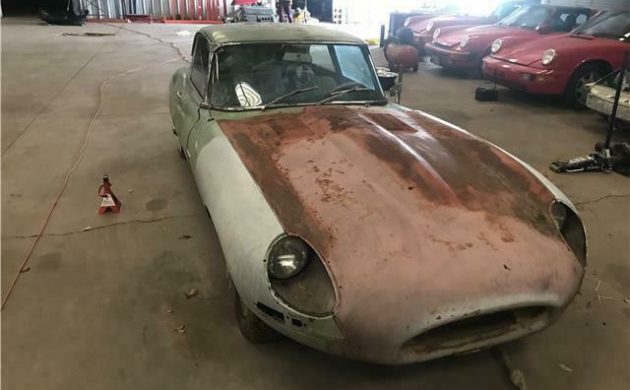 The body of this Jaguar appears to be basically in good condition, there is surface rust present but none of the panels look to be suffering from rust-through. Panel alignment seems to be about right too. While much of the trim is unattached the seller claims to have all of it, he further adds, "This unit is numbers matching and will make a very straightforward restoration project". The seller also mentions that this is a California car, which helps explain the non-corroded state of its body; there are some muted images of the underside but they require closer inspection to verify overall integrity.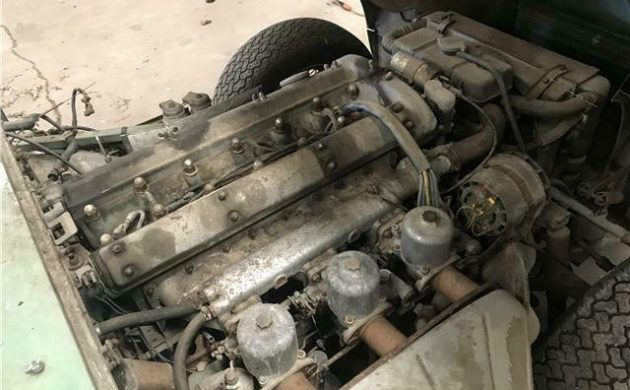 There is no reference made regarding this Jaguar's operating capability or engine description which makes one think it is a non-runner, and it looks like it hasn't run in a long time. The boot badge appears to proclaim "4.2" so this XK-E would be powered by a 4.2 liter, in-line, six-cylinder engine, good for 266 gross HP, the only engine available in this model. As previously noted, an automatic transmission is in place. It would be helpful to know if the engine, at the least, turns over.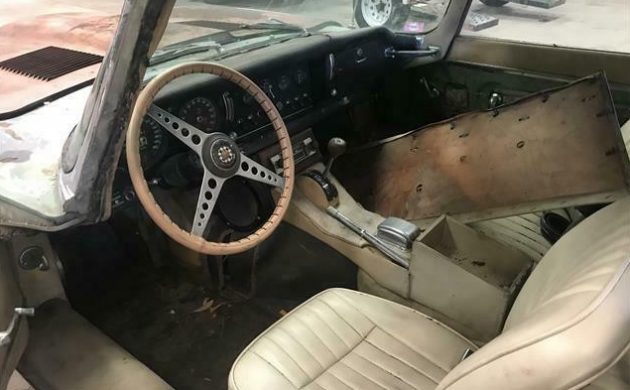 The interior appears to be in usable condition though the images aren't that revealing – why in the world sellers don't clear the trash and odds and ends from the passenger compartment before taking pictures, I'll never know. The upholstery looks off-white leather and in non torn or ripped condition. The instrument panel is barely visible but all of the required occupants are making a showing. There is a loose upholstery panel, a door card perhaps, riding shotgun, no idea what it is for. The console lid also looks like its missing.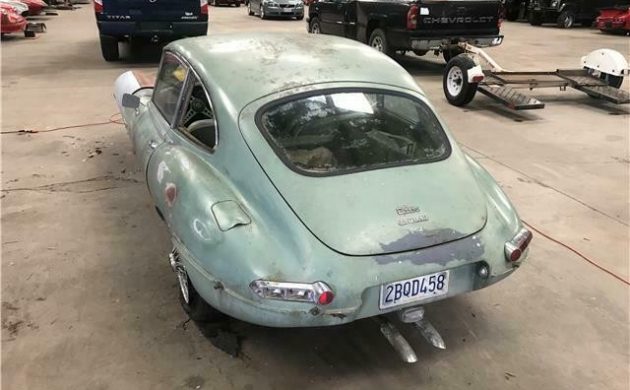 Seems like a suspicious story that surrounds this Jaguar, as in perhaps something of a more serious nature stopped this project. Whatever the case, this car does not present itself very well and the minimalist listing isn't too helpful either. And then there is the automatic transmission, that seems incongruous in a road car like an XK-E. There could be a good base here for a full restoration but it's hard to know with the dire lack of details and description. What do you think, is it worth taking on a project like this?