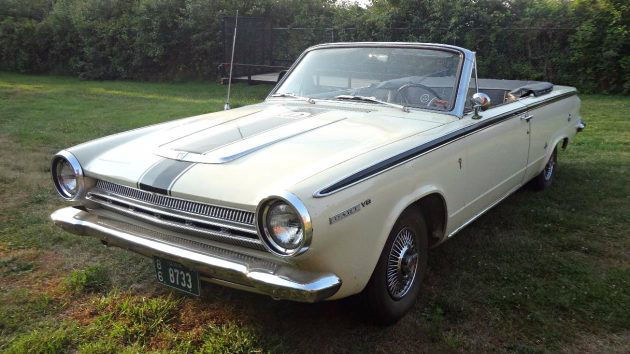 Early Dart's are always a treat with their simple yet pleasing style, and often with a V8 to boot. In tidy driver condition, this Dart has a wonderful curb appeal, and overall seems like a great classic Mopar convertible that could be made very nice. In driving condition, this Dart is offered for $4,500. Take a look at it here on ebay out of Davenport, Iowa. Thanks to Barn Finds reader Matt Williams for this spiffy submission!
With a quick glance, this Dart even has a nice under hood curb appeal with its clean engine and bay. The 273 cubic inch V8 runs and starts every time, although it is reported to smoke a bit. This is a push button automatic car, and it would seem all of the remaining mechanical systems function as they should making the car ready to drive. Although the current mileage reflects, 7,370 miles, I would be willing to bet this one has flipped the odometer at least once in its lifetime.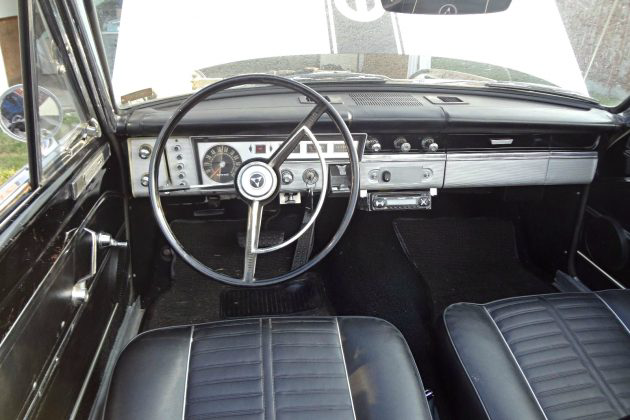 Inside there lays a very nice interior that has had some help from the current owner. The seats have been recovered, and are top notch in finish and factory likeness. Also the carpet has been replaced adding more to the overall interior appearance. A modern CD player has also been added, but it looks as if it could be removed if desired. Although cruising to your best of the Beach Boys CD would be a nice treat in this convertible classic.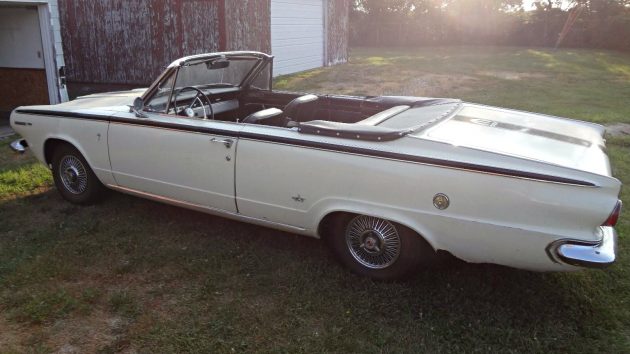 All appears well with this Dart until you really start to scrutinize the car closely. The most obvious problem with this Mopar is that the quarters are rough. It appears both sides are equally rough, but the remainder of the car appears straight and rust free. The paint seems very reasonable, with only a few minor blemishes sprinkled over the exterior. Perhaps the quarters could be repaired, and the paint blended to maintain this possibly "original" paint job. The power top is functional, but there is a 6" slash in the roof that looks to have been repaired somewhat. Dry, with split seams, and some cracking, the vinyl top is likely original and brittle at this point, having its days numbered until replacement. With proper treatment, and a garage, this Dart could be enjoyed and maintained as is for a few years before ponying up the time and money to tackle the quarters. Does this $4,500 convertible Mopar seem like a deal to you?