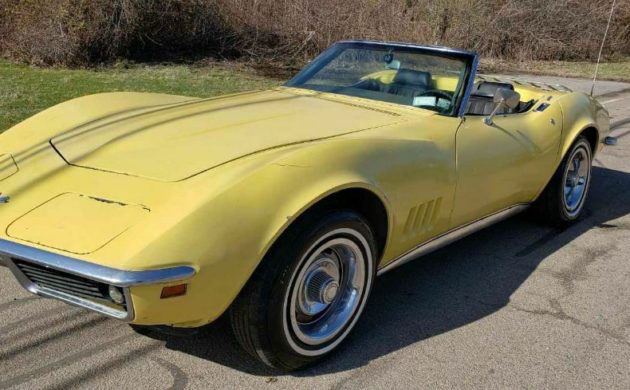 For those of us car enthusiasts in the southeastern United States, this time of year can only mean one thing; pollen season. Essentially, all the trees drop their pollen at the same time and everyone's car ends up the color of this 1969 Chevrolet Corvette convertible! Despite GM calling it Daytona Yellow, I would call it Pollen Yellow. Regardless, this fresh air, need-some-sunscreen early C3 is listed for sale here on eBay and it's going to sell as the current bid of $11,000 has met any reserve. The car is located in Franklin, Massachusetts — do you Yankees get a coating of pollen dust as well?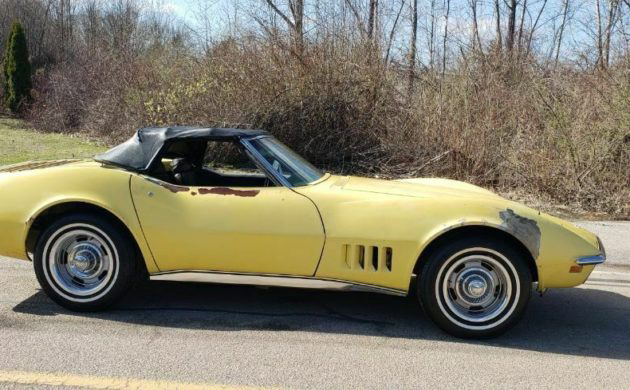 Although it is described as having a "nice straight body" we can see there are some issues that will have to be dealt with. Of course, being of fiberglass construction means the body shell doesn't inspire quite the desperation you'd feel if you saw damage like this on a steel-bodied car. We're told the car has just been pulled from long-term storage but nothing about the current mechanical state of this yellow beauty.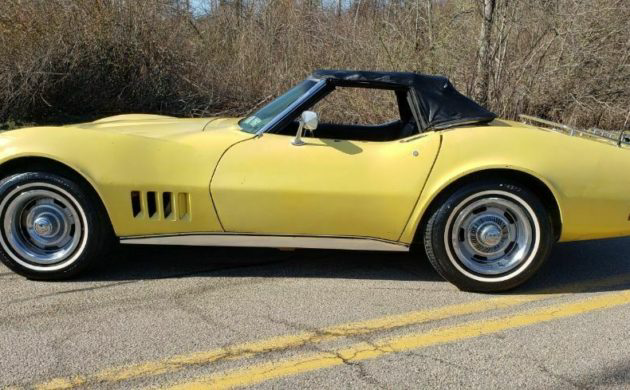 For some reason the driver's side of the car looks quite a bit better than the passenger side. I wonder if that's a fluke, evidence of prior damage or some idiosyncrasy of the storage location. It does mean that once you get the car on the road, unless your passenger reminds you constantly of the damage on the off side, you can go blasting through the pollen clouds and keep it out of your mind!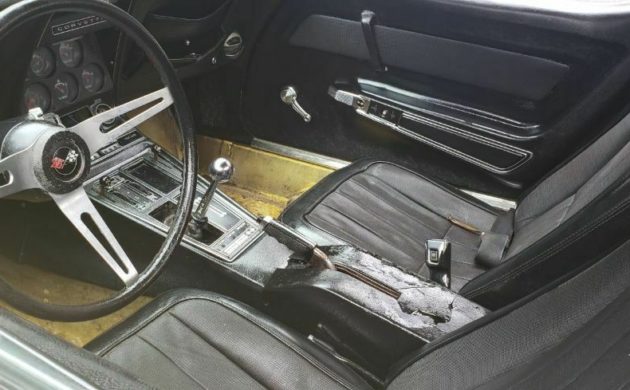 What's this? I can keep my membership in the Manual Gearbox Preservation Society? Oh my gosh it's actually a four-speed! While some of this interior can be cleaned and used, may I put in a plug for non-original seat coverings? Fabric is so much nicer to sit down on when it's been out in the sun than either vinyl or leather! Also of note is the C3 instrument layout, which as a child of the 60's really speaks to me as to how a sports car dashboard should look (at least if it doesn't have real wood on it).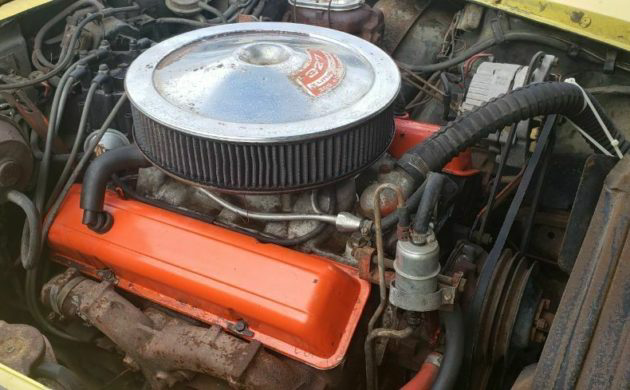 Now we come to the first issue for many Corvette folks; is it a matching number car? Some more detective work has to be done here, because the ad claims that it is the original matching numbers 350 V8, but I distinctly see "327" on that air cleaner. For me, it wouldn't matter — at this price or something close to it, you're getting an iconic, beautiful convertible to go swirl your own pollen dust in. But it could affect the value of the car a lot, so check that out with the seller if you are truly interested. Readers, let us know what the pollen invasion is like in your world and whether this C3 could find a home in it!
Have something to sell? List it here on Barn Finds!