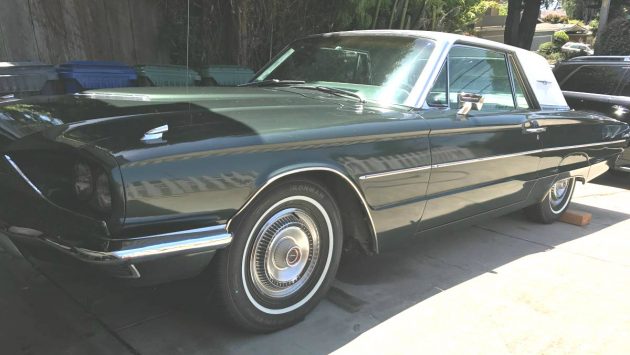 A consistently undervalued series of classics (in my opinion) is the 1961 to 1966 Ford Thunderbirds. This particular car was sent in by Barn Finds reader Pat L., who discovered it here on craigslist. As you can see from the ad, this fabulous Thunderbird is located in Aptos, California and is priced at $9,500, but the seller says he's a reasonable guy and you can make him an offer. While that green paint is pretty, the seller says it dates from the 1980s–but it looks Tuff Enuff to me. 
The 1966 Thunderbird was the last of the series, and this particular one is reported to have only 34,426 miles. The seller relates how they purchased the car from a collector in Stockton, Arizona and drove it five hours home. They seem to have owned it for about a year and have done some work on it.  The roofline makes this a standard 1966 hardtop as opposed to the Town Landau or Town Hardtop. No, I don't know why Ford made it so complex either. But I sure like it, and the fender skirts make it look that much better from this rear 3/4 angle.  Thankfully the paint is great on this car and it doesn't have a Marked Deck.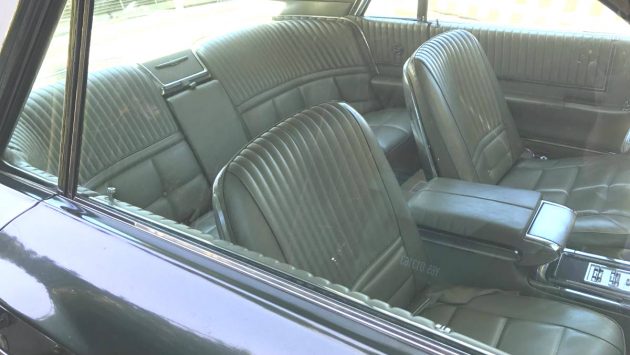 Looking inside, we see a very original interior that looks great, but I can't really tell what color it is–so I decided to look it up while I was waiting for someone to Let Me In. Ha! There are 36 total interior combinations for the 1966 Thunderbird as documented here. Not only that, the color is different in different pictures, although in this one it's even worse because you are looking at it through tinted windows. The seller does say that the vinyl interior is cracked in spots. That knocks the color choices down to only 10!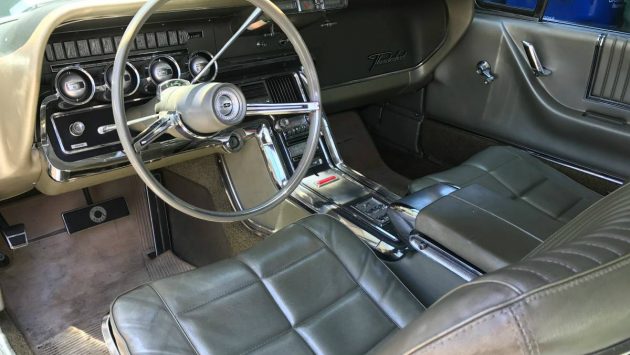 Here the interior looks green, which would make sense considering the exterior color. However, there is no green listed in the choices, so until someone tells me differently, I'm going with code 28/58 Ivy Gold. Whatever color it is, everything seems to be in nicely used but decent shape. And I'd love to be in this interior taking my family somewhere because That's The Way We Roll (in my dreams!)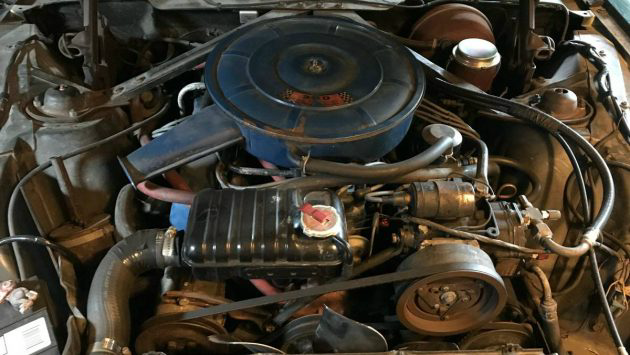 The factory standard 390 was boosted in 1966 to 315 horsepower and a whopping 427 ft-lbs of torque, plenty for even moving this heavy car around, although it will never be a Pocket Rocket. Remember earlier when I said the current seller had improved the car? They have added a new set of Running Shoes (tires,) new shocks, and replacement front end components, although the ball joints still have to be installed as do some tune up parts. They have also obtained but not installed a new lower cushion for the driver's seat as it has sagged.  I'm interested in what kind of offer you'd make on this fabulous Thunderbird–do you think you'd be singing a song afterward?