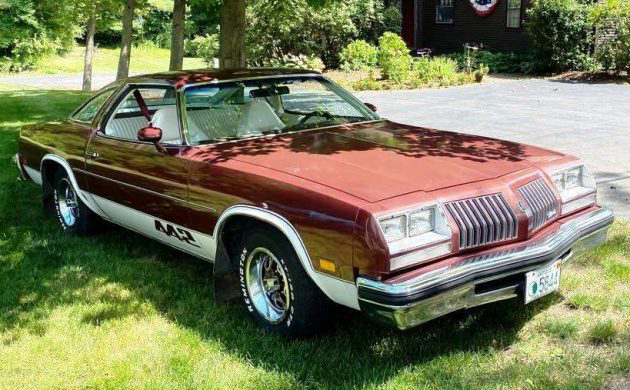 This shiny Oldsmobile ticks many boxes for fans of sporty cars from the '70s. Its fabulous condition certainly supports the claimed 22,000 miles! The V8 engine, rare factory five-speed manual transmission, "442" package, two-tone interior, and factory originality (down to the wheels) will raise the pulse of anyone who likes this version of GM's popular Colonnade coupe. This particular 1976 Oldsmobile Cutlass 442 outside Concord, New Hampshire leaves little to complain about. The listing here on craigslist says it "rides like a dream" and, for $19,000, it can be yours. Thanks to reader David C. for spotting this flashy Olds.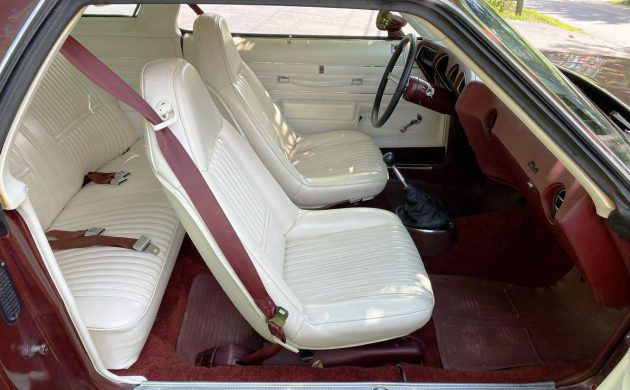 I'm a sucker for GM's two-tone interiors with white seats from this era, and this one looks great. I had a '76 Buick Skyhawk with nearly the same paint color as this Olds. Mine had the white seats and door panels, except with a black dash and carpeting. I had the five-speed as well, spun by the ubiquitous Buick 231 cid (3.8L) V6. The white vinyl adds a touch of class and welcome contrast.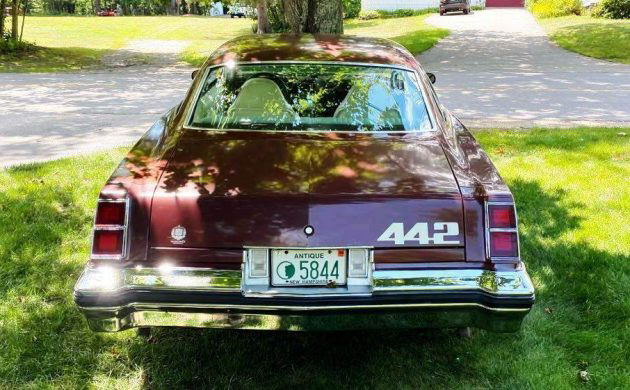 The 442 could have been optioned up to the 455 cid (7.5L) V8 in 1976, the last year of that choice. If you wanted the Borg-Warner five-speed, though, it only came with the 260 cid (4.3L) V8, according to Oldsmobile sales literature at lov2xlr8.no. Fifth gear was an overdrive. I test drove a nearly identical car in blue decades ago. Power was not super-exciting, but the V8 with the five-speed sounded great going up through the gears. The next day I bought the Skyhawk for $1250. That little Buick gave me at least 100,000 miles so no regrets.
What? Swivel-buckets too? What's cooler than turning the seat sideways to hang out after you roll up to a keg party? I'm guessing this car lacks air conditioning, perhaps the only tick against it, but that's picking nits. Most New England enthusiasts won't care about that anyway. Had you ever heard of a V8 five-speed Cutlass?