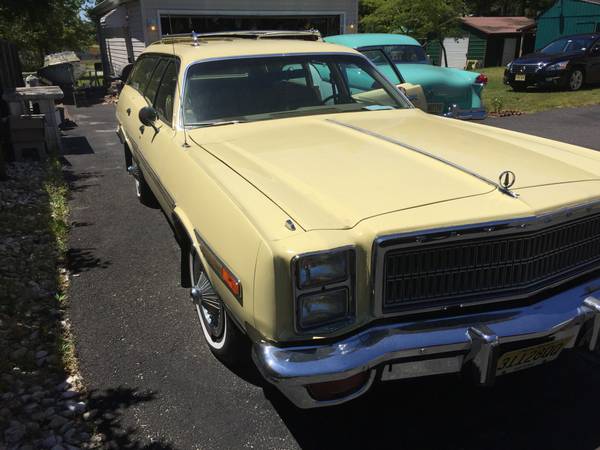 This may not be what comes to mind when you hear the term "'70s MoPar" but it certainly is representative of the end of the era! For some people, cars like this are nothing but demolition derby fodder. For others, this is a car that takes them back to a time when life was different, or when they still lived with mom and dad. Some of us just like cars nobody else likes! Though this car is nice, and many of these cars met their demise decades ago, $9,000 is a fairly optimistic price. The seller claims it has 30,000 miles on it, which is almost believable. This is one of those cars that could be a well cared for 130,000 car or a low-mileage survivor, but I could believe the low mileage claim. If a big yellow wagon suits your fancy, you would be hard pressed to find one this nice! Check it out here on Craigslist in New Jersey. Thanks to reader Doug P. for the tip!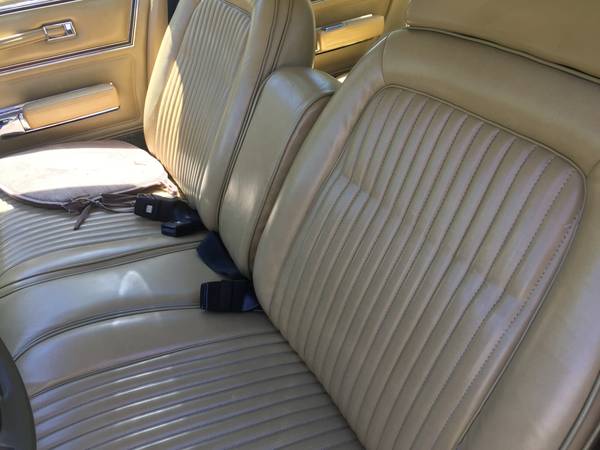 If I was skeptical of the mileage claim, the interior has swayed me into believing it. Though not pictured here, the steering wheel has little to no wear on it which is pretty hard to come by on a Chrysler product of this era. The lack of seat wear or discoloration, as well as the lack of sun damage lead me to think this car did not spend a lot of time on the road. Though there is nothing terribly exciting about it, it is a nice example of what would've been a common car in 1978.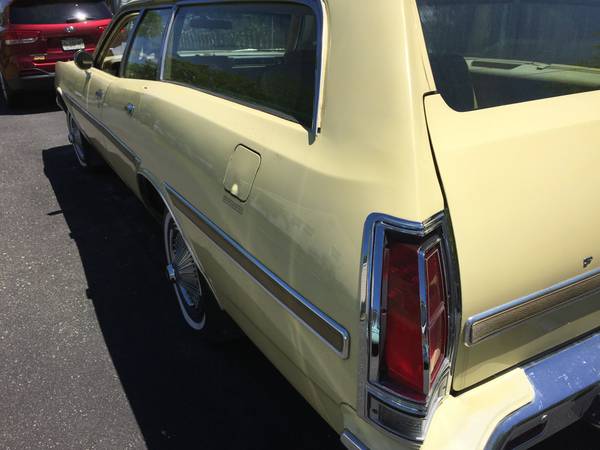 People tend to forget that "regular" cars existed in bygone eras, especially younger people. By going to a car show, one would think the only cars available in the '70s were Camaros, Mustangs, and Chevrolet pickups! It can be nice to see a well-preserved, original vehicle like this that was (and maybe is) relatively mundane. Did I mention this car is a 360 equipped vehicle? Though a fairly large wagon, a 360 Chrysler small block will move a car like this just fine, especially with a few upgrades. Though I would leave this car just as it is, if it were to ever need a new engine, it could really be fun!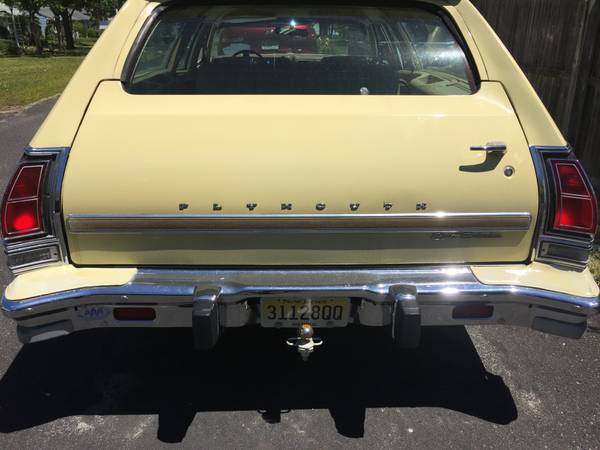 What a rear! My favorite part of old American wagons is the side-opening tailgate. It is one of those things that you just really don't see these days. The more I look at this car, the more I like it! Something like this could be a great family hauler, as well as a cruiser. You could get the whole family involved! Though this car may be unexciting today, there will come a time in the future where something like this is a rarity, even more so than it already is. Though $9,000 may be a little high, it isn't 1989 anymore and this car is worth a lot more than $500. It is almost 40 years old! Besides, check out that sweet trailer hitch! If you have the need for…an enormous yellow Plymouth Fury wagon, this is the car for you.