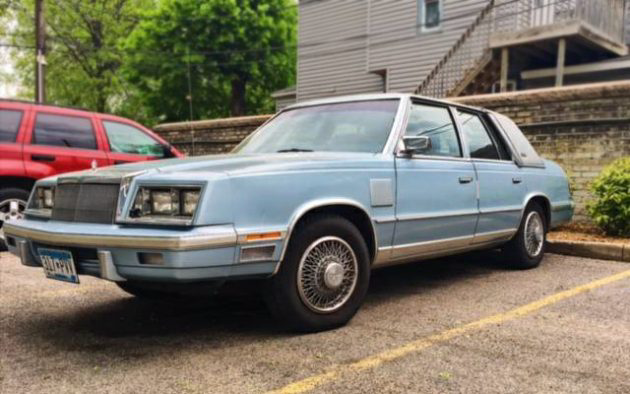 "Your door is ajar." My door is a door, not a jar, what the.. Ok, that was lame. I had a somewhat similar car in the mid/late-1980s but it was a LeBaron convertible and it also talked. It didn't fly over things when I pushed a button on the dash like KITT, but it told me when a door was open, or ajar, or when my lights were on. This 1986 Chrysler New Yorker has that same feature. Savvy 1980s Chrysler owners (is that an oxymoron?) (KIDDING!) know that there's a tiny white switch in the glove box to turn off that voice if it gets tiring. This beauty of a big, blue cruiser is on Craigslist in Minneapolis, Minnesota for $2,200 and it looks like it's in great shape. NADA lists the average retail as being $2,200 so this one is right on the money. Thanks to Barn Finds reader Pat L. for submitting this find!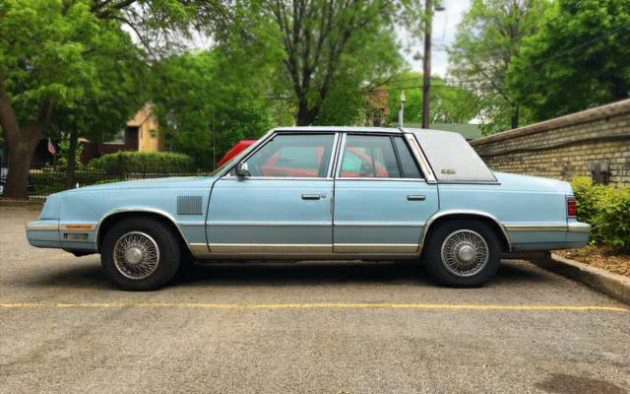 The photos in this ad look like an art student finals project, they're all different sizes, orientations, details, and partial-photos. But, there are a handful of decent ones to judge, at least visually, the condition of the nice car. Or, the condition of the front and driver's side of the car, there are no photos of the passenger side, not one, not even one hint or a glimpse of the passenger side. That's always worrisome, but I'm sure the seller would send you a few photos of the passenger side, and also a couple of ubiquitous missing-engine photos. There must be some sort of fine print that I missed in Craigslist boilerplate that requires sellers to not add engine photos. There is a photo of this New Yorker parked next to a HUGE mining truck; driver's side of course. And, there is also a driver's-side photo with presumably the seller, or friend of the seller since the seller's name is Amber, standing next to this great-looking New Yorker in the mist, at a distance, in front of some grain elevators. Very artsy and cool. But, as always, filling the frame with what a person is selling is the best way to show off your item. I know that I'm preaching to the choir. Can I get an amen?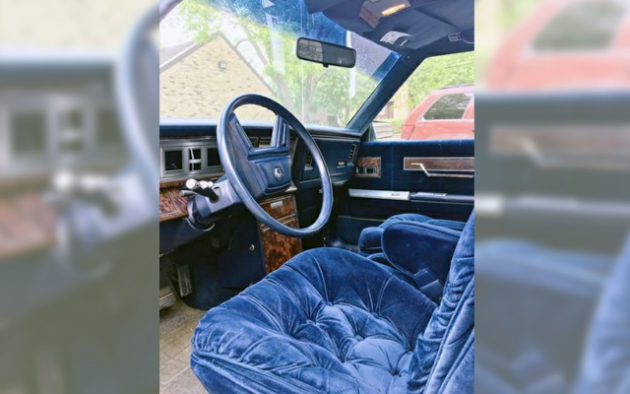 The interior looks as nice as the exterior does. I can almost feel myself sinking into those plush, velour seats, locking in the cruise, and heading across a few states. The rear seat could double as studio apartment in Brooklyn; you'd make that $2,200 purchase price back in a month or less. The seller is the second owner, receiving the car from their grandpa, so I can imagine that it's been maintained and well-loved. I absolutely loved my 100% trouble-free LeBaron convertible, it was a fantastic car. I traded it for a black BMW 318i two-door which wasn't as trouble-free as the LeBaron was. I'm guessing that this 31-year old New Yorker would be almost as trouble-free even now as mine was when it was new.
There is no mention of the engine or condition of the drivetrain at all, other than the car has new tires and a new battery. In 1986, the standard engine was a Chrysler-built 2.5L inline-four as opposed to the Mitsubishi 2.6L four that I had in the LeBaron – with that balanced-shaft it was as smooth as glass. I have just about that same engine in a 1980 Dodge D-50 pickup and it's fantastic in there, too. I'm assuming that this engine isn't the 2.2L turbo with 146 hp but is the standard 2.5L four with 100 hp. There's only one way to find out for sure: call Amber. Have any of you owned a K-Car based New Yorker, LeBaron, or any of the other variations?