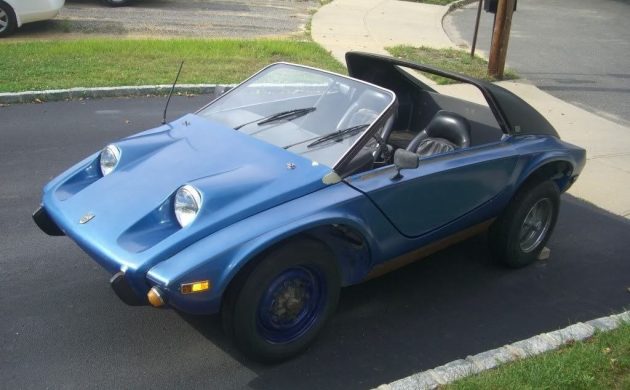 Bruce Meyers kicked off a craze in 1964 with his Volkswagen-based Meyers Manx dune buggy; here was a low-cost, easy-to-build, fun, lightweight beach car to perfectly embody the Southern California surf scene that's always captured the American imagination. His company, B.F. Meyers & Co., had a short and tumultuous run, but it was no one-hit wonder. In addition the original Manx buggy, several other models were offered, including this spiffy little guy, the Manx SR. Only about 200 SRs were made, so survivors are rare; find this one here on eBay out of Ocean View, New Jersey, with bidding up to $3,000 at this writing.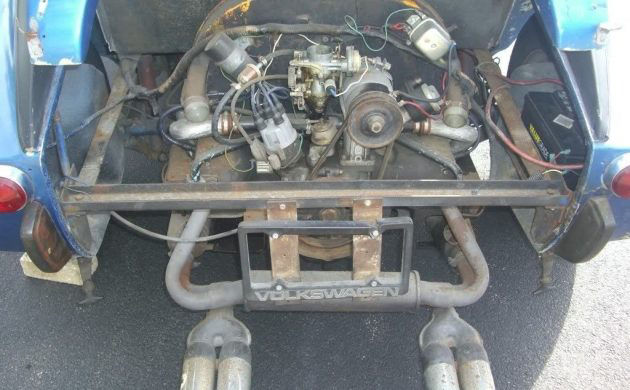 Like the Manx, the SR rode a VW floorpan shortened for an 80″ wheelbase, and could use the VW flat four as modified or unmodified as the builder liked. This one is listed on eBay as a '67 VW, so we can assume the vintage of the donor car from there; no mention is made of modifications to the 53-horse, 1,500-cc flat four, although the beefy quad exhaust tips are an obvious departure. A new carburetor has been fitted, and the car is described as a runner that will need a full going over before it is roadworthy.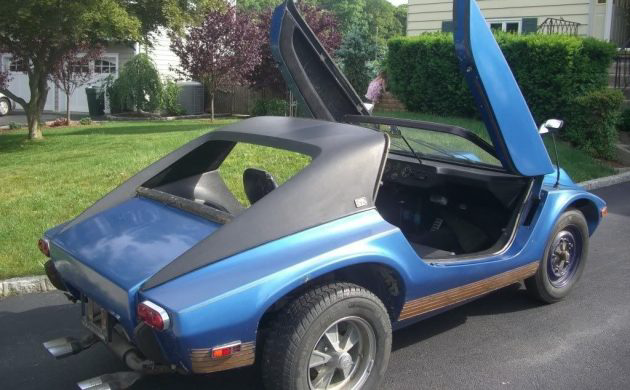 Roadworthy is a key word for, unlike the Manx, the SR was designed strictly for street use—SR stood for "Street Roadster." Its fiberglass body was made up of thirteen separate components, making it much more challenging to build than a dune buggy, and it offered an enclosed luggage compartment, a top, and side curtains, although it is unclear whether these latter pieces are still present on this car. The plexiglass rear window is definitely missing, but should be simple to replicate. The taillights appear to have been sourced from a Volvo 1800.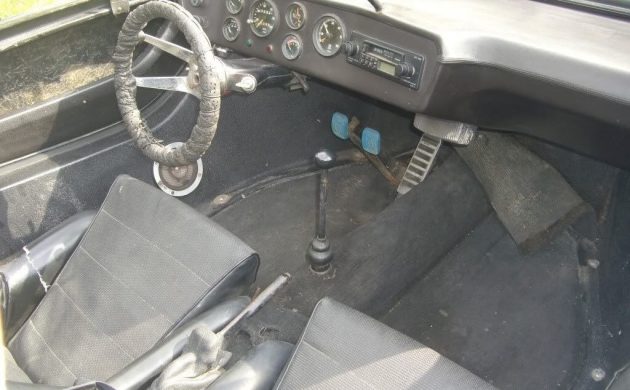 The SR's interior is much less utilitarian than that of a Manx, too; this one even boasts a radio and carpet. I'm guessing not all body types will be a perfect fit for the snug-looking buckets, low steering wheel angle, and narrow footwell, but if you do fit it should be a fun, seat-of-the-pants kind of driving experience. Even with only 53 horsepower on tap, the SR weighed a mere 1,500 pounds, and was more aerodynamic than a standard VW.
This Manx SR may have some scruffiness about the bodywork, need some upholstery repair, and require some general going over (or under, as the case may be) and deferred maintenance, but if it ends up selling anywhere near the current bid, it'll be a heck of a deal. It's a solid, rare, running little sportster, and a neat piece of Bruce Meyers's legacy.