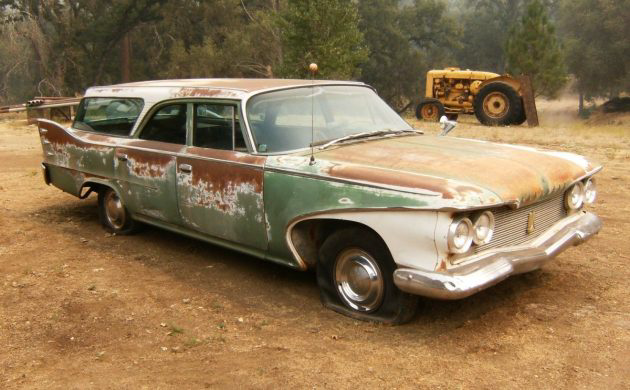 1960 brought some big changes to Plymouth. It was the first year for the unibody platform, and the bulletproof slant 6 also began its 27-year run in '60.  What didn't change were heroically-sized fins and Virgil Exner's increasingly "unique" styling touches. This surviving '60 wagon is located in Mariposa, California (near Yosemite), and is up for auction and ending soon here on eBay, with a current bid of $1,150 and no reserve.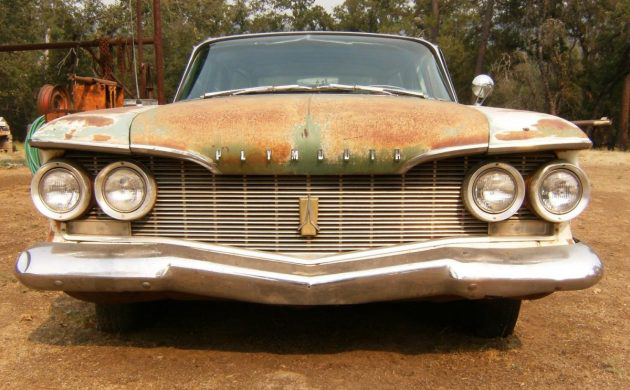 The station wagons ("Suburbans") didn't follow Plymouth's Fury/Belvedere/Savoy model naming convention, rather there were just three series of wagons: the Sport, Custom and DeLuxe lines. Based on the surviving trim, this appears to be a Custom, but an inspection of the VIN would be necessary to verify. Speaking of that, the seller mentions there is no title, and it is out of the California DMV system. Depending on the state, titling an old car with only a bill of sale runs from mildly annoying to nearly impossible, so potential buyers should evaluate that carefully.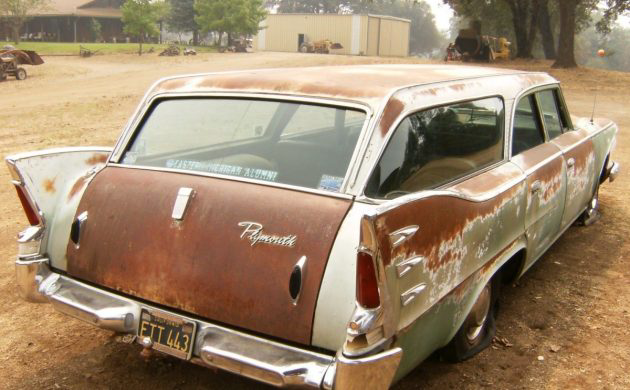 Here we see the epic size of the fins (or "vertical stabilizers" as Plymouth called them). More importantly, these photos give a decent indication of the amount of rust on the car, which really isn't terrible for a 58-year old wagon. The seller notes there are holes in the passenger side rear floorboard, but the rest is only surface rust.  There's also a dent in the driver's door. Glass appears good with the exception of a cracked windshield and missing passenger wing window. Those wagon-only rear curved windows would likely be nearly impossible to find today, so it's good those are intact.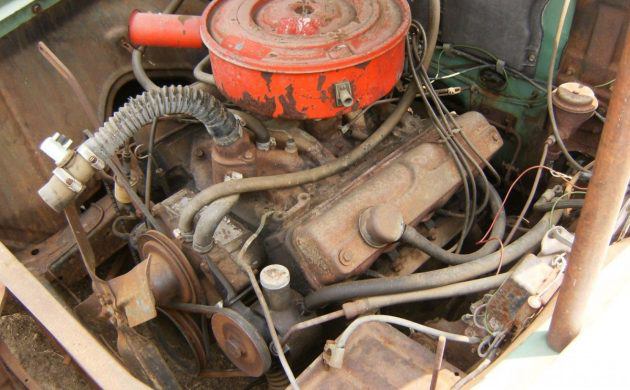 The powerplant is the standard 318 poly small-block. The seller states it turns over, meaning it does not run. The radiator and alternator/generator are also missing. Trans should be a 3-speed Torqueflite.
The futuristic dashboard and "squaroid" steering wheel of the early-60's Mopars inspired countless artists, designers, and animators. The horizontal speedo is exceptionally cool, even if the warning lights do look a little bit like eyes staring back at you. Regardless, lots of work would be needed in the cabin.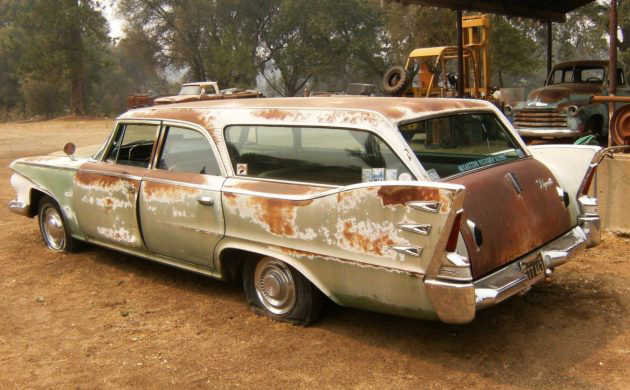 With most of the wagon-specific parts and trim remaining, there is certainly a lot of potential here – but not for the inexperienced or faint of heart. The styling of the 60's Plymouths was not well-received initially, although over time it's a perfect representation of a hopeful space-age future that never came to be.  With a very low current bid (but no title), could this big wagon be a part of your future?