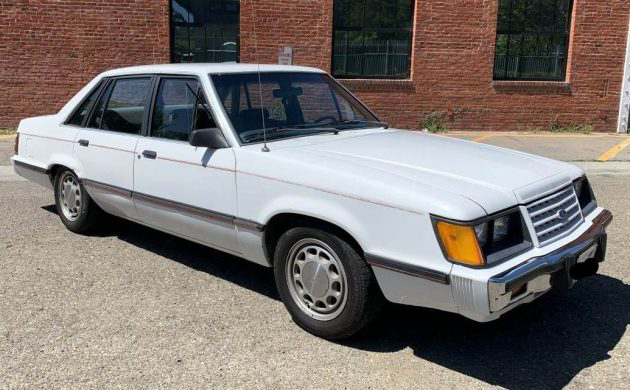 By the mid-1980s, cars previously neutered by emissions and fuel economy requirements of the early '70s began to show signs of life and something that had become unusual:  performance! Ford's Fox platform began in 1978 with this car's twin:  the Fairmont. The Mustang left its Pinto underpinnings to join the Fox platform in 1979. By the time this 1985 Ford LTD LX in Berkeley, California came around, the 5.0 L (302 cid) V8 was making, well OK 165 HP, but it certainly felt like more to folks who learned to drive in the malaise era of gutless parental appliances with V8s making barely more than 100 HP. Continuing the "5.0" theme, this one sports 15″ ten-slot Mustang wheels, some bolt-ons to the 5.0 V8, and a Mustang five-speed manual transmission and pedal set. The listing here on Craigslist asks what seems like a reasonable $6000 for the trans-swapped sleeper. Thanks to reader Pat L. for spotting this "One of none"  LTD.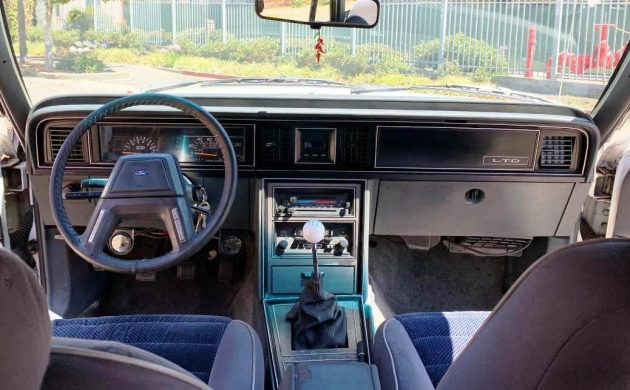 The center console may be a bit crooked but overall looks tidy enough. I believe I'd find a stock Mustang shifter with the dog-leg bend that puts the ball lower and nearer the driver. Though Ford never offered a five-speed LTD LX to the general public, they did make a batch for road-racing legend Bob Bondurant's high-performance and law-enforcement driving school, leveraging that fact in a magazine ad.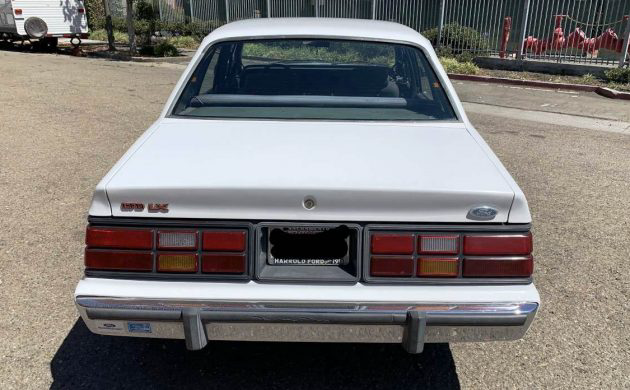 Coming up behind this LTD in traffic, few people would expect this '80s sedan to show signs of manual shifting as it pulled away. The current configuration may be tame compared to modern hot sedans, but the 5.0 can be spiced up to make crazy horsepower if your pocketbook allows. You could probably achieve 400 HP for under $10,000 including the car. How many modern cars deliver 400 HP for under ten grand?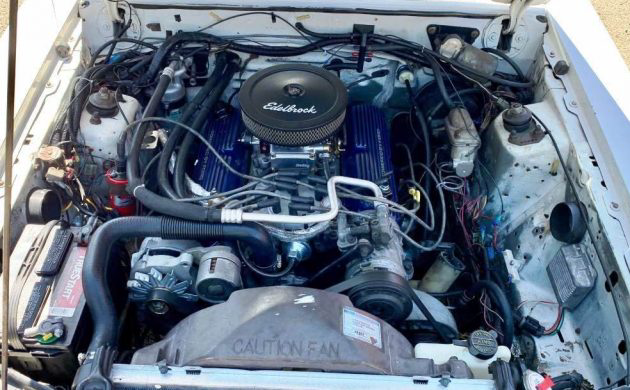 The engine compartment is the same as countless Fox Mustangs made from 1979 through 1993, and a little research will net you plans and examples holding nearly every engine Ford ever made, plus some with laptop-tuned GM LS mills. The seller kindly shows some of the car's weak points including non-functional air conditioning, but the car does pass California smog testing, always a plus for enthusiasts in the Golden State. Maybe it's just me, but that empty spot at the front left seems to be crying out for a basketball-sized turbo. Would you guess this boxy LTD runs a warmed-up 5.0 V8 with a five-speed stick?