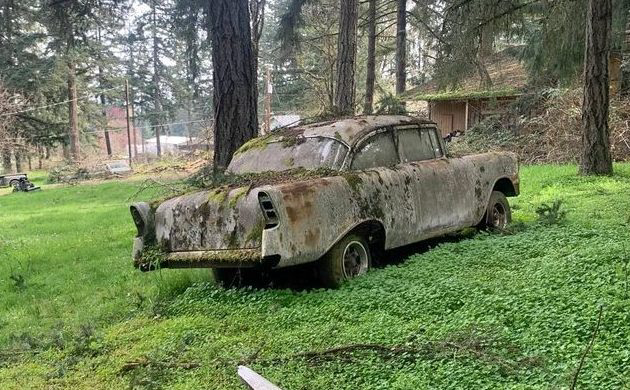 This 1956 Chevy is said to be just a two-owner car and in the same family now for more than 30 years. But at some point, the family lost interest and it found itself sitting out in a beautiful forest in scenic Albany, Oregon. The automobile doesn't look to be the high-end Bel Air model, so it must be either the entry-level 150 or the mid-range 210. It's available here on Facebook Marketplace for the asking price of $10,000 OBO.
The generation of Chevies produced between 1955-57 became known as the Tri Fives and the '56 models would be the mid-way point. Little changed from the year before (other than taillights and turn signals) and the 1956 Chevies would see a production of about 1.6 million units. Of that number, 150 2-door sedans would comprise 82,000 copies, and the 210 2-door sedans another 206,000. So, this forgotten Tri-Five is in one of those statistics.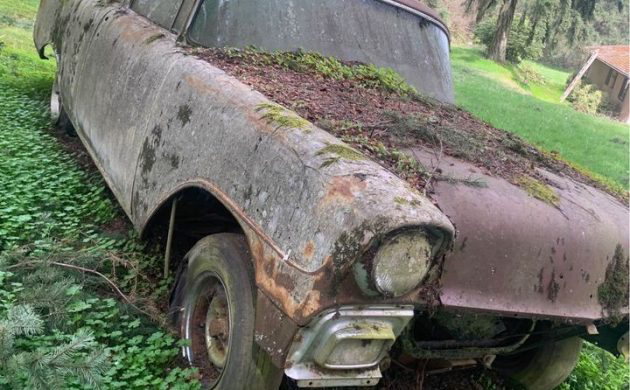 This '56 doesn't look as though it has been mobile in years and no mention is made what may be wrong with it other than what time and Mother Nature has done to it. It comes with three engines (does that include the one in the car?), a spare Powerglide automatic transmission, and all sorts of other parts, many NOS. The reported mileage on the car greater than 100,000.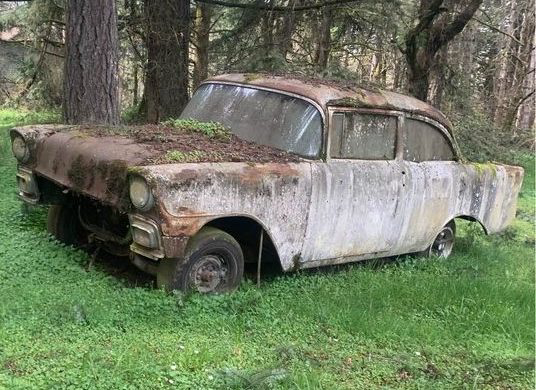 The once grey sedan's paint job has long ago succumbed to the elements. This 150 or 210 likely has rust in places we can't see, and all the chrome has been removed. The front clip looks as those it easily detaches as a photo of it separate from the rest of the car has been posted. The seller says the car must be moved as soon as possible, so cash is king. The asking price sounds like a lot for a car with as many unknowns as this one may have.