Unique and certainly interesting, the cut up 1950's cars that became campers are somewhat strange, but were certainly a stepping stone to what campers would become in the future. Cadillac's seemed to be a popular choice due to their luxuriousness and peppy V8 engine, but this '59 Oldsmobile shares more in common with Frankenstein's monster. With a mash up of drive-train parts this camper is a strange but cool classic that would be an awesome project to revive and enjoy. Guaranteed to get attention no matter where it may go, this camper project is offered for a reasonable $3,500. Take a look at it here on craigslist out of Parkersburg, Iowa. Our reader and friend Randy Zimmermann sent us this way too cool and unique camper that's just begging to hit Route 66. Thanks Randy!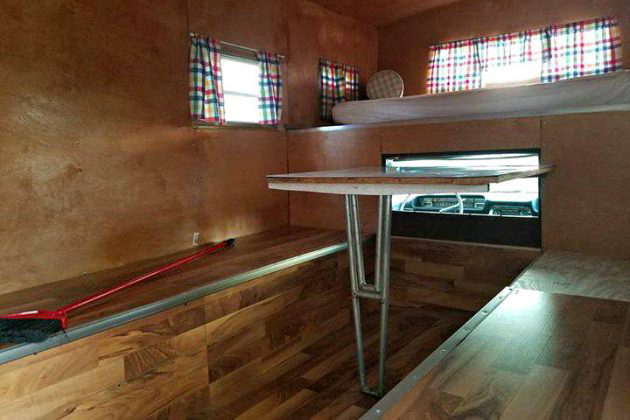 Within the camper section you will find a refurbished camping space. There is a bed up high, two benches down low, and a fold up table. I would guess that the bench areas could double as a sleeping areas as well. It would appear that the "fastback" section of the camper lifts up and is the entrance into the camper section. As far as the refurbishment, it looks like floors and benches were updated. There appears to be old luan plywood on the walls and some fresh plywood on the bench sections. Faux hardwood flooring has been added giving a slightly classier appearance. Quite simple, there is potential to update this camper and make it more user friendly in this modern day and age. An interior view of the back section of the camper would have been nice to get a better grasp of the layout and features wrapped up in this classic. There are a few service doors and possible storage areas on the driver side exterior of the camper, but it isn't quite clear what features this camper may have.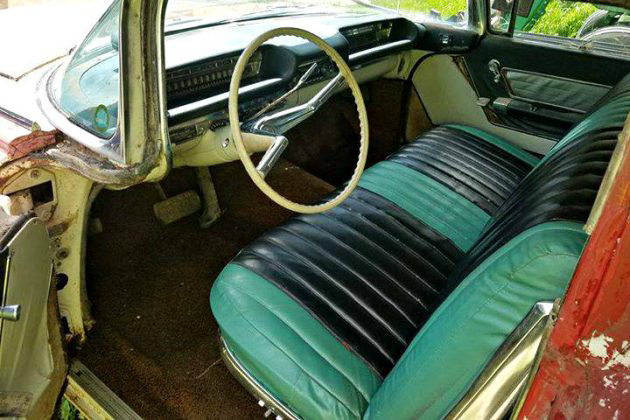 Packing power windows, a power seat, and a Wonderbar radio, this Oldsmobile was quite deluxe for its time. The cockpit view is quite reasonable, and is mostly manageable. The second hand carpet is an interesting choice, but with a change of carpet, and a bench color change, this interior wouldn't be too bad to live with. Beyond the goofy carpet, lets talk about the Franken' drive-train under this unique camper. The engine and transmission are Chrysler units, but no specifics are given. The engine hasn't been touched, so there is no word on condition, or if it is frozen. The rear axle is a Chevrolet 1 ton truck axle capable of whatever loads you may throw at it while camping and hauling. Interestingly the front suspension has been converted to a 1 ton Ford straight axle, really rounding out the top American auto manufacturing brands all into one camper.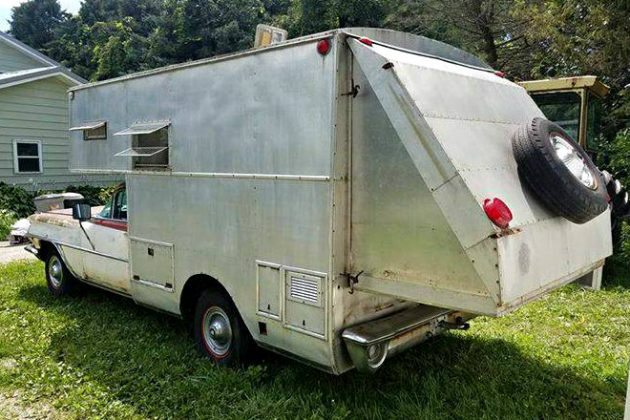 A bit obtuse from the rear view, this camper looks like a solid endeavor with no critical damage or corrosion. The Oldsmobile portion wears some surface rust, but there looks to be no rot. Depending on your taste, this camper could keep its weathered looks, or it could certainly be cleaned up and painted. Perhaps a bit flashy, but the camper section would be cool polished up to a mirror finish. Add a few more modern amenities, or even add some more classic ones to make this camper more useful and enjoyable on your next camping adventure! Where would you go camping in this old Franken Camper?