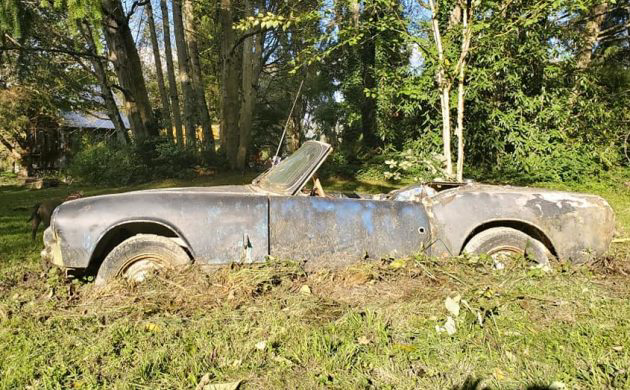 Here's a follow up to the other post we shared earlier with a free Triumph GT6: an also free Triumph MK4 Spitfire convertible, apparently found on the same Washington property where a prior owner abandoned the vehicles. Amazingly, despite sinking into the ground, the seller claims the floorpan and body are both still solid. Now, that demands an in-person inspection to verify, but for the price of free, I'd be willing to roll the dice on bringing a trailer with me. Check it out here on Facebook Marketplace in Standwood, Washington.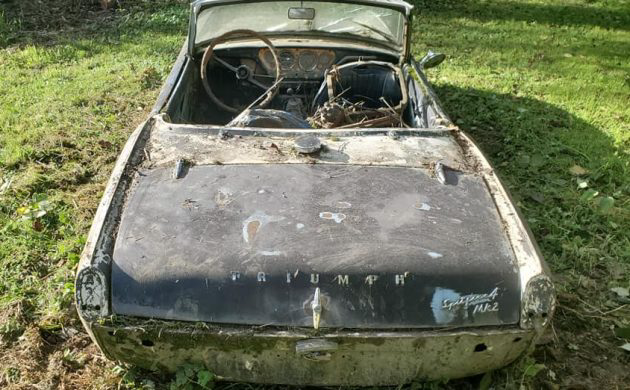 The Spitfire is in very similar condition to the GT6, with evidence of some parts having been pulled over the years. The bumpers were obviously useful on other projects, considering these pieces were removed from both cars. And again, the taillights have gone missing. Being a convertible stored outside with no roof, the interior is completely trashed, so there's likely not much salvageable inside the car. It may have collapsed inside the car, but I suspect the convertible top frame has perished.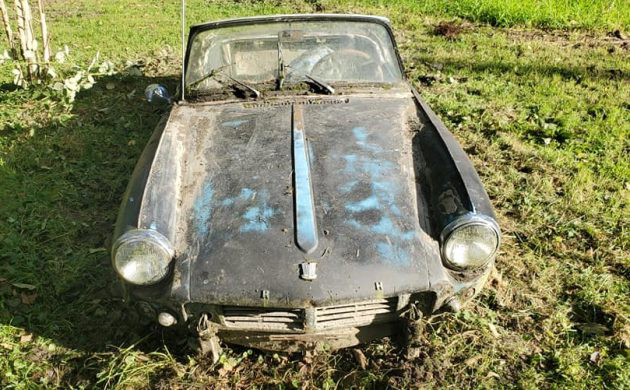 What's intriguing about this picture is the potential of something resembling paint still adhering to the vehicle. That faded blue finish continues down the driver's side, but the rear quarters and the passenger side are too filthy to determine whether any matching blue paint exists in those areas. It doesn't really matter, as it's highly doubtful this Spitfire is returning to the road. These cars are simply too cheap to buy in running condition, and while the price of free makes picking up a basketcase more palpable, it's still hard to justify bringing it all the way back.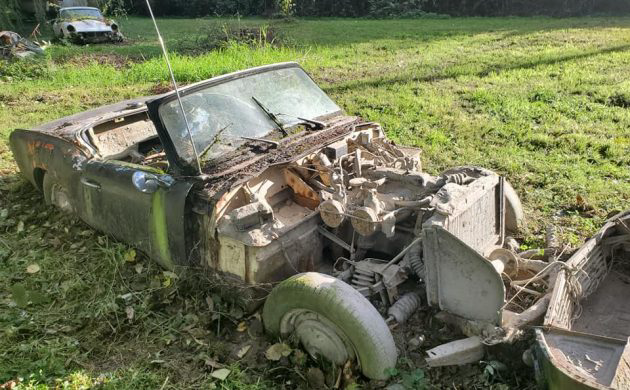 But I could be wrong – maybe there's more to work with here than I'm seeing. After all, I'm not one to judge considering where I buy most of my project cars. I'm still shocked that the floors and body are solid considering how long it's obviously been sitting, but Washington State is known for being incredibly kind to old tin. Kudos to the new property owner for not just calling the local scrapyard to haul these off; hopefully, the low cost of entry entices a British car fan to either part these out for good use or bring one of them back to life if not too far gone.