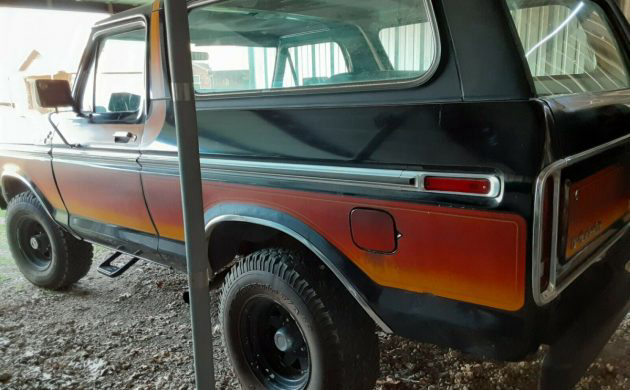 The buyer of this 1979 Ford Bronco XLT Free Wheeling will be set to join some pretty illustrious company. NASCAR legend Tony Stewart spotted an identical vehicle when he was a lad and has recently had the chance to realize a childhood dream, and to add a pristine example to his impressive collection of classic vehicles. This one isn't pristine, but there is no reason why it couldn't be once again. Located in Crowley, Texas, you will find the Bronco listed for sale here on eBay. Bidding currently stands at $8,300, but the reserve hasn't been met.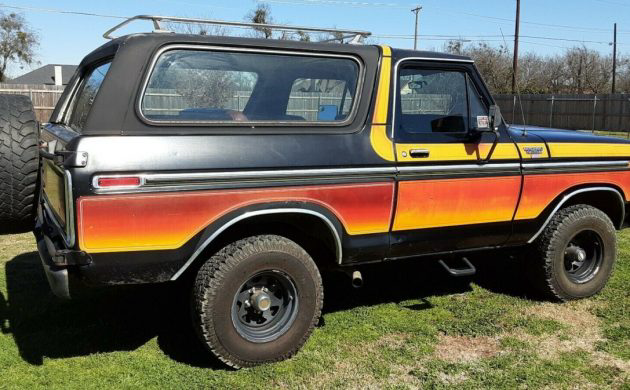 The "Free Wheeling" Package was a purely cosmetic option and didn't bring any performance upgrades to the Bronco. As is the case with this vehicle, most of these Broncos wore Black paint, although other colors were available. Ford used a black Bronco in the majority of its advertising literature for an excellent reason. A Free Wheeling wore some distinctive exterior decals, and these were shown at their best when installed on a dark vehicle. Those decals weren't just bright during the light of day, because they were reflective. When light hits them at the right angle at night, they light up like a Christmas tree. This Bronco has seen better days because the exterior is looking tired. The paint is faded and worn through in spots, and the decals show marked deterioration. There is rust in the vehicle, but none of this is structural. The floors and frame have a coating of surface corrosion, but nothing has penetrated the original steel. There is rust to address around the rear wheel arches and below the rear bumper. It looks like the cosmetic restoration of the Bronco could be a straightforward proposition, and even those graphics shouldn't pose a real problem. Several companies produce high-quality reproductions, and these generally sell for around the $700 mark. And fear not, because these replacement kits are just as reflective as the originals.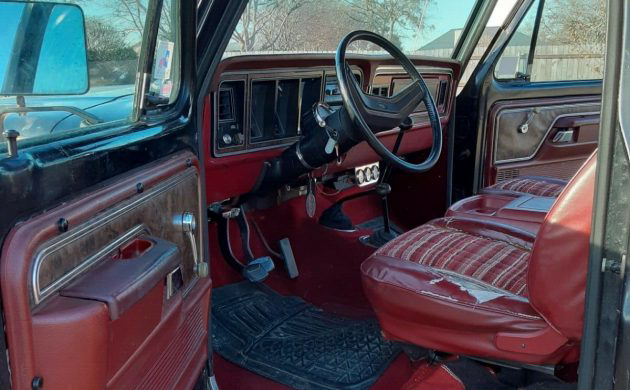 If the exterior of the Bronco left little to subtlety, the interior provided more of the same. Bright colors were the general rule, although Ford did offer some slightly "softer" color combinations for the more conservative buyer. The interior of this Bronco is dominated by the color red, and it will need some work. The most obvious issue is the deterioration of the seat covers. These will need to be replaced, and I was able to find a full set in the correct materials and color for $580. The armrests on both doors are looking tired, but the rest of the interior doesn't look too bad. The vehicle was equipped with air conditioning, but this no longer functions. The compressor and bracket have been removed, and are included in the sale. The owner has installed a few extras. These include a gauge set and a tachometer, a CD player, and a pair of subwoofers.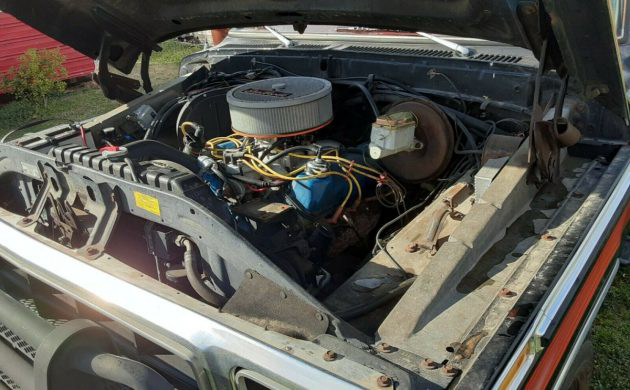 Buyers in 1979 had a choice of two engines in their Bronco, and this one is the 351M V8, which should produce 158hp. However, its trump card was a healthy 262 ft/lbs of torque. When this is combined with dual-range 4-wheel-drive capabilities, that made this a vehicle that could take its occupants into some pretty inaccessible locations. This Bronco also features a 4-speed manual transmission, along with power steering and power brakes. The Bronco does run and drive, although it hasn't seen active duty for a few years. The owner suggests that a full service, a fuel system flush, and possibly some brake work will be required before the vehicle is roadworthy. The previous owner swapped the gears in the rear axle from 3.50 to 3.25. The original gear set is present, and the buyer might choose to switch this back at some point.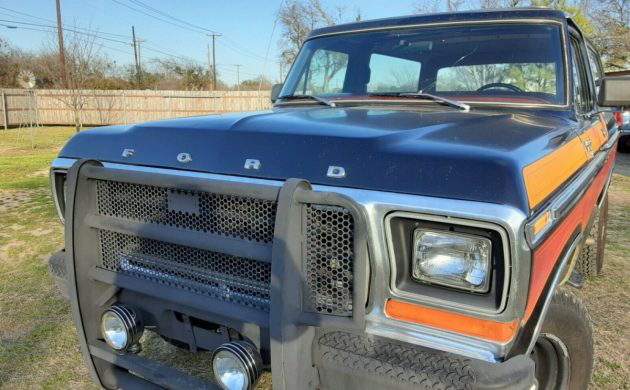 The 1979 Ford Bronco is a good looking vehicle, and the Free Wheeling Package added something to its overall appearance. Whether that something is a positive or a negative comes down to personal taste. However, if you are a child of the 1970s like Tony Stewart, then this is a classic that will probably appeal to you. The reasonable level of bidding to this point suggests that there are a few people who like this Bronco, and I suspect that it will be heading to a new home very soon.