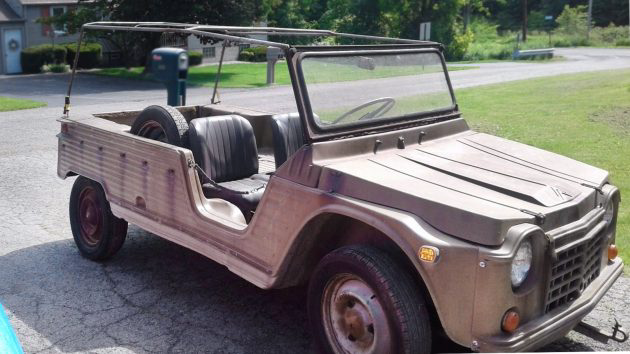 How many of you were alive in 1970? I think my dad, who would have been 79 years old on July 15th, would have gotten a kick out of seeing this 1970 Citroën Méhari parked next to his 1956 Pontiac. This rarely-seen half-safari-half-Disneyesque vehicle is in Hubbard, Ohio and can be found on eBay. You won't be driving this one home, unless you live across the street from the seller.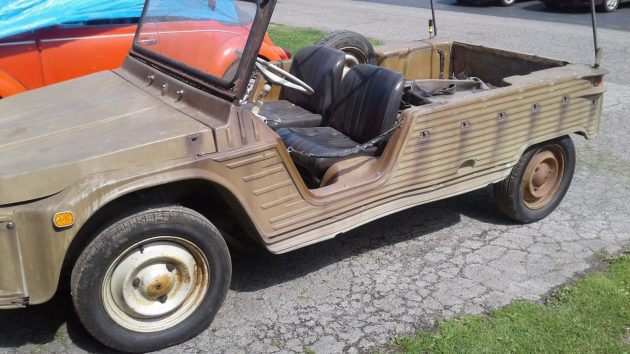 I don't know which one I like best, an Austin Mini Moke, a Fiat Jolly (or, a Honda Jolly!), or a Citroën Méhari. The Citroën Méhari is unique in that it has ABS (Acrylonitrile butadiene styrene) plastic body panels, which could, and sometimes should, be changed when they get to be in rough shape. This faded.. tan? I'm not even sure what this color is or why it is this color, I think the original color of this one would have been Vert Tibesti (i.e., lime green) or Vert Montana. Unless a person was planning on taking this to the desert to hide from someone, or something, why on earth would they have changed it from that fantastic green?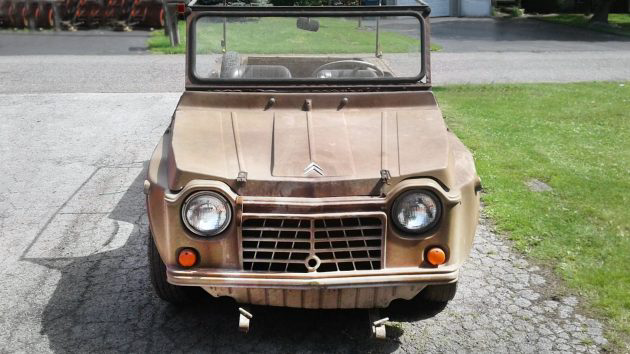 The ABS panels are riveted to a metal frame, a very, very non-crashworthy metal frame. Hagerty lists the value of a #4 fair condition Méhari as being $8,300 and a #2 excellent condition one as being worth $21,600. The current bid on this particular vehicle is just over $3,100 now, but the reserve isn't met. There will be a lot of work to do on and under this one, it's about as rusty as you would probably ever want a vehicle to be. The windshield frame is holier than Chartres Cathedral and I'm not sure if you even want to know what the frame looks like. Actually, if you're a bidder on this one, you probably do want to know, and it isn't pretty. The next owner will want to strip this thing bare and get that frame in perfect condition, order up new panels, etc. If price is no object, of course.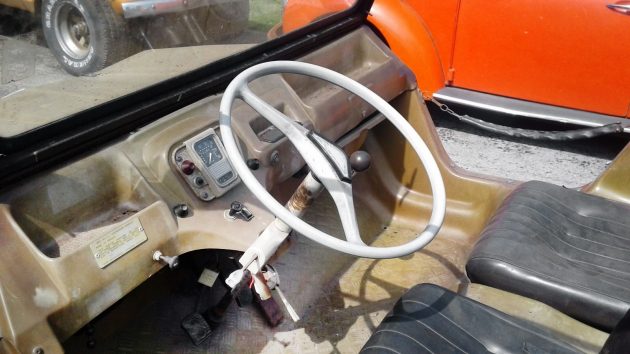 For the US market, the Méhari was classified as a truck due the more relaxed safety requirements for trucks. They were available in the US in 1969 and 1970 and they had a cool hidden rear seat that you could flip over to haul things in the back, or flip it up to carry passengers, without seatbelts because this was a "truck" and they weren't required. Luckily there isn't too much horsepower to work with here, but you probably still don't want to drive too recklessly with one of these.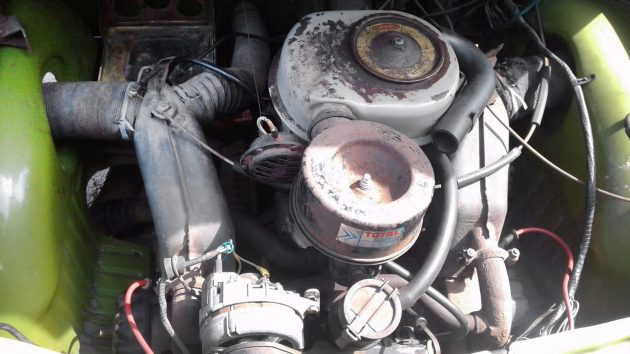 This is a whopping 602cc, 37 cubic-inch boxer, flat-twin with around 32 hp, and you can see the green color/colour under the hood. This vehicle only weighs 1,200 pounds, but once you load it up with unbuckled friends and start hopping over sand dunes, you'll probably wish that it had more power. The seller says that this "car has been sitting for a numbers of years. Car will but need tank cleaned and possibly carb rebiult [sic] to run properly." There were supposedly just over 200 that were sold in the US in 1969 and 1970 so they're rare. Is this one worth restoring?