The owner of this 1967 Mustang GT Fastback describes the vehicle as being fully loaded. It does come equipped with some nice options, so it will be interesting to see if you believe that it lives up to that claim. It will also need a fair amount of restoration work, but if it is as solid as he claims, then it could be a fairly straightforward proposition in that regard. It is located in Memphis, Tennessee, and has been listed for sale here on eBay. There must be more than a few people who see the potential in this pony because bidding has been very intense up to this point. After opening at $1,000, it has now skyrocketed to $23,100, and the reserve has been met.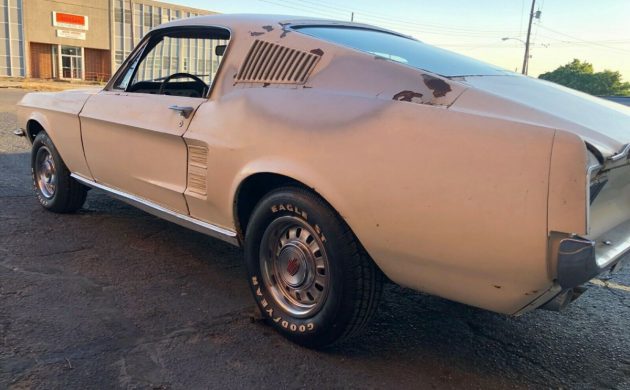 The Wimbledon White GT would have been an attractive car when it was new, but time has taken a toll on it. If the owner's description is accurate, then the most severe rust is confined to the front floors. If I was tackling this as a project, I wouldn't hesitate to replace the floors entirely, because this would reduce the chances of it returning to spoil my fun at some point in the future. There are a couple of small spots appearing on both sides just forward of the rear wheel arches, but the lower rear quarter panels, rockers, lower front fenders, and the bottoms of the doors all look pretty good. There is some rust visible below the battery tray, but it is hard to see just how extensive it is. The majority of the external trim and chrome is present, but there is a fairly high percentage that will either require a full restoration, or possible replacement. One positive in this department is the fact that the wheels, beauty rings, and the caps all look to be close to perfect.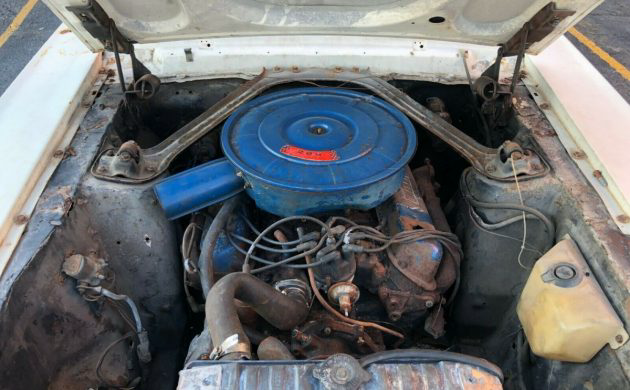 The Mustang is a numbers-matching car, and it features an A-Code 289ci V8 which is backed by a 3-speed automatic transmission. With a view to the owner's "fully loaded" claim, I was expecting to also see power steering and/or power brakes, but the vehicle falls down on both counts. Looking at the photo, it would be fair to assume that the 289 doesn't currently run. However, it isn't clear when it last fired a shot in anger, or whether the engine even turns freely. At the very least, this is an engine that will require some pretty major detailing if it is to present well once again. The amount of corrosion that is present on numerous components under the hood would tend to suggest that a rebuild might possibly be on the cards. At the very least, I would be looking at pulling the heads to check the state of the bores and the valves and then working away from there. It would be nice to think that with a little work, the 289 will be pumping out a healthy 225hp once again.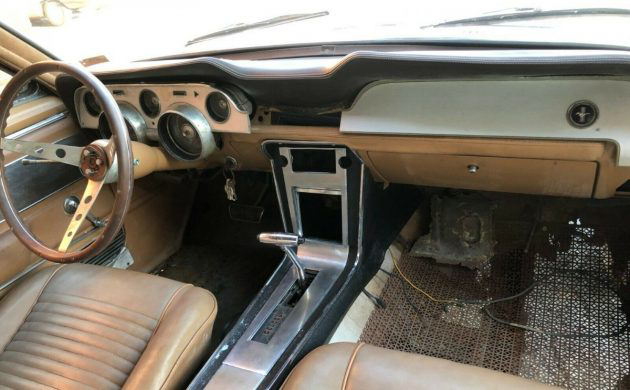 The Deluxe Parchment interior of the Mustang would have felt quite luxurious when the vehicle was in its prime, but it is now in need of a fair amount of work to return it to its best. The lack of carpets allows us to get a clear look at how extensive the rust is in the floors, and how much work will be required to return them to a sound state. There are quite a few items missing inside the GT, including the original radio, along with all of the heater controls. The seats look tired and dirty, and while they might conceivably clean up okay, I tend to think that replacing the covers would be the only way to do this car justice. In fact, with the door trims and the majority of other trim components either missing or being damaged, I suspect that a trim kit is probably going to be the most viable way to return the interior to its former glory. The quality of these kits is generally very good now, and depending on the supplier, they can be found for anywhere between $1,700 and $2,100. As well as the Deluxe interior trim and the console, this Mustang rolled out of the factory fitted with air conditioning. It would seem that the vast majority of the components for this are now missing, so replacements will need to be located if the GT is to be returned to its original specifications. Your starting point here is going to be a compressor, and aftermarket items with the appearance of the original will cost around $310. There will be other components and brackets that will almost certainly be required, but it will be a case of crossing that bridge when you get to it.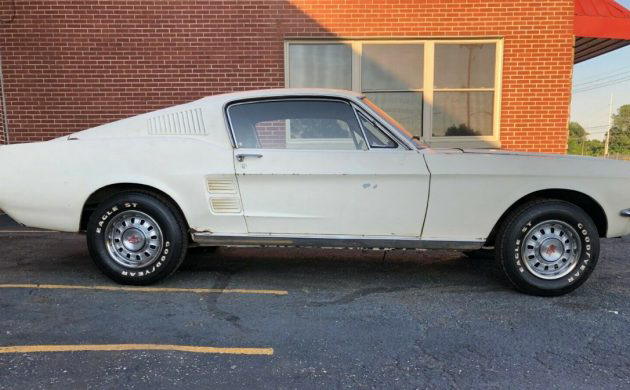 So, what do you think? Would you describe this 1967 Mustang GT as being "fully loaded," or is the owner being a touch optimistic on that front? What I will say is that it left the factory fitted with a nice combination of optional equipment, and these would have made it a pleasant environment on extended road trips. If the rust issues are as limited as the owner describes, then it is definitely a viable candidate for a restoration. I can honestly say that I'm not the only one who feels that way about this classic, because there are 16 people who have submitted all of those bids to this point. Obviously, they also see the potential in this car and would seem to be willing to put their money where their mouth is. Do we have any Barn Finds readers who would be willing to join the party?