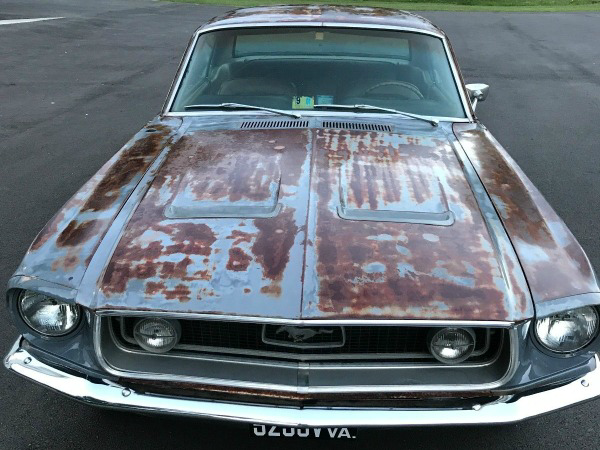 I am sure most of you reading this are no strangers to the show Fast and Loud.  While I often disagreed with some of the things they were doing to those cars (the Model A Ford in particular), the show had its moments.  One of the "techniques" they used was clear coating a rusty vehicle.  They called the rusty finish on the car "patina," and the idea was to preserve this patina.  Well, we now have proof that this technique is an official "thing" in the collector car world.  Take a Texas sized look at this 1968 Ford Mustang GT we found on eBay in Mount Hope, West Virginia.  All this patina is selling for a Buy It Now price of $14,999.99.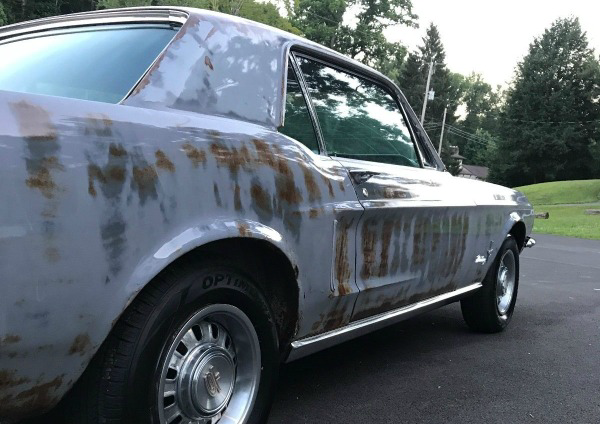 Let's get this out in the open right now.  I am on the fence about this whole clear coating a rusty, faded automobile.  On one side of the coin, a car is being rescued from the scrap heap in 99% of these situations.  That's a really good thing.  We need for more cars to be rescued and enjoyed.  God knows all of us have seen cars that have been destroyed by an owner that will "fix it up someday."  Well, someday never comes because it takes money, skill, tools, patience, and a good place to work to restore a car.  Not everyone has those things, and many a car has been lost to promises and excuses.  Clear coating eases the financial burden because it saves a lot of money on body work, paint and primer.  The cost to refinish a car is outrageous, and EPA mandates are driving the price up every year.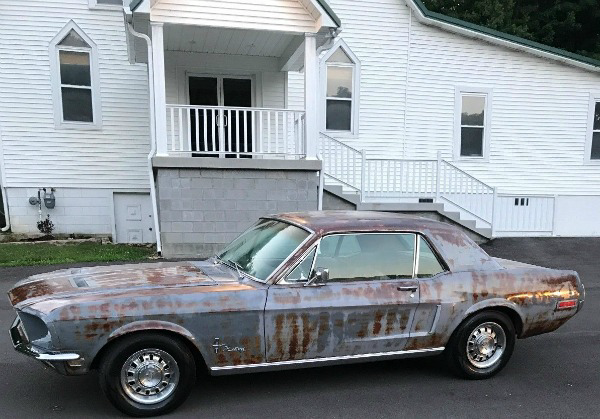 On the other side of the coin, I just can't fall in love with the looks of a rusty car that has been clear coated.  Especially of the car merits more, be it from rarity, originality, or just the suitability of the finish on that particular type of car.  On a rusty 1970s pickup, OK.  On a muscle car, not so much.  I never saw a car with this treatment until Fast and Loud arrived on my TV, so it makes me wonder if it is a fad.  Fads such as billet everything, satin black cars and trucks, and World of Wheels type show cars.  These things come and go.  Will this be a lasting technique?  Who knows?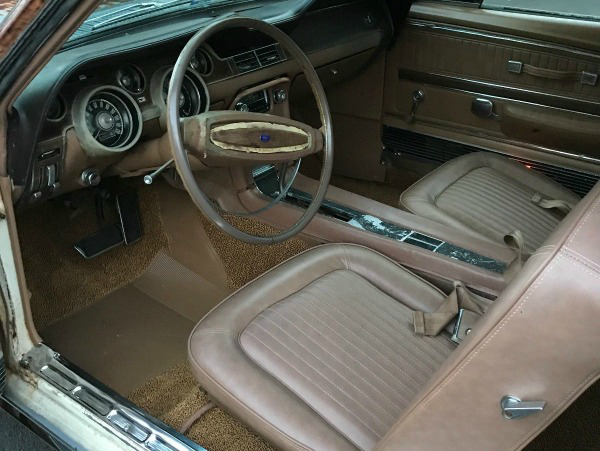 On this particular Mustang, we can see that they sprayed the gloss clear on pretty thick.  Three layers thick, according to the owner.  It doesn't appear that they started with a bad car either.  The seller claim the rust is limited to  the battery tray, one spot on the passenger floor, and a couple of small places on the quarter panels at the wheel well.  Claiming that the car lived its life in California, the body is assumed to be tip top due to the dry climate out there.  As seen above, the patina business basically stops at the door jams.  The interior has almost been completely redone, except for the headliner and a couple of spots here and there.  I think I'd replace the horn section of the steering wheel as well if I were the new owner.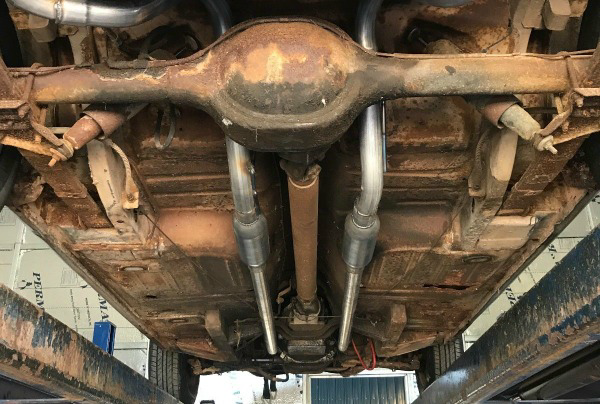 Underneath, we see that the patina is continuing to evolve.  The floors don't look too bad, except for the spot the owner mentioned on the passenger floorboard.  There might be a small area of rust through on the driver's side as well, but I am not sure.  A new gas tank and exhaust system from the headers back has been installed.  The car also has had the brake system brought back to snuff, and the GT wheels sit on new tires.  While it is a running and driving car, I wonder if the rear end has been flushed and topped off.  The shocks look like they have seen their last day as well.  These are just minor concerns though, and easily remedied.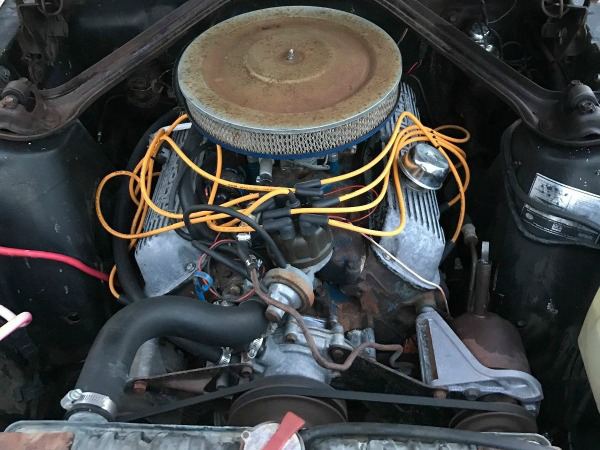 Under the hood, we see the same old Ford 289 that powers most Mustangs of this era.  Hoses, belts, and plug wires look new, and the owner says that both the engine and the automatic transmission run without issue.  I wonder if they had to get the transmission rebuilt?  I've never had any luck whatsoever with an automatic transmission that has sat for a long time.  Has anyone else?
In all, I like the car, but I am not sure I like the clear coat treatment.  It seems to have been a fairly solid car, at least as far as Mustangs go.  They all rust.  I happened upon one that had been garaged for over ten years near my old home.  It was a beautiful 1965 coupe from about 50 feet away, complete and original.  When I got closer, there was rust everywhere.  Even bubbling up under the paint in the middle of every panel.  I just turned and walked away.
For the right price, I probably wouldn't walk away from this Mustang.  It is a pretty good car.  I just don't think the clear coat would last long if the car ended up in my garage.  When I say that, I don't mean to disparage anyone who is into this.  We need all the enthusiasts we can get in this day and age of declining interest in many areas of the hobby.  Owning a collector car is a love more than anything else, and we all are attracted to different things.
What are your feelings on this car, clear coating patina, and the influence of TV shows on car collecting?  "Let 'er rip 'tater chip!"