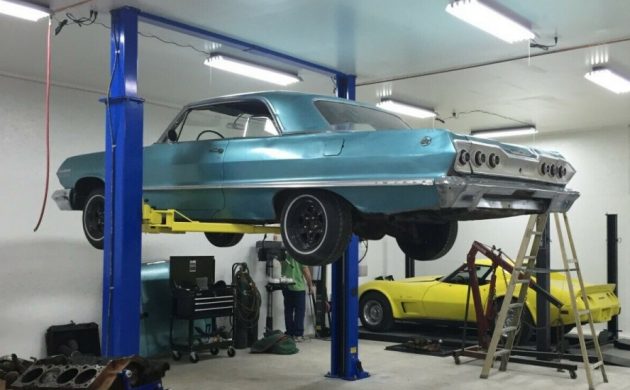 This one is going to be a quicky! Why? There are three images and virtually no details in the listing so I'll fill in the blanks where I can. We have, for review, a 1963 Chevrolet Impala SS equipped with a song-worthy 409 CI engine. It is located in Belleville, Illinois and available, here on eBay for a current bid of $13,500, reserve not yet met. Generally, a 409 equipped anything (Impala, BelAir, Biscayne) trades for big dollars, they are very collectible! This example, being the top flight Impala SS, would make it even that more enticing. Why then, in the Sam Hill, would the seller be so parsimonious with the details?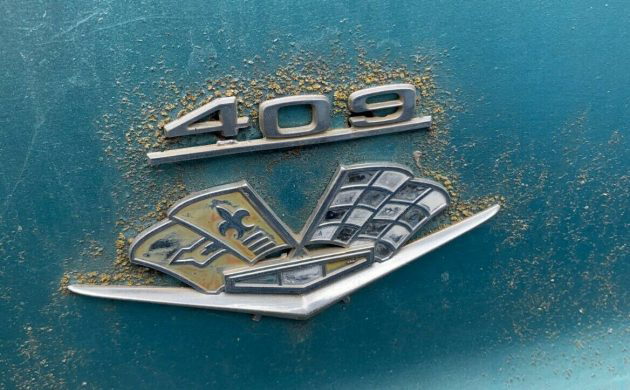 Chevrolet's 409 CI engine was introduced in mid-'61 to replace the 348 CI motor. It is referred to as a "W" head but not because of the shape of the heads but because the compression chamber is a "W"edge formed in the upper part of the cylinder. The 409 gave way in late January of '65 to the new 396 CI Turbo-Jet Mark IV motor. And actually the Mark IV was a follow-on development of the 427 CI Mark II motor that Chevrolet brought to Daytona in February 1963 so the "new" 396 wasn't really new in architecture but was new in production form. The original 409 engine in '61 generated 360 gross HP. In '62, two versions appeared, a 380 gross HP, single four-barrel carburetor equipped variety and a dual-four set-up cranking out a goal-worthy one HP per CI or 409 HP. Chevrolet upped the ante in '63 with three flavors, 340, 400, and a now top dog, 425 HP dual quad variant. Ditto in '64 and then the wind-down in '65 with just 340 and 400 HP choices. While always a strong performer on the drag-strip, the 409 didn't have the right stuff for NASCAR. Power generation wasn't a problem, holding the lower end together at high RPM for four to five hundred miles is where the challenge presented itself. Which engine does this Impala possess? The seller doesn't state specifically but he does add, "this engine will come with fresh rebuild with the rare aluminum 4 barrel intake and electronic dist…" That would indicate a 400 HP version but there's no way to know for sure without an inspection. And there is no claim that the included 409 engine is original to this Impala. The seller advises that he has a dated Muncie four-speed manual transmission and that is notable as the Muncie was introduced in mid-'63. So, how does all of this bowtie greatness operate? Don't know.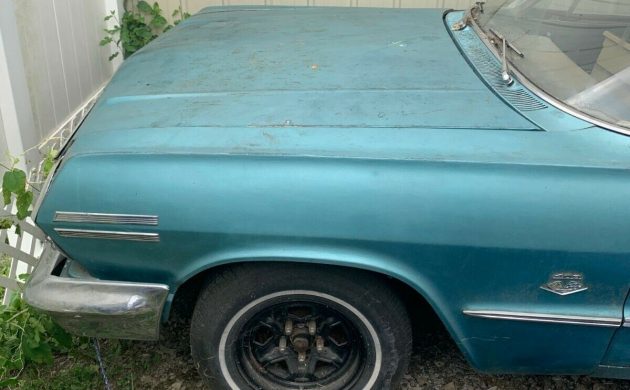 The seller advises that this Chevy is an original 409 car and needs restoration. From what little is revealed, the body looks fair though there is some rust visible in the lower driver's side quarter. The trim appears to be all present, though slightly dented, and the finish is actually presentable, no telling if it is original. As a perk, the seller does have $9K worth of sheet metal included in the sale. This Chevy is wearing an interesting set of wheels, they appear to have been lifted from a Chevy S-10 pickup truck or something similar. I wish there were many more images, and there should be, as well as some detail regarding the interior but there isn't.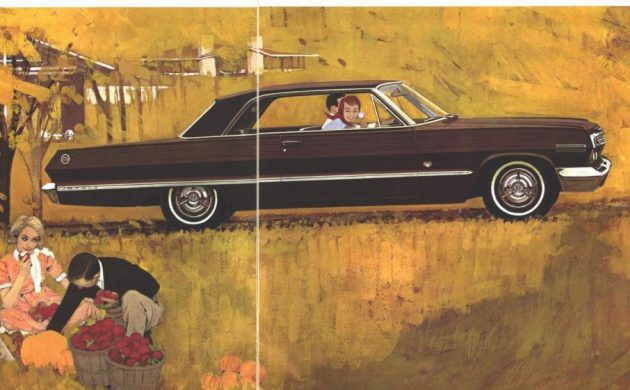 The bidding time is almost up and there will probably be more questions than answers. On the surface, this is a desirable and collectible automobile from the era before the muscle car craze really took over – full-size was where the action was in '63.  And for that reason, this Impala SS deserves more sales pizazz, don't you think?