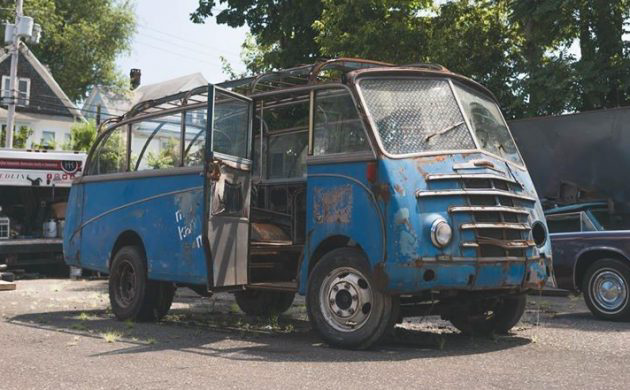 Variety is the spice of life. That is certainly true here at Barn Finds. We are fortunate enough to see some quirky and rare vehicles coming across our desks. This 1940 Gebrüder Tüscher Coach has to rank right up there with the best of them. It started its active life in Switzerland, but it has found its way in its retirement to Fairfield, Connecticut. The owner has performed a few updates on the vehicle, but it now needs someone to put their mark on this unusual classic. If you think that you could be that person, then you will find the Coach listed for sale here on Facebook. The owner has not set a sale price, but he is open to offers. He is also willing to consider trades. I have to say thank you to Barn Finder Peter R for spotting a truly quirky vehicle for us to examine.
It's quite hard to decide where to begin with this fantastic Coach, so maybe a bit of background is in order. Gebrüder Tüscher was formed by brothers Otto and Fritz Tüscher. It commenced business in Zurich in 1909 and remained a family-owned company until 1984. At that point, it was sold, and it still operates today. It is probably no surprise to learn that it continues to specialize in coachbuilding buses. However, under the ownership of the brothers, it produced some diverse products. They fabricated some beautiful bodies for brands such as Jaguar, Rolls Royce, Alfa Romeo, and Bugatti. By the 1930s, they were more focused on American makes such as Dodge, Cadillac, and Auburn. Their workmanship was legendary, and it was at this stage that they also diversified their business into the building of bus bodies. Between 1930 and when this coach was built, approximately 210 vehicles rolled out of their factory. Production didn't slow markedly during the 1940s, and this was undoubtedly aided by the fact that Switzerland remained a neutral country during the years of World War II. The majority of their coaches were constructed of steel frames clad in aluminum and steel body panels, and that appears to be the case with this vehicle. The steel frame seems to be sound, while the original chassis has been swapped out for an early 2000's Winnebago chassis. The panels are showing a few dings and dents, but they should be able to be straightened with no problems. From the waistline up, the Gebrüder Tüscher features glass and plexiglass panels, along with a retractable canvas mid-section for the roof. The owner states that he has the majority of the glass and plexiglass pieces, which is a relief. With a bit of luck, a glazier might be able to fabricate the missing pieces. It appears that the frame for the canvas roof section is present, so having a new cover made should be an easy task.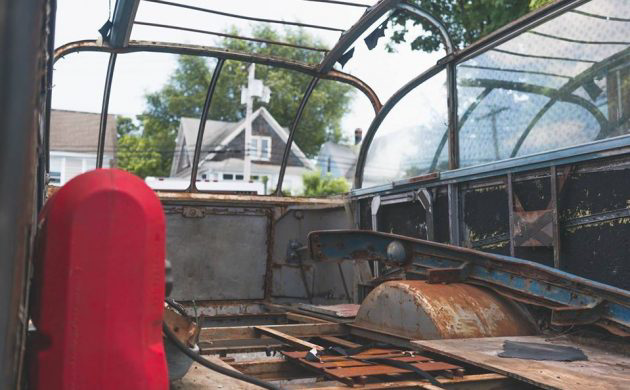 The interior of the Gebrüder Tüscher is a blank canvas, and this opens up a world of possibilities for the next owner. Given the vast expanses of glass, this vehicle would be ideal for someone who conducts any form of sightseeing tours. There's no doubt that customers wouldn't be able to complain about a lack of visibility from this Coach. I initially thought that it might make an excellent base for a really funky camper, but I'm not sure whether there would be sufficient headroom for that. However, it still might work quite well in that role for the occasional weekend away. Beyond that, it would undoubtedly make a distinctive family car. You wouldn't have trouble locating it in the car park at your local mall.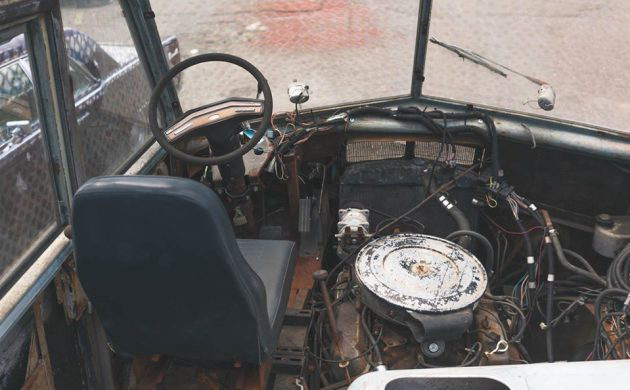 It isn't clear what the original underpinnings of the Gebrüder Tüscher were, but it has received a recent update. The body has been dropped onto a Winnebago frame. Getting things up and moving is a 460ci V8, which should provide ample power and torque to get the vehicle motoring respectably. Safety and ease of operation haven't been neglected. The Coach comes equipped with power steering, along with 4-wheel power disc brakes. It appears that the next owner will have little to do on the mechanical front because the seller states that the Coach runs and drives perfectly.
Those of you who are regular readers will know just how much I like quirky vehicles. This 1940 Gebrüder Tüscher Coach would undoubtedly qualify on that front. Today, buses tend to be bland and boring, but this one hails from a time when coachbuilders were allowed to supply something distinctive and different. I'm not entirely sure just what I would do with it, but I have to say that it could make a cool camper for the occasional weekend jaunt. That's my idea. So, what's yours?