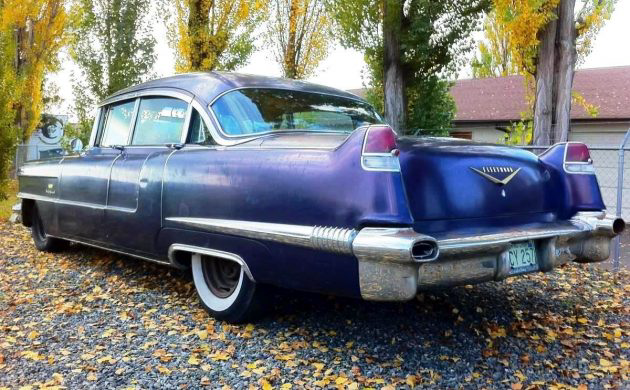 Fans of American "heavy metal" draw near. The late 1950s and early 1960s saw some of the most interesting and excessive automobile designs of the ages. This 1956 Cadillac Series Sixty Special in Snohomish, Washington ranks as Cadillac's flagship and most luxurious non-limousine sedan model that year. This one sat in a field for some years, during which time horses were known to "sharpen their teeth" on the hood, according to the seller. After being rescued from life as an equestrian chew-toy, the once-fabulous Caddy has received enough mechanical attention to run, though further work is needed before it's road-worthy. The listing here on craigslist asks $7,500 for the privilege of finishing the refurbishment or restoration. Thanks to reader MattR for spotting this high-zoot sled.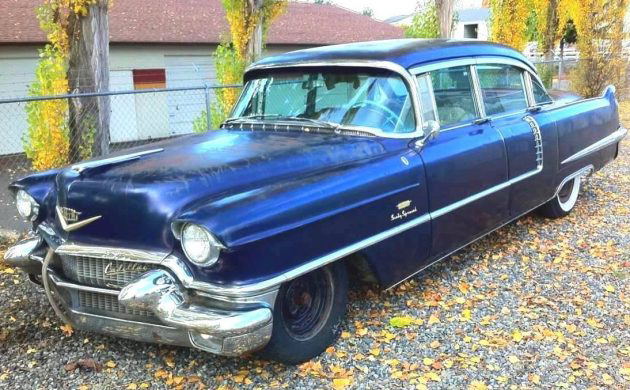 Just before the fin explosion of the late '50s, these subtle fins rise elegantly from the rear fenders, the latter wearing a stylish spear of trim leading to the bumper exhaust ports, a space-age rocket metaphor. Rear-end this beast at your own risk. Most modern cars could be totaled by leaving mere scratches and paint marks on the 900 lb rear bumper. Luckily more and more techno-nanny cars stop themselves in emergencies, so driving classics like this becomes less risky every day.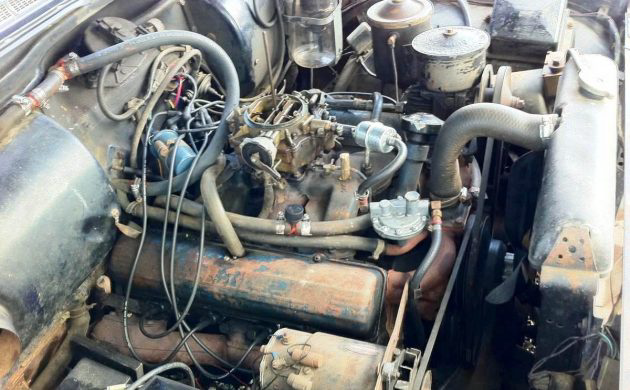 Cadillac's history included a number of storied V8 engines, and the company sold its first V8 automobile in 1914! This updated-for-1956 365 cid (6.0L) version made "a full 285" HP according to lov2xlr8. All Series Sixty Special models utilized GM's improved-for'56 Hydra-Matic four-speed automatic transmission. Power steering and power brakes helped insulate Cadillac pilots from the visceral sensations of the driving experience.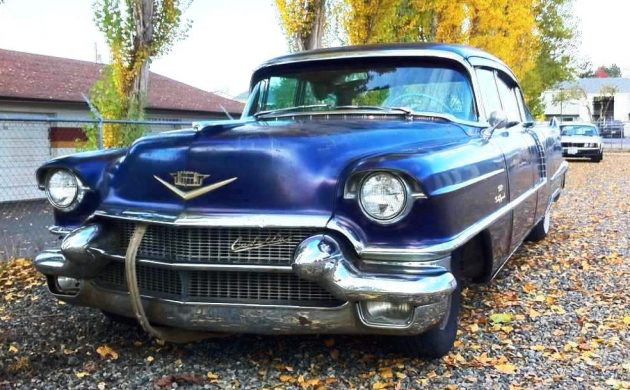 It's hard to imagine a more sinister snout than this twin bullet, eyebrowed scowl. Fill up someone's rear-view mirror with this mug and they'll get the message:  "Move over or I'll give you a knuckle sandwich." No interior pictures grace the listing, so assume it's trashed. The teaser ad accepts in-person deals only, in cash, just like in the '50s. Put a lid on the funny business, Daddy-O! Are you cool enough to drive this heavy metal bruiser?