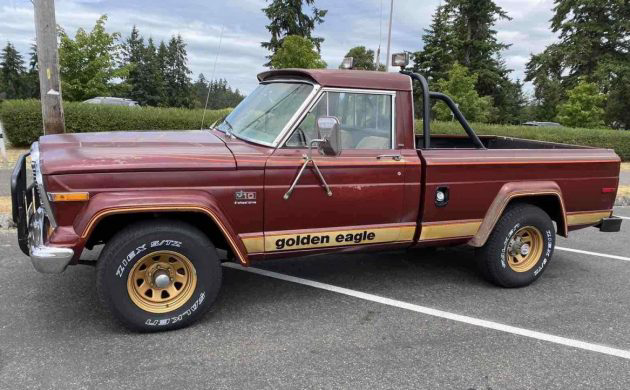 Suppose you like the new Jeep Gladiator but are put out by the $33+K base price. Why not go old school and find an original? After all, the Jeep J series pickup was originally called a Gladiator until that name was dropped in 1971. But the soul of the Gladiator lived on as the J10 and here is a 1979 example with the seldomly seen "Golden Eagle" option package. This Jeep truck is located in Lakewood, Washington, and is available here on eBay for a current bid of $8,900, nineteen bids tendered as of this writing.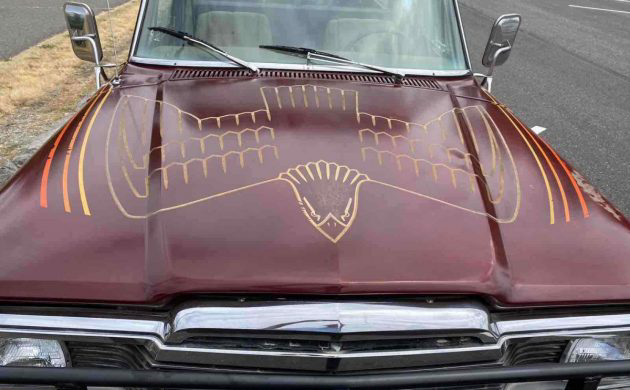 The J series Jeep pickup was produced between 1962 and 1988, being discontinued shortly after Chrysler Corporation's acquisition of AMC. The prevailing thought was that Chrysler had enough pickup trucks with its Dodge Ram line-up and didn't want a Jeep competitor. Obviously, that is not today's prevailing thought.  The Golden Eagle package was an available option offered between 1977 and 1983 and included bucket seats, denim panel inserts on the door cards, carpeting, a soft-feel steering wheel cover, an engine-turned instrument cluster trim, Golden Eagle decals and striping, bright door window frames, bed-mounted roll bar, brush guard, off-road auxiliary lights, 15″x8″ gold-painted steel wheels, white lettered tires, and hood insulation.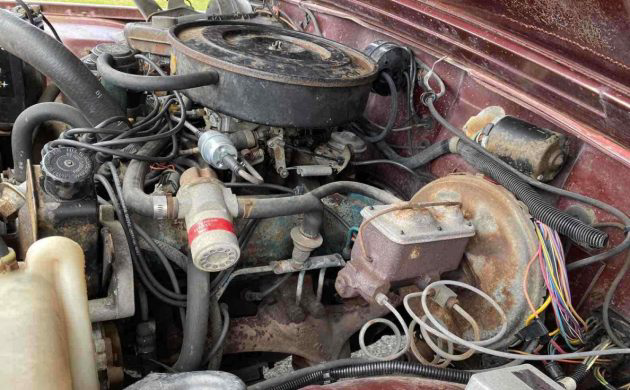 This 61K mile example is powered by a 127 net HP, 360 CI AMC V8 engine operating through an automatic transmission, and a Quadratrac 4X4 drivetrain. The seller claims this Jeep runs and drives great but it would seem that with all of 127 HP on tap, it does so sluggishly while inhaling copious amounts of fuel.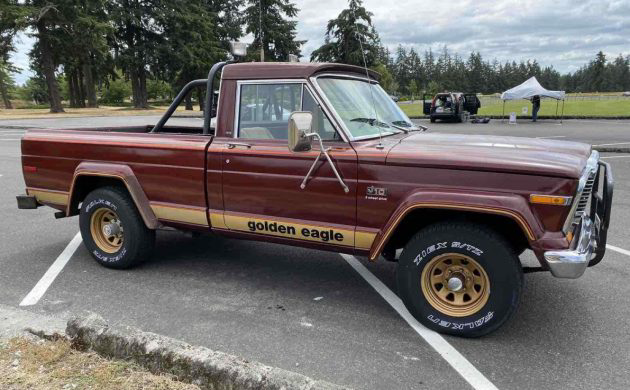 The exterior of this pickup is sporting a bit of gold striping as an accent but it works pretty well with the Bordeaux Metallic exterior finish (what the seller refers to as "red").  And the trim has held up pretty well too as it doesn't appear to be peeling off or fading away. That's pretty much the same story for the finish, there is some fading but the presentation, over-all, is solid. The hood eagle is reminiscent of a similar vintage Pontiac Trans Am though this bird is flying in the other direction and appears to have lost a bunch of its feathers. The exterior looks sound with no concerns over obvious rot or damage.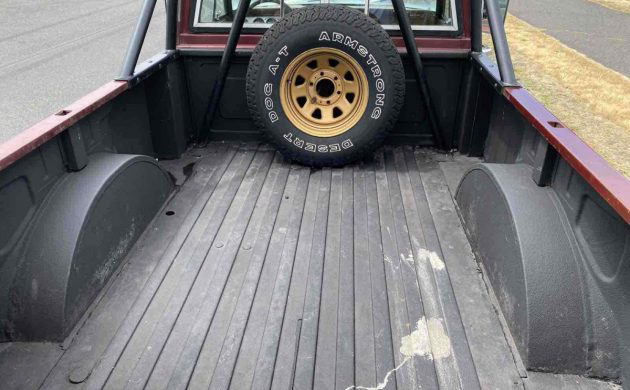 Ditto the cargo bed, it has a sprayed-in bed liner and it is in rather remarkable shape in that it doesn't look scratched or dented. And at 7′ in length, it is commodious enough to be quite functional.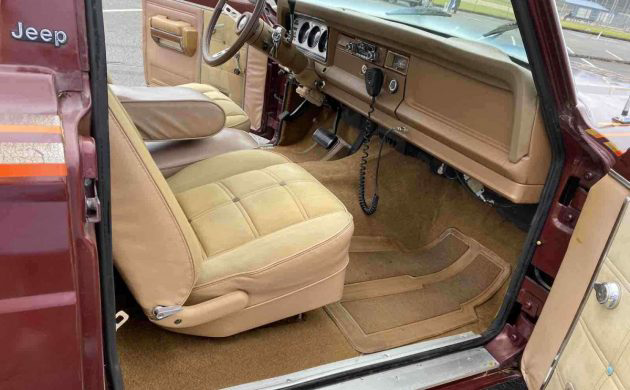 The interior looks about how you would expect an AMC product from 1979 to look. It's on par, or better, with other pickup trucks of the era and is a step up ergonomically over a '79 CJ. The carpet looks almost too good for its age and the seats are discolored a bit but not worn and torn. The driver's side door card as seen better days though, it looks like it has had some water exposure. The only notable things are an ill-fitting glovebox lid and a dash pad that looks like someone took a bite out of it – minor stuff. You can even "breaker one-nine" yourself to death with the factory CB radio.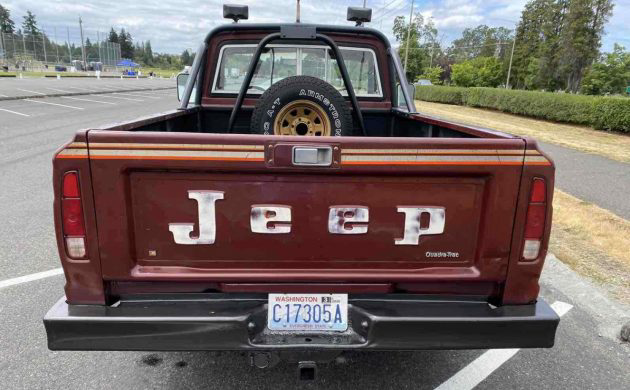 The seller indicates that this J10 is a lifelong resident of the Pacific NW and that he "just purchased from the 2nd owner (lady)who owned since 1989". But he also says that he's had it for 5+ years so that doesn't exactly jibe with the previous statement. Long story short, it seems like a flip but many of these auction transactions are just that so there's no news there. Anyway, this Jeep truck has a pretty commanding presence and its simplicity of operation is not to be denied – the low mileage is a particular attraction. It's not a substitute for a 2020 Gladiator but maybe that's not such a bad thing don't you think?