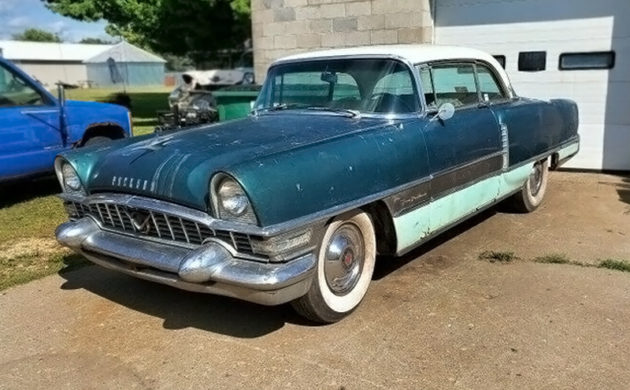 The combined Studebaker-Packard Corporation was having hard times when this 1955 Packard 400 came onto the scene. In another year, the company would produce its last car in Detroit and a couple of years after that, Packards would be gone. This luxurious two-door hardtop can be found here on eBay as a classified ad in Ham Lake, Minnesota. The asking price is $5,750 or you can make an offer.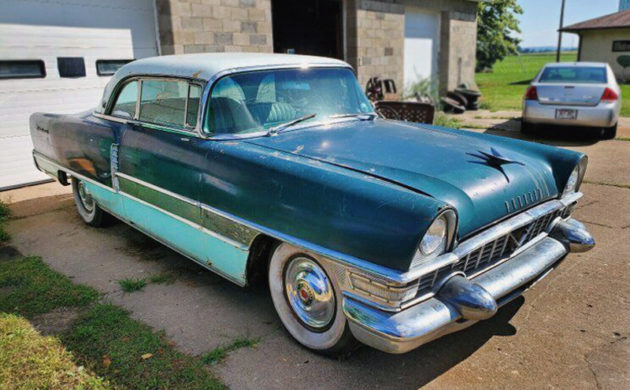 This has to be one of the last great Packard designs, what a beautiful car. Those Dagmars really stand out, so to speak. They're usually associated with Cadillacs but Packard was no slouch in that department. Ok, enough of that. The Packard 400, or Four-Hundred, was last made for the 1955 and 1956 model years and they came as a two-door hardtop model.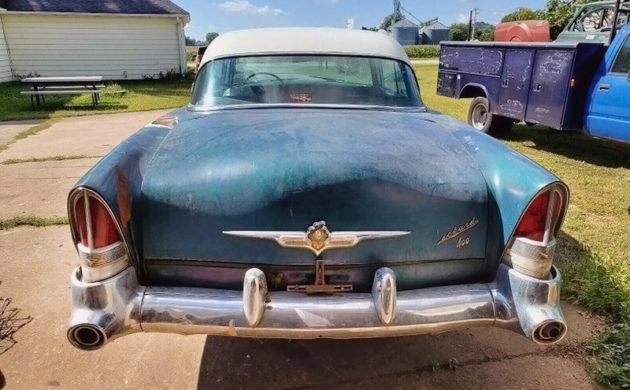 Packard previously used the 400 name as the highest trim level on the Patrician line but now, for 1955 and 1956, it was a standalone model. This car almost has it all, design-wise. The previously-mentioned proud front bumper is great, and those built-in exhaust ports in the rear bumper are even better than the front bumper is. The trunk is filled with stuff, hopefully all usable car-related items. They show the underside and it looks rusty, and I see something with a rust hole, is that the exhaust?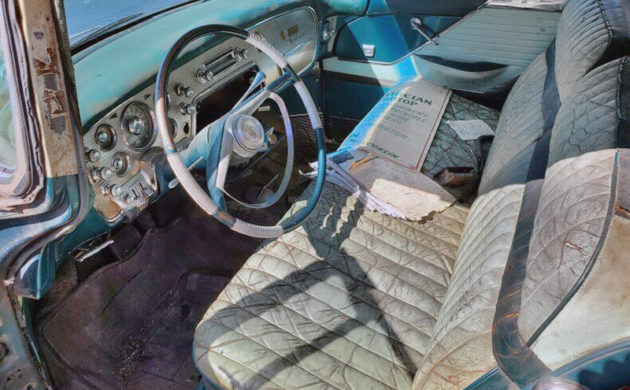 This car, at least when new, would have been so luxurious and beautiful. It's well-used now but like an aging film star, there's a level of experience, charm, and grace about this interior. And, it has power windows and a power front seat! The dash is gorgeous, just what you would expect in a Packard. The seller doesn't give us much information about this car but they provide several photos. The back seat would be well worth riding in during a cross-country trip, the legroom looks adequate even for me. This car has Packard's two-speed Ultramatic automatic transmission.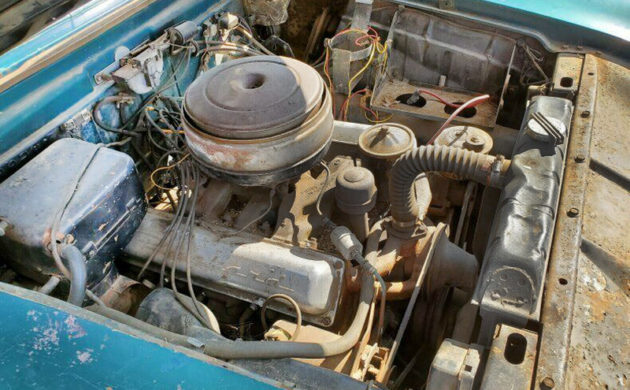 The engine is Packard's ultra-smooth and powerful 352 cubic-inch V8 which would have had 260 hp and 355 ft-lb of torque. All they say is that it doesn't run due to sitting for a few years. I'm hopeful that it will run again, this car deserves to get back on the road again ASAP. Hagerty is at $6,300 for a #4 fair condition car and this one may not be at that point but with a $14,800 #3 good condition value, a home-restoration could bring this Packard back to its former glory again and hopefully not break the bank. Are there any Packard fans out there?
Have something to sell? List it here on Barn Finds!