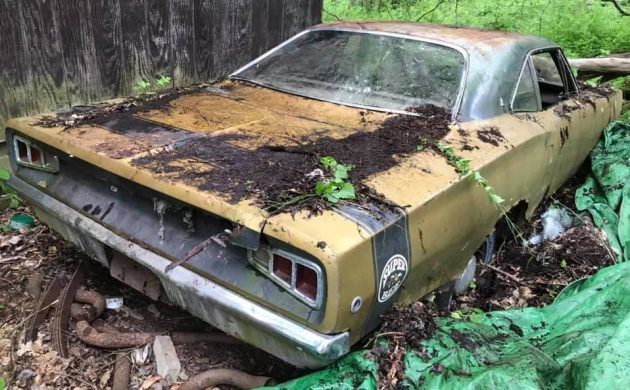 If you are prone to feeling heartbroken when you see a classic American muscle car that has been left to go to wrack and ruin, then this 1968 Dodge Super Bee will be enough to bring a tear to your eye. This once magnificent beast has sat exposed to the elements, and with its decay now so advanced, it would only seem to be suitable for parts. It does come with tags and a clear title, and the owner is asking $3,000. It does appear that he is open to offers but won't entertain any low-ball ones. It is located in Zelienople, Pennsylvania, and has been listed for sale here on Facebook. I do have to say thank you to Barn Finder Mikey8 for referring the vehicle to us.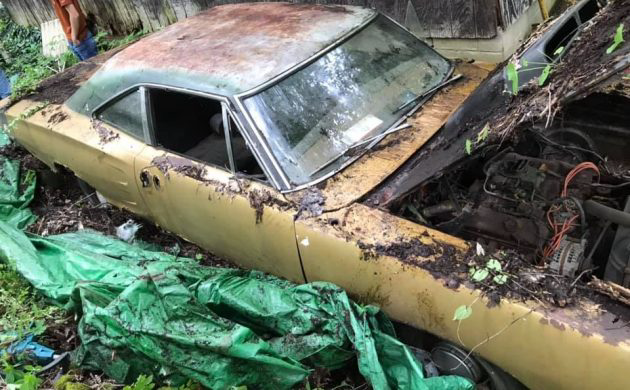 The Medium Gold Dodge was parked in its current location back in 1991 and has sat under a tarp for the entire time. This hasn't offered it much protection, and it has deteriorated enormously over the past 29-years. The seller is pretty blunt about its condition. He says that the frame is gone, and given how close it is sitting to the wet earth, this doesn't surprise me at all. Also, all of the lower body extremities and the floors have developed an appearance akin to Swiss cheese. The seller does say that there are some good upper body parts, but that the Dodge is only suitable as a parts car. The hood and scoop look like they might be able to be salvaged, along with the trunk lid. Beyond that, there will be a few upper trim pieces and the glass that could be saved. The grille and a few badges might also be okay. What I will say is that the buyer might want to remove some of these items from the vehicle before they attempt to move it. I suspect that this is a car that could potentially bend pretty badly or even break when it is dragged from its current location. If it does, then some of those items that I have mentioned could be damaged or broken in the process.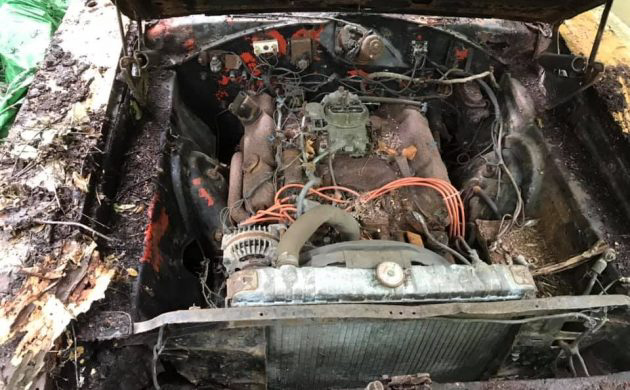 If the exterior of the Super Bee wasn't enough to make grown men weep, then lifting the hood should finish that process. What we are looking at is a 383ci V8, and in its prime, it would have produced 335hp. In addition, the Dodge came equipped with a 3-speed TorqueFlite transmission and power steering. This combination would have been good enough to send the Super Bee down the ¼ mile in 14.6 seconds. However, that was a long time ago. The vehicle does appear to be mechanically complete, but the condition of the drivetrain is an unknown factor. The seller doesn't indicate whether the engine even turns freely, but given the level of advanced corrosion that is present on its outside, I probably wouldn't be holding my breath. There are some additional engine components located inside the car, including an oil pan, timing cover, along with an intake and carburetor.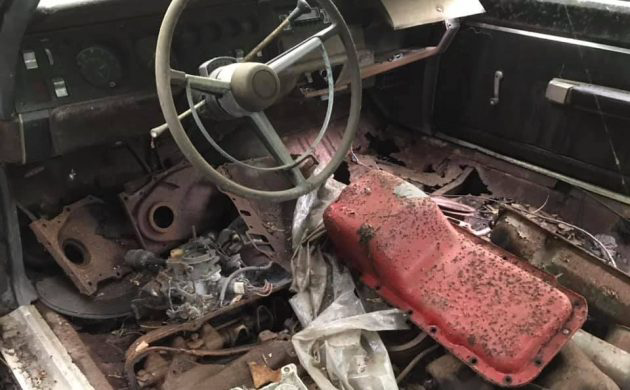 If you thought that things might take a turn for the positive when we poked our heads inside the Dodge, then you will be sorely disappointed. The rear seat looks reasonable, as do the door trims and rear seat trims. The dash is complete, but that's it when it comes to the good news. There is no front seat, while many of the components in the dash have deteriorated quite severely. There will undoubtedly be items that can be salvaged and restored, but there will also be a fair collection that will find their way to the trash.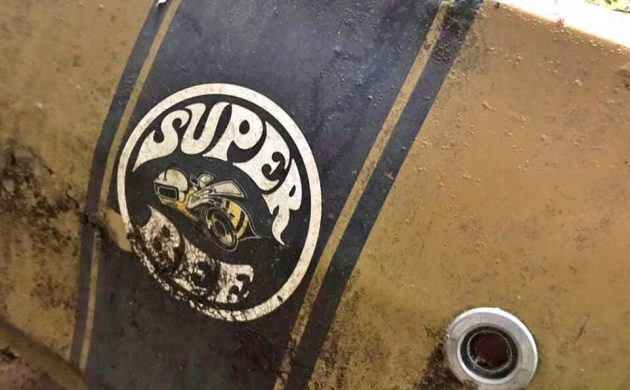 For any lover of American performance cars, this 1968 Super Bee is a sad and sorry sight. I get the impression that the vehicle might have been in a decent state of repair when it was parked. Mother Nature has done her worst with it in the intervening years, and it is now hard to determine just what could be salvaged. I would even place a question mark over whether there are enough salvageable parts left on the Dodge to justify the asking price. What do you think?
Have something to sell? List it here on Barn Finds!