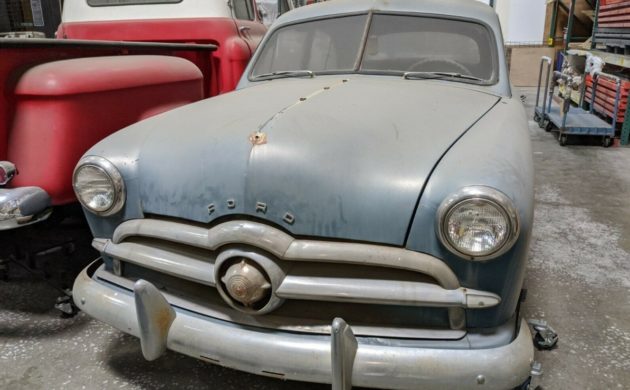 It is said that the 1949 Ford is the car that saved the company. Prior to '49, Ford, like many other car companies, were still working off of pre-war designs.  This was the model that introduced integrated fenders and took streamlining down to a commodity car level. And now, seventy-one years later, these '49 models (and their very similar '50 & '51 successors) are still a pretty common sight like this Tudor model, located in Chino, California and available here on eBay for a current bid of $1,525; two bids tendered so far.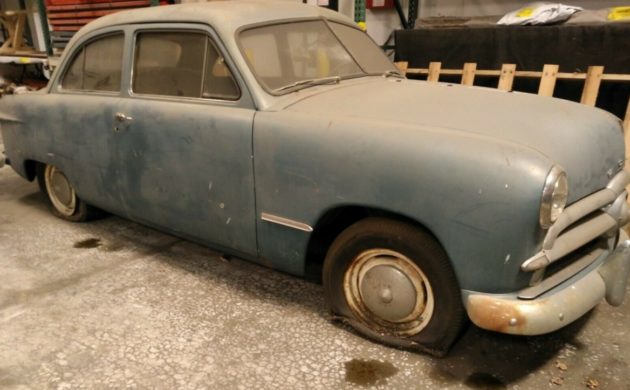 The styling differences between '49 and '48 were so dramatic that other than the powerplant under the hood, there seemed to be no lineage. Even my parsimonious father who purchased a brand new '47 Ford traded it on a '49 as soon as they were available (he paid about $1,600, I have the receipt around here someplace). This is round two for this particular example, the seller states that the deal with the previous buyer fell through. This Tudor has been sitting for a while and, according to the seller, is now a restoration candidate. It was parked fifteen years ago and has been sitting indoors for the last six. Hmmm, basic math tells me it was sitting, not indoors, for nine years. That said, the primered body looks good, it's straight and the images reveal no signs of rust-through. The listing is light on detail so you have to go with what you can see or make an inquiry if you want more information. There is some missing trim but that's about it.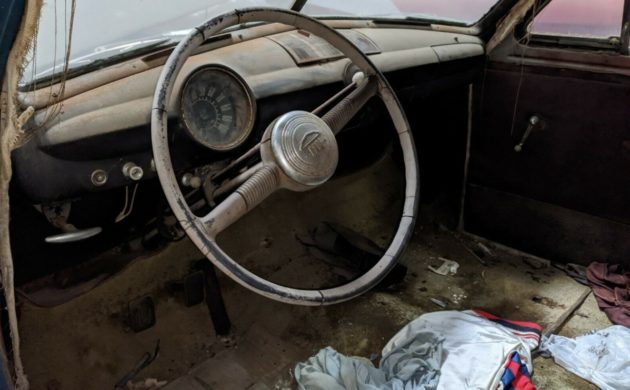 The interior is pretty well gutted so it will need work. The seller tells us that the front seat was stolen and is missing. I don't know a lot about the hierarchy of car thievery, fortunately, but a front seat seems like an odd car part to steal. Whatever the case, that will need to be replaced. The image that is available of the floors presents pans that appear to be sound – always a good thing to find. The dash looks mostly intact but cosmetic things like the windlace etc. are kaput.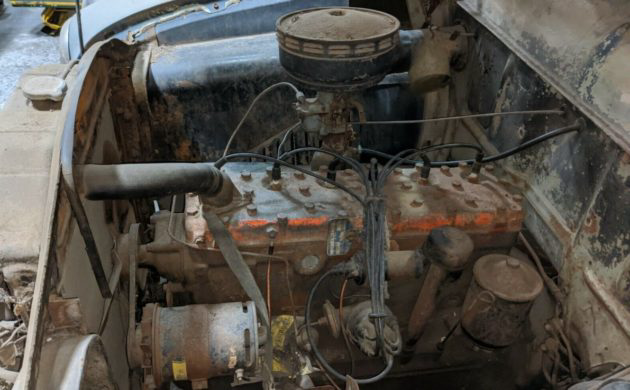 Under the hood is a 226 CI, in-line six-cylinder engine (I was hoping for the hold-over flat-head V8) that is good for 95 HP (only five less than the V8). It is basically one of those "ran when parked" deals though the actual wording is, "It was driven until the time it was stored 15 years ago. Do not know that much more." I take that to mean no, it is not running. The engine does look complete however so maybe it can be coaxed back to life. When running, gear changes were handled by a three-speed manual transmission.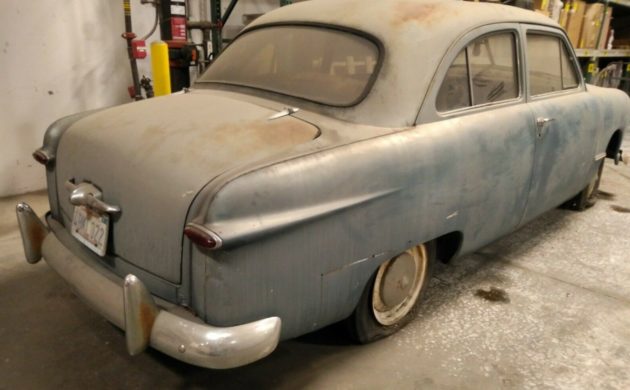 I am a big supporter of originality and keeping a car in the same state as it was designed and built. I'm going to veer a bit off of the road with this one – I'm thinking hot-rod, tastefully of course. It's not odd with a '49-'51 Ford, that's what happened to many of them by the late '50s and this one seems a natural for that direction. Yank the boat-anchor six and go for it! It appears to be a really sound candidate for just such an endeavor don't you think? Lay it on me, this one's cheap – what would you do with it?