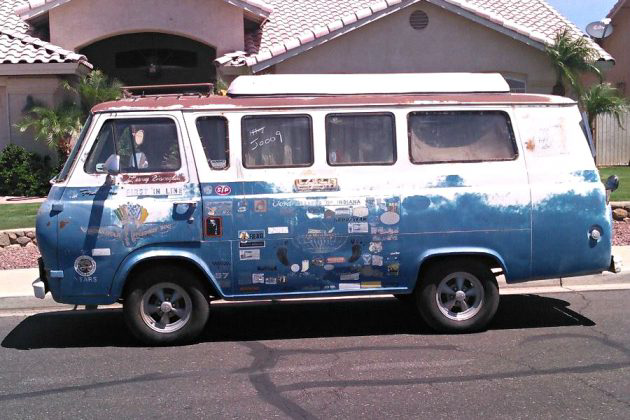 Some stories in automotive history are heartwarming and pull on your heart strings just a little bit. That is exactly the kind of story that is wrapped around this 1967 Ford Falcon Van. Originally given to "Mr. First in line" Lawrence "Larry" Bisceglia by Ford, this Falcon Van was first in line to every single Indy race from 1967 to 1985. In running and driving condition, this awesome piece of Indy race history is currently bid up to $2,650 with the reserve not met. Check out this cool van here on ebay out of Yuma, Arizona. A big shout out to reader "Rick" for the historic submission!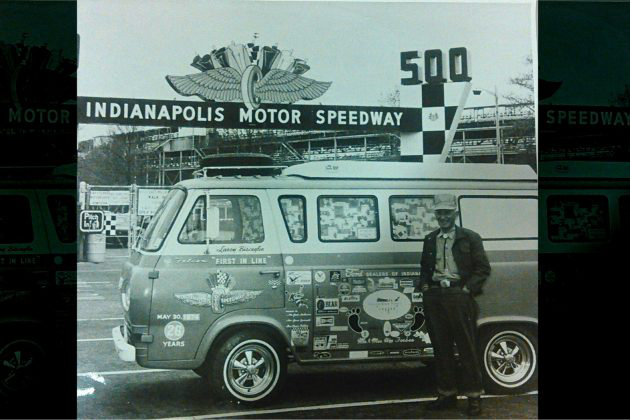 There is no real detail or information given about this van other than the fact that it runs and drives. But the history associated with this van and Larry Bisceglia is what is so fascinating. Larry first went to the Indy 500 in 1926, but it wasn't until 1948 that he made his mind up to be first in line. He did not succeed in to be first in line until 1950. At that time he drove a 1933 Desoto to the track every year until 1954. He then bought a 1951 Chevrolet Panel truck that he eventually covered in race stickers. In 1958, after 8 years of being first in line, the Indianapolis Motor Speedway awarded Larry with a lifetime pass to the Indy 500 as well as a key to speedway gates. In 1967 17 years had passed of Larry be first in line. At the 1967 race he was called to the starting line where he was awarded this 1967 Ford Falcon Van. He then donated his old Chevy to the Indianapolis Motor Speedway Hall of Fame. After making it into Guinness book of records, and into Ripley's Believe it or not, Larry continued his first in line achievement until 1986. In 1986 he fell ill and broke his 37 year first in line streak. Having been greatly missed by all who knew him so well at Indy, many offered to fly Larry to the race. Larry made it to the brickyard one last time in 1987 where he saw his last race. Mr. First in line passed December 7, 1988. Having truly loved racing and the Brickyard, Lawrence Bisceglia must have had gasoline running through his veins like all of us car enthusiasts do. One part of the story that would be fascinating to know is what happened to this van after Larry passed away? Hopefully the winner will get to find that out.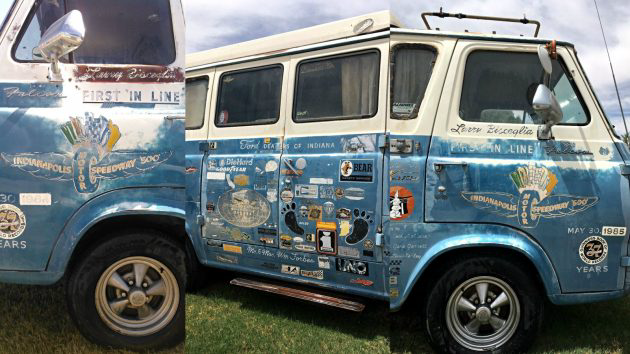 Larry's van is still pleasantly original and shows much like it did all those years ago. The van is in Arizona, and it would appear the dry Arizona air has been good to this old van. The paint may be sun bleached, but the charm and history of this van is way to cool to paint over. If you look at both front doors you can see where each year Larry changed the years for his first in line streak. I think this would be an excellent addition to the Indianapolis Motor Speedway museum right beside his '51 Chevy panel truck. Or it would be great to see this historic machine go to the Henry Ford Museum as Ford donated the car to begin with. What do you think should be the fate of this historic van?