So pull that cover back and show this green beauty! By 1976, the Ford Thunderbird had gone from being a sporty personal luxury car to a monstrously large luxury coupe. It was still pretty cool, though, and 52,935 of them found homes in 1976. This particular one is listed for sale here on eBay and is located in Oneonta, Alabama. Bidding is starting under $1.00 but of course there's a reserve higher than that.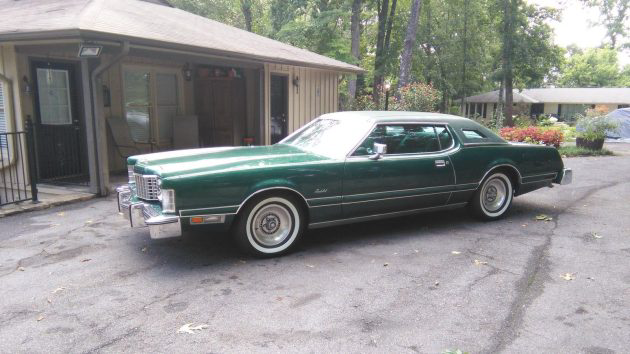 1976 was the last year of the huge-e-mongous Bird before it was downsized. This one is fitted with the "Jade Luxury Group" which obviously has something to do with the color. Wow, is this car ever green! It's a little confusing, though, because every reference I could find about that group was for a 1975 model, not a 1976. If you are interested in learning more, here's a factory brochure that's listed here on eBay as well.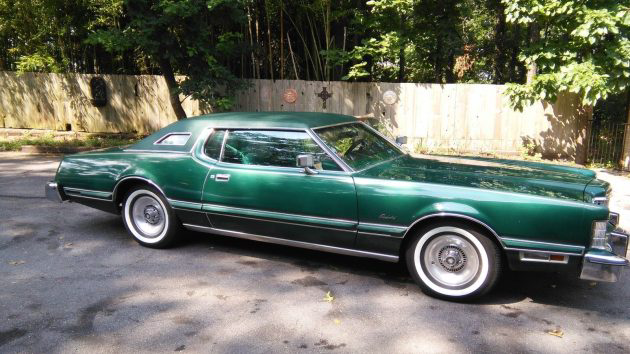 We're told in the auction listing that the car is all original. If it is, someone has done a fantastic job of preserving the original paint and vinyl top! Normally I would like thinner white wall tires, but these look pretty good, don't they? I like those massive-appearing factory aluminum wheels as well. I actually like this car a lot more than I expected when I first looked at the auction listing. It was tempting to throw a ridiculously low bid and not write it up (grin) but I don't do that. Often, anyway.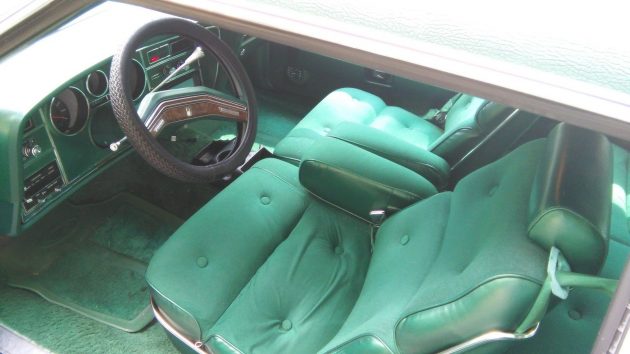 The GREEN (yes, it is yelling at me) interior has air conditioning, cruise control, power locks, power windows and power seats. Apart from some stretching of the original upholstery it looks great, and are those factory Ford floor mats? 87,643 miles are believable based on the appearance. We're also told it has a CD player, which I'm pretty sure wasn't original for 1976 as the first CD player was introduced in 1982.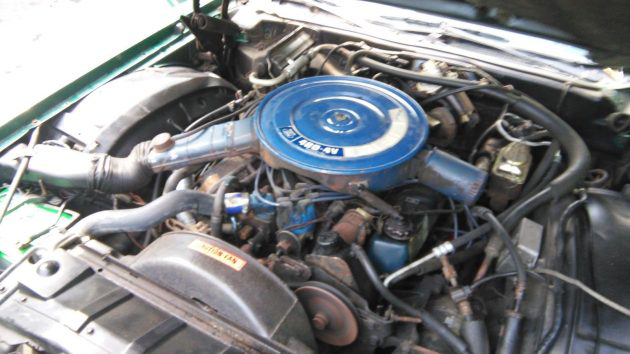 Whoa! Or, more correctly, Go-a! That's the original 460 cubic inch V8 just waiting for you to feed it some gas–and as the ad states, premium gas! So–are you (or your spouse) ready for some Jade jewelry? I'll be watching this auction closely.