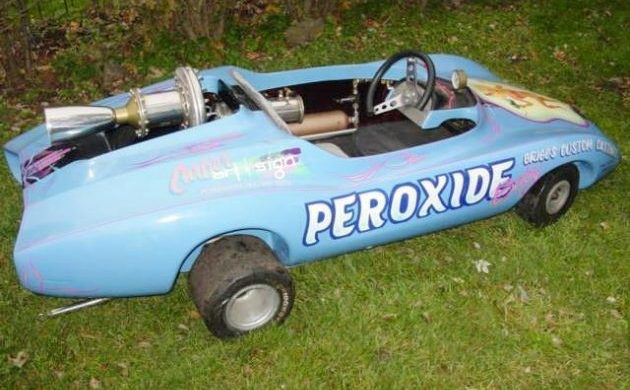 For enthusiasts who crave a motorsport thrill, drag racing and go-karting offer affordable options. Even the most potent conventional kart will not provide the outright speed fix afforded by a purpose-built drag car, but this vintage 1960 kart might fill that void. Forget conventional two-stroke or four-stroke motors because this one has a real rocket engine bolted to the back. The possibilities that it offers are mind-boggling, and this is your chance to park it in your workshop. Located in Coarsegold, California, you will find this beauty listed for sale here on Barn Finds Classifieds. Simply hand the owner $40,000, and you could be the proud owner of a minuscule with the potential to top 200mph.
The owner believes that this kart was built in the late 1960s, although it might also have come from the early 1970s. The frame is purpose-built from Chromoly tubing, but it has been clad in a genuine Rupp Corvette-style body. Rocket karts were accepted for competition by the NHRA at that time, but most of these utilized conventional kart practices of the period. That meant that the art of aerodynamics wasn't a factor, although some builders did construct "lay-down" designs to reduce frontal area and the resultant drag. This one uses a conventional seating position, but that sleek fiberglass body should smooth the airflow around and across the vehicle. The fiberglass is in good condition, with no evidence of stress cracks. The paint and graphics are period-correct and invoke the feel of an earlier and less complicated era. The paint is presentable, and if the buyer is seeking a vintage survivor look, it wouldn't need to be touched. However, some minor touch-up work and a clear coat would have it sparkling like new. The picture of the lady that adorns the front of this classic is not a decal. It is a genuine piece of airbrushed artwork, and not only is it typical of the period, but it makes it worth the extra effort to preserve the vehicle in its original state.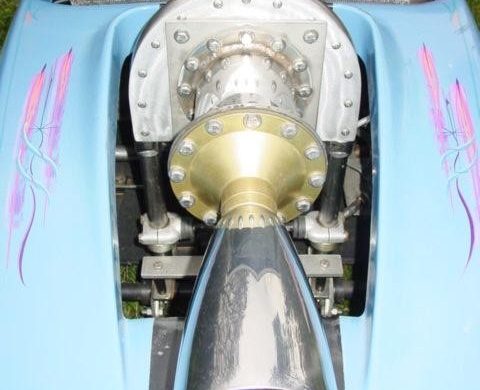 When we walk around to the back of the kart, we find the feature that makes this one stand out from its brethren.  The NHRA accepted rocket-powered karts for competition use, but they were eventually banned on safety grounds. The owner states that this one was built as a working prop to be used in a movie, but the film failed to reach production. However, this is more than a mere movie prop because it was designed to be a full-blown racer. There were a few operators at this time who built rocket-powered karts, and some had more success than others. One of the better-known engines was made by a company called Turbonique Inc, located in Orlando, Florida. Their T-16 motor could produce 300lbs of thrust, and several karts were built with a pair of these strapped to the back. They had a reputation for two things. The first was that they were seriously fast. The second was that they could explode without warning. The motor in this kart is not one of those units, which is not a bad starting point. The other big difference between this one and the T-16 units is that while those powered the rear wheels, this one is a "free air" design. That means that it uses nothing more than engine thrust for forward movement. The unit is complete, and the owner feels that getting it running should be possible. This motor is estimated to produce around 1,000lbs of thrust, and that means that the owner's claim that it has the potential to hit well over 200mph on the salt flats is feasible. Given the driver's proximity to the ground, that figure would feel considerably faster. As well as the work required to get that rocket firing, there are a few other areas that will need attention. The most important of these is the brakes. The kart features a single disc setup, and while that might be fine for regular competition use, it probably won't be a lot of help in arresting speeds from beyond 200mph.
As a purpose-built racer, the interior of the kart offers no luxury features. The owner has installed a carbon fiber seat and a magnesium steering yoke from a fighter plane since this photo was taken. The seat is fitted with slots for a safety harness, but as the owner rightly notes, getting thrown clear would probably be a better option if it all does go horribly wrong. For me, if I had to choose between sliding down a salt flat at 200mph wearing nothing but protective clothing or flipping uncontrollably down a salt flat strapped inside a vehicle that is now a potential bomb, the former option would look pretty attractive.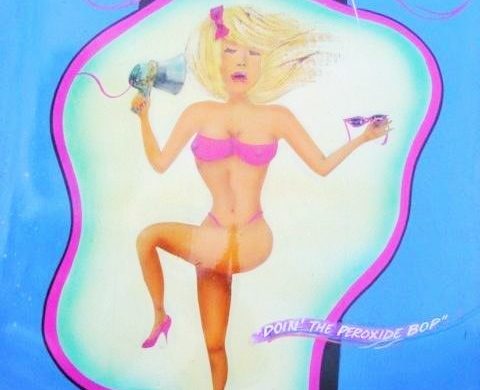 Vintage race cars will always have a decent helping of the "cool" factor, but this rocket-powered go kart takes that concept to the max. It could be a blast to drive if it can be made to run, and when you look at its overall condition, that seems a real possibility. I can't imagine how exhilarating it would be to top 200mph sitting so close to Planet Earth, but someone has the chance to find out for themselves. I hope that a buyer can be found and that they will return this classic to a running state. There has to be someone out there who is seeking the ultimate adrenaline rush, and this could be the answer to their prayers.