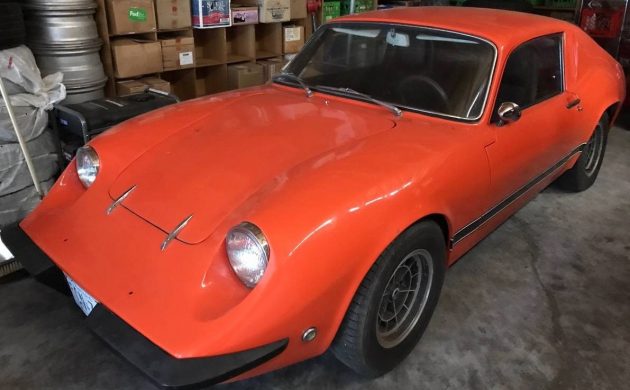 Mustangs, Camaros, Chargers…no one would argue their iconic status especially those produced during the late 1960s and early 1970s. But there are many of us who would love to own a car you just don't see at the local Friday night cruise-in. Something really rare like this Manic GT (pronounced ma-neek). Only 160 of these two-seat rear engine sports coupes were built between 1970-1971 and according to the seller of this one, available here on Craigslist, fewer than 40 are documented to be in existence today. It's VIN #132 and it's available in Port Angeles, Washington for $15,000. A special thanks to Barn Finds reader Roger for spotting this unique ride!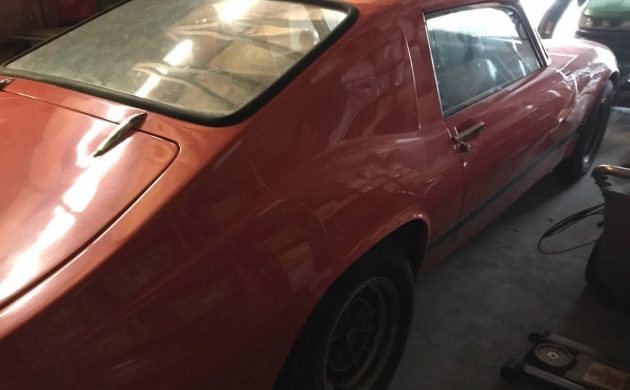 Photos in the ad are a bit shadowy and it's unclear as to why the seller didn't pull the car outside to take better pictures. After all, the car is reported to be in running condition and the recipient of a recent carburetor rebuild, new fuel pump, "and some other minor work". The seller claims it's been in storage for the past 42 years and underwent one repaint about 25 years ago. The fiberglass body appears to be in good shape, or "reasonable condition" according to the seller. The Manic GT was produced in Quebec by Les Automobiles Manic, Inc., a company founded by former Renault public relations employee, Jacques About. Long story short, About made a deal with Renault to build the GT using the chassis and powertrain of the 8 and 10 sedans. Check out Wikipedia if you're interested in learning about the development of Manic automobiles and About's relationship with Renault.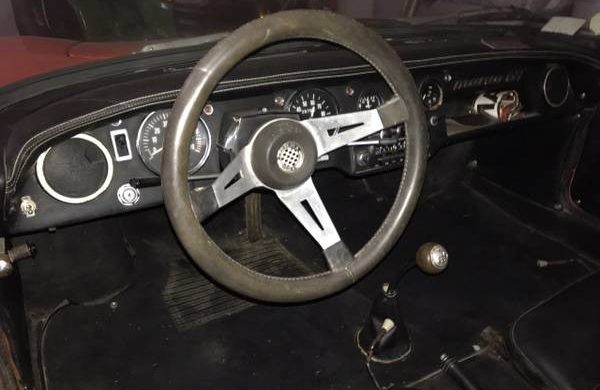 It's tough to get a sense of the true condition of the interior from the photos provided which again, are dark and shadowy. It appears everything is in original condition as claimed by the seller. The driver seat shows some cracks in its upholstery and the passenger seat fabric also looks brittle. Although no cracks are seen in the dash, the steering wheel cover is somewhat faded and could be an indication the car spent time sitting outside. It's tough to tell but if this GT has lived most of its life in the less harsh climes of the Northwest US, we should expect deterioration of the interior components to be minimal.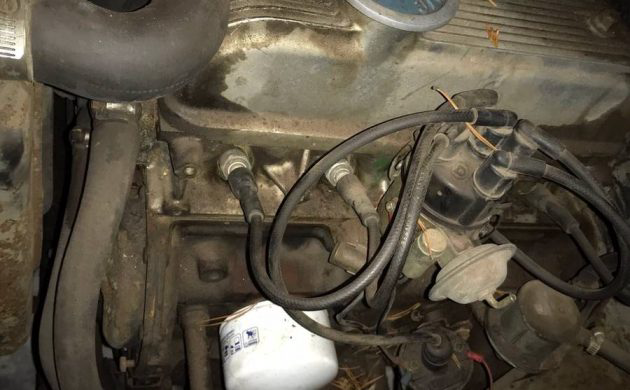 Above is a tightly cropped photo of the 4-cylinder Renault Gordini motor that is not original to the car. According to the seller, the "complete original long block motor" is also included in the sale, obviously referring to the Renault inline 4. As mentioned previously, the Gordini motor is in running condition but no explanation is given as to why the original motor was replaced and if it was due to mechanical issues. The base transmission in the GT was a 4-speed manual with a 5-speed offered as an option. The seller fails to confirm which transmission comes with this car and since I haven't picked up my new eyeglass prescription yet, I can only squint at the photo of the stick shift knob which looks to be that of a 4-speed. Is that what you see too? It drives me nuts when sellers don't list a car's mileage and unfortunately that's the case here. By all accounts, these cars are extremely fun to drive. With sleek curves, weighing only 1,450 pounds, and measuring less than 4 feet in height, if geared correctly it's reported some GT's are capable of reaching speeds of up to 135mph. That's impressive for a 4-cylinder. Too bad the Manic GT saw such limited production. Or is it?
Have something to sell? List it here on Barn Finds!