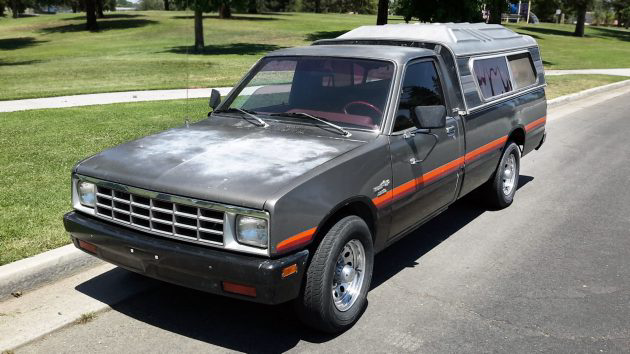 Even though the name of this truck is technically a "Faster", there really isn't much that's fast about it, especially being a diesel. It's a 1982 Isuzu P'up DLX and it's desirable for small pickup lovers in that it's a long bed and a diesel model. This faded gem is listed on eBay with a bid of $2,750 and there is no reserve. It looks like one where you could fly in to Bakersfield, California and drive home.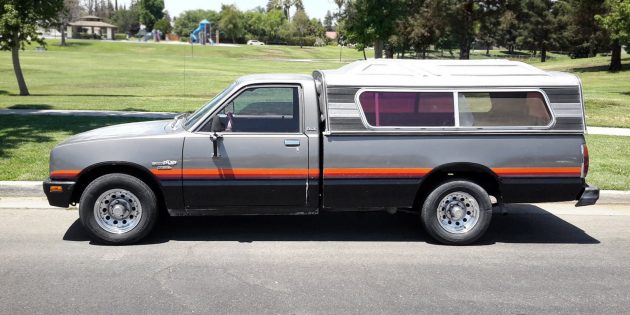 The Isuzu Faster was produced starting in 1972 and Chevrolet created the Luv based on this model. After 1982, GM had come up with the Chevrolet S-10 pickup and they dropped the Luv. Isuzu began marketing these trucks as the "P'up", short for pickup, in the US starting in 1982. Up until two years ago this particular truck had been used as a daily driver and it has just under 300,000 miles on it!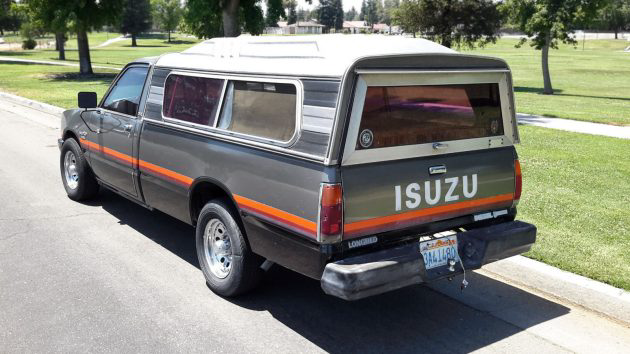 This truck has no rust what so ever, according to the seller, being from hot, dry California. There are quite a few chips and nicks and a few dings, but no rust trumps dings and chips any day of the week, at least for me it does. The paint on the hood and the roof have faded quite a bit and the seller mentions that it may have been due to some sort of wax that they used? I've never heard of that before. The topper, as we call them in the Midwest, or "camper shell" as the more formal Californians apparently call them, is a nice addition.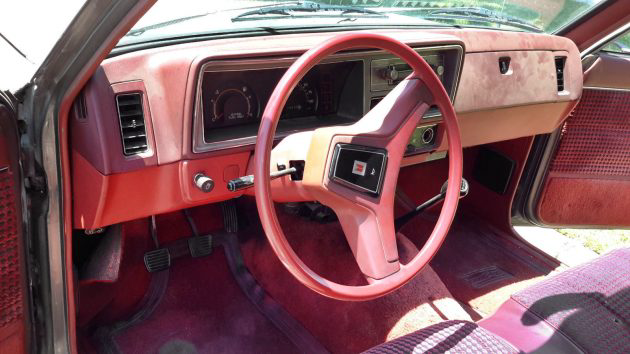 A red interior! And, a manual transmission! And, and, and.. no cracks in the dash!! The seats look pretty good other than some tears on the center vinyl portion. I still can't believe that the dash isn't cracked. Could they have been the only other person in the US (other than myself) to use a windshield-sunshield thingy every single time they park without fail? The seller mentions that the "transmission guts are out of a 1995 gas pickup transmission imported from Japan with zero miles at the time of rebuild, much stronger than the stock transmission. It has less than 200 miles on it since the transmission swap. It shifts crisp and strong, just like new."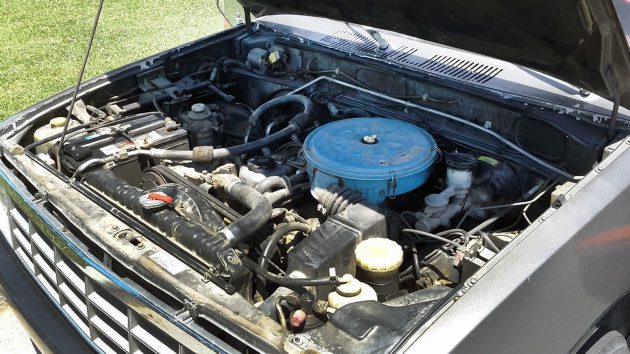 This is Isuzu's C223 2.2L inline-four diesel with around 58 hp! Faster it ain't, but this engine, drivetrain, and truck, in general, has had an incredible amount of maintenance done on it and replacement components in the last two or three years, including, "new water pump, rebuilt alternator/vacuum pump, new starter, rebuilt radiator, all new radiator and heater hoses, all new fan belts, new thermostat", not to mention, "new u joints, brake job, new clutch/resurfaced flywheel/throw out bearing, new clutch cable, rebuilt injectors (didn't need it–was trying to boost mpg), a/c updated to new refrigerant (costly, required modification using Toyota parts, works GREAT!)." I have really been getting into small pickups in the last year or two and a rust-free Isuzu diesel P'up would be a useful addition to almost anyone's driveway.