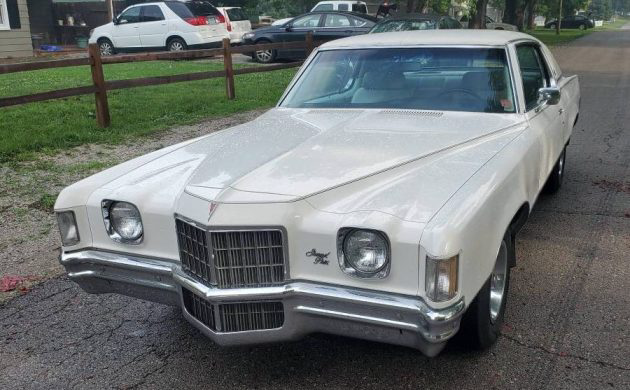 A 1972 Pontiac Grand Prix! I used to refer to the '69-'72 GP's as whammer-jammers because they were big, heavy, fast, and comfortable. Especially notable, were the '69s and '70s, built before the power strangulation occurred. By '73, the GP had become large, or at least large-looking as so many Detroit designs did, and the attraction, for me, was over. Let's look a bit more closely at this '72 Model J, domiciled in Independence, Missouri, and available, here on craigslist for $8,500. Thanks to Pat L. for this tip!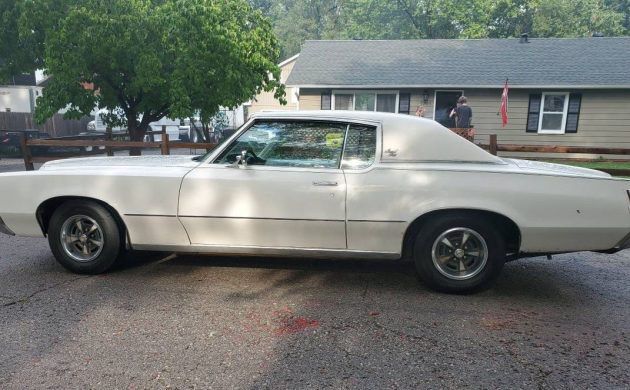 The first thing that you notice about this example, is the color, that's a lot of white! Actually triple white among the exterior, vinyl top, and interior. These fuselage-bodied GP's seem to wear darker colors better, but white does this Pontiac justice. The finish still has some depth and shine to it. I've got a real run going on here, this is the umpteenth car that I have reviewed in the last week or so with, what appears to be, a rot-free body. There are no signs of rust or rust-through anywhere marring this GP's flanks. The chrome seems good too, not "like-new" strong but still very presentable. While not a fan of vinyl tops and I prefer this vintage Grand Prix without one, the vast majority seem to have them; at least this one is in very clean condition – no sign of it separating, tearing loose or bubbling up. As expected, Pontiac Rally II wheels are holding down the corners.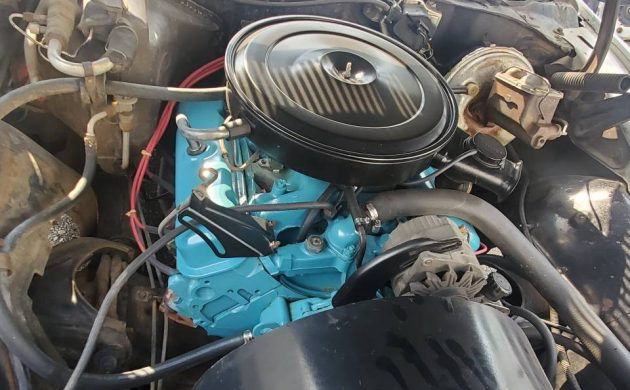 Under the hood is a 250 net HP, 400 CI, V8 engine that the seller claims has experienced only 44K miles. There is no word regarding the engine's operational tendencies but it looks pretty good as it appears to have had a recent respray. It's unknown if there was a specific reason for the paint job or it's just an attempt to enhance sale prospects. It's backed up the only available transmission for '72, a Turbo-Hydramatic 400, three-speed automatic. The transmission's shifter is referred to as a rare "slap-stick" but it looks like a standard Pontiac Grand Prix automatic shift lever. Unfortunately, the A6 A/C compressor is missing. They are easy to source, less than $200 for a remanufactured unit, but then you have to worry about the condenser and evaporator if the system has been left open and exposed to everyday elements.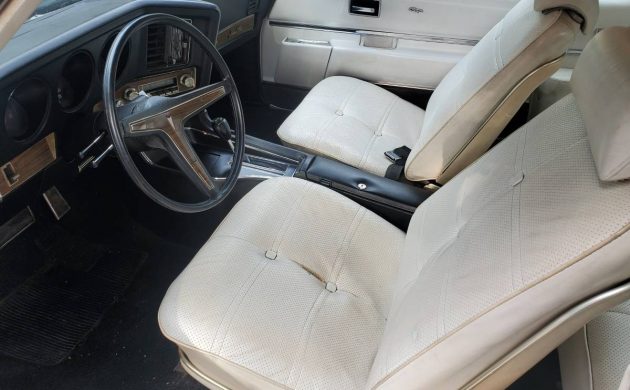 Inside you'll find GP's wrap-around dash and instrument panel – it would seem that Pontiac designers were going for a jet-fighter cockpit arrangement. It is an enduring design! Being white, an interior shows its wear and abuse more vividly than darker colors, this one shows pretty well, however. The driver's seat and armrest need some attention but that's about it. There is a mention of a "rare" (there's that word again) 8-track player, located somewhere between the seats, but it's not visible in the accompanying images. The seller claims everything works so I would take that to mean the gauges, wipers, radio, lights, etc.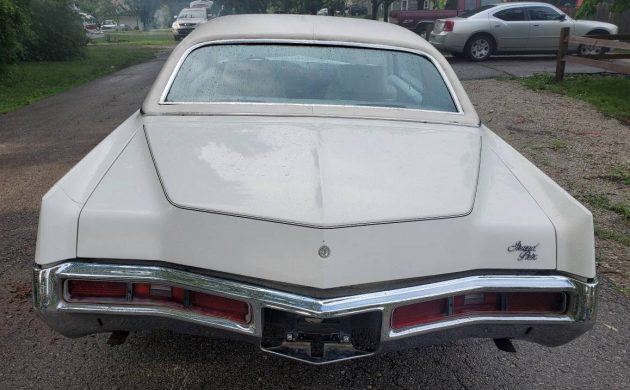 If this is a true 44K mile Grand Prix, then I'd say it's a pretty reasonable deal, there just doesn't seem to be much wrong with this 48-year-old example of what was one of Pontiac's greatest hits, absent the A/C, of course. These GP's, at speed, roll like a steam-roller, it's a very nice drive. I like it, how about you?