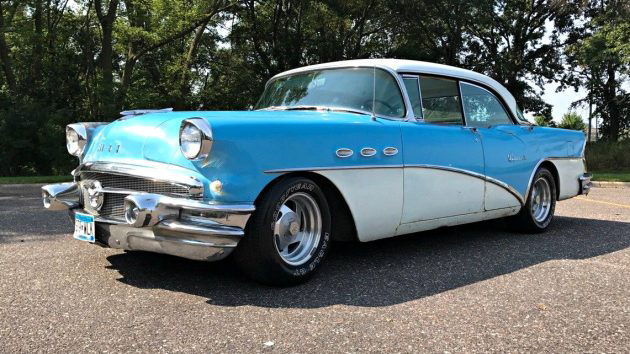 Driven daily this Buick Special is described as having only 56,000 original documented miles. Parked in 1974, this Buick slept until the current owner purchased and revived this nice looking driver. Having recently received a great deal of maintenance and new parts, this Buick is ready to roll! Offered up with an opening bid of $3,000 there are still several days left till the auctions end. Check out this shiny four door here on ebay out of Minneapolis, Minnesota.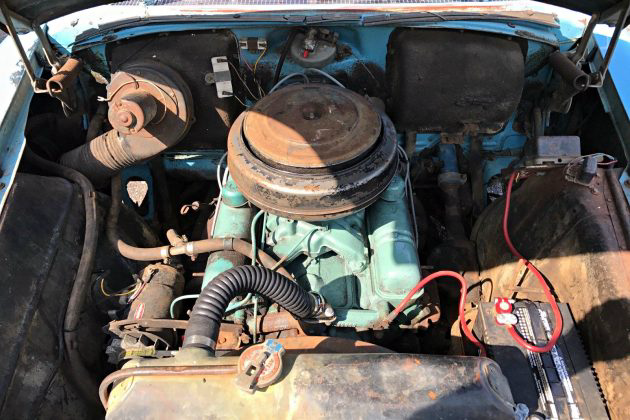 Appearing quite original and untouched the 322 nailhead V8 is relatively clean. There is surface rust present and some minor paint chipping in the engine compartment, but as a whole it's not too shabby. A little touch up work would really spruce up this engine bay giving an even "younger" appearance. The recent maintenance has converted this car from a derelict garage find, to an every day driver.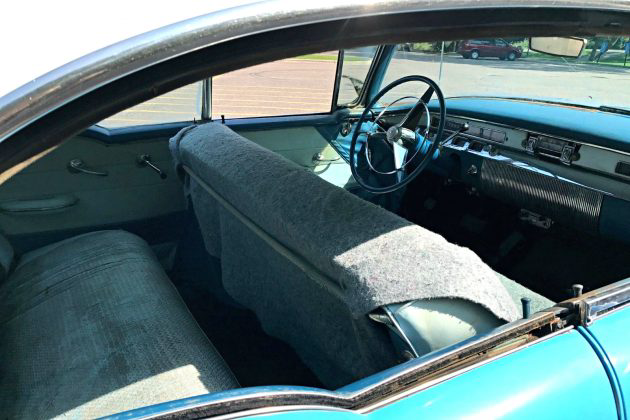 Fairly tidy, minus the seats, the interior of this Buick has aged rather well. The blues are still vibrant, but the seat upholstery is extremely weathered. The door panels have some minor waves and wrinkles that could probably be smoothed out with a little elbow grease, and some thin padding. Perhaps a miracle, the dash is not cracked, offering a great cockpits view of originality. Reupholster the seats and this interior will be of a nice survivor grade appearance.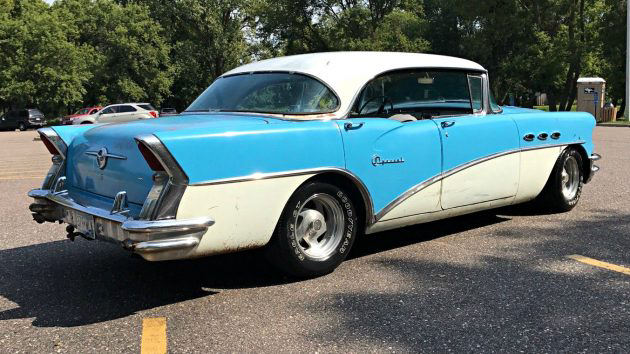 While I can appreciate and look past some of its minor imperfections, the wheels for me just simply won't do. I would prefer a classic or modern steel wheel, or even perhaps a matte finish type of "Torque Thrust" wheel on this classic. Although I suppose the current wheel are round and roll well enough, so to each their own. With a lovely curb appeal this Buick does have some minor imperfections that would certainly be missed from the 20 foot mark. Likely the most serious issue is the minor rust developing the bottoms of the quarters. Appearing solid with no rot through, it would seem this rust is more visual than structurally harmful. There is also some rust peppering on the driver side rocker as well as a subtle dent in the rocker as well. Perhaps it could be jack damage? Surface rust can be seen in the jamb area around the windshield as well. The only apparent rot is on the passenger corner of the rear bumper. Overall the bright work is shiny and decent, with minor peppering that could be polished up a little better than its current state. I would dare to say that about 95% of the paint is present, although there is a fair amount of wear on the trunk section. One not so great let down about this car is the glass. The windshield has some delaminated areas and some cloudiness. It would seem that both passenger side windows suffer from cloudiness as well, and on top of that the rear passenger window is cracked. All in all this is a nice survivor that could still use a little elbow grease to make it as nice as what it can be. Would you daily drive this low mileage Special?