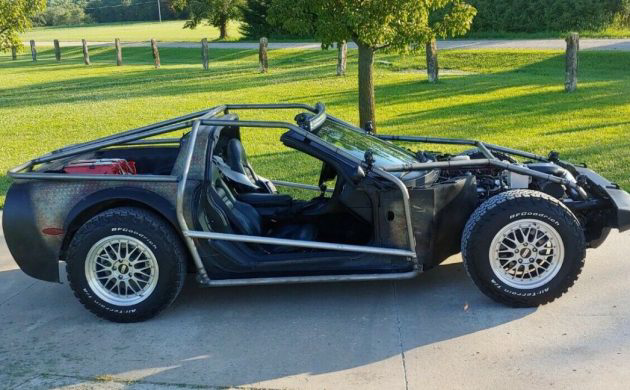 In the automotive world, trends tend to come and go quickly, but an emerging one at the moment is "Safari" customization, which involves adding a suspension lift, beefier tires, bumper bars, and other rugged accommodations to prepare unconventional vehicles for off-road adventures. With that being said, this 1998 Chevrolet Corvette that's available here on eBay takes safari styling to the next level with its wild list of modifications.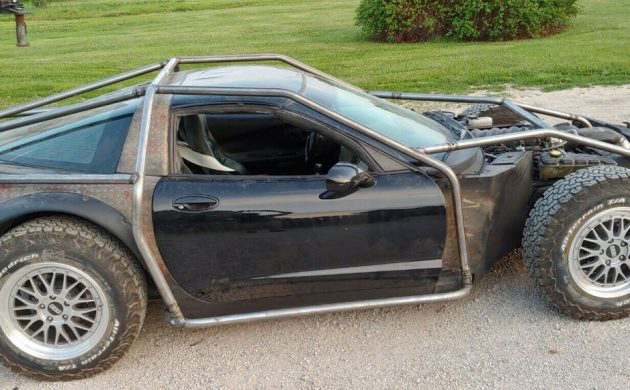 This 'Vette is available in Emporia, Kansas with a clean title. It sports Kansas plates, and the seller notes that the doors and rear hatch "can easily be installed for winter driving," meaning that you can legally drive this wicked ride on the streets.
A removable cage replaces most of the body panels on the sports car, the front bumper is from a 2018 Jeep model (presumably a Wrangler), and the front headlights are from a Polaris RZR off-road vehicle. This Corvette uses coilovers at all four corners and also BBS wheels with staggered sizing, the fronts use 265/65R/17 tires, and the rear use 265/65R/18s.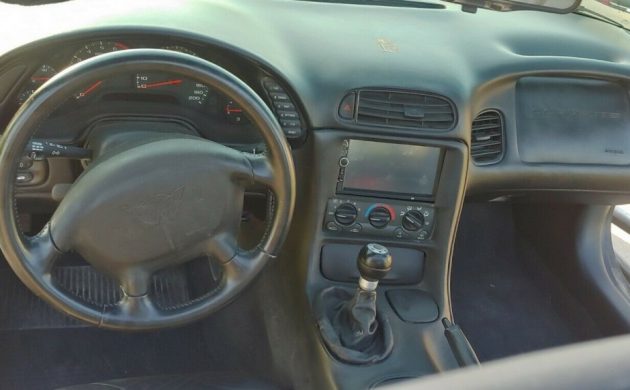 Inside the cabin, there are some modifications, such as a Brey-Krause harness bar, aftermarket seatbelts, and an aftermarket radio, but it is surprisingly clean and original for a vehicle of its nature! The rear trunk area features bedliner on the floor, as well as a battery box and some beefy fuel tanks.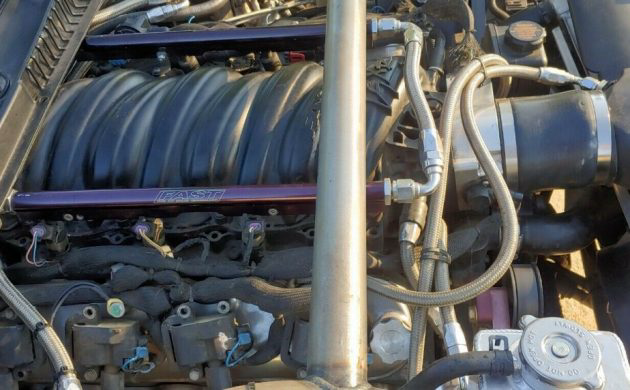 This example still uses the 5.7-liter V8 powerplant, but there are some changes to the engine, such as heads with improved flow, a bored and stroked block, new valves and rockers, an LSXR FAST intake, a 620/650 lift cam, and a high flow oil pump. The engine pairs to a TR060 transmission from a newer C6 Corvette, which employs a Stage 3 clutch and a beefed-up driveshaft to drive the rear wheels.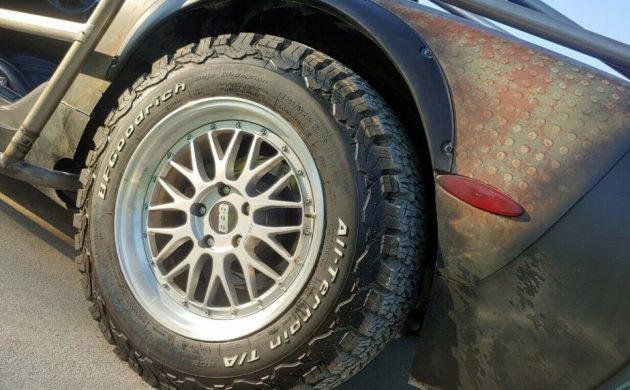 At the time of publication, bidding is at $6,200. Would you purchase this Mad Max-inspired sports car, or would you prefer a more conventional Corvette?