After deciding that my brother's 1979 El Camino was too rusty to save, my dad and brother set out to find a replacement car to build up as a hot rod. While perusing through local junkyards in upper Bucks County, Pennsylvania, they stumbled upon a 1980 Chevrolet Malibu station wagon. Though the car was clean and rust-free, it unfortunately did not have a title, so my dad and my brother decided to pass on the car; my brother ended up with a 1985 Camaro Sport Coupe with T-tops. Ever since then, I have kept an eye out for affordable G-body Malibu wagons online and on the side of the road. Though this 1980 Malibu Wagon is a bit out of my price range, the car features just 19,000 miles since new and is one of 60 built with the three-speed manual transmission. Find it here on craigslist in Langley, British Columbia, Canada, for $9,995 US.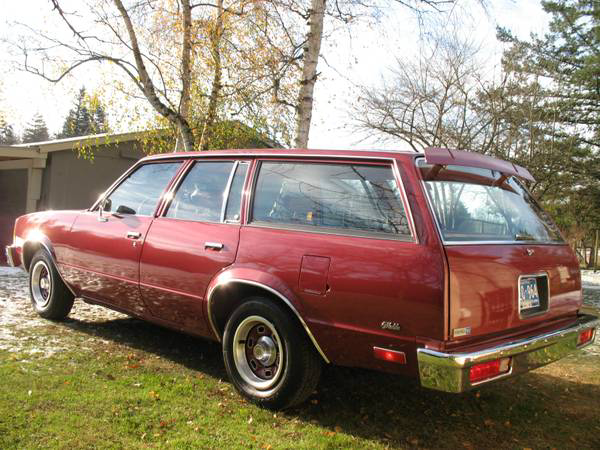 After a 13-year span of being a trim package for the Chevelle, the Malibu became its own model in 1978, replacing the Chevelle and featuring a fresh, boxy redesign. Now a G-body (the original Malibu was an A-body), the Malibu came in a coupe, a sedan, and a wagon, and featured a platform a foot shorter and a curb weight 500 to 1000 pounds less than the previous generation. The Malibu would be discontinued after 1983, due to the front-wheel drive Celebrity cannibalizing sales. This Malibu is a 1980 model, and comes in a four-door station wagon body style resplendent in a darker, almost blood-like red. Originally bought new in Victoria, British Columbia by an elderly woman, the car was purchased by the seller from her estate. The paint is said to be mostly original on the car, with the exception of a scrape that was "fixed very well", and shines like it is brand new, mostly due to the fact that the car was garage-kept. The original wheels and hubcaps were swapped for color-matched Rally wheels, but they are included with the sale of the car; I personally prefer the wheels currently on the car.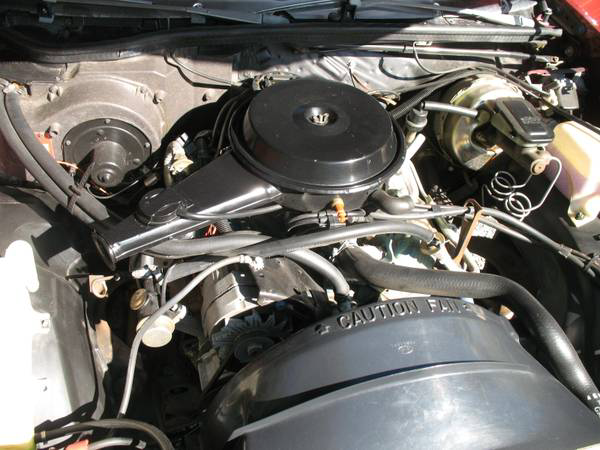 Tying in with the grandma specs, this Malibu wagon is powered by the base 200 cubic inch V6. Rated at 94 horsepower and 154 lb-ft of torque, the 200 V6 features a M2ME two barrel. Though this V6 is not much on power, since this car has low mileage, I would leave it for now. Though the seller does not mention the mechanical condition of the drivetrain, judging by the cleanliness of the engine bay, I would stab a guess and say the drivetrain is in tip-top shape. At some point down the road, I would consider swapping in a built 350 four bolt main small block and perhaps swap in a Tremec TKO 600, but as I mentioned before, I would leave the drivetrain as-is for now.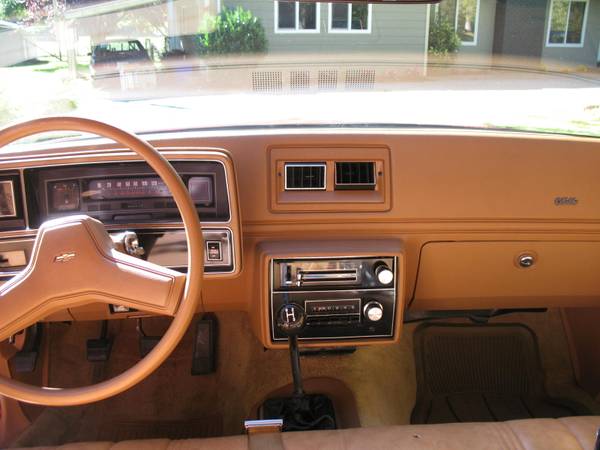 Am I the only one who got excited about the manual floor shift and the third pedal? That's right, folks: in the middle of this tan-beige interior is a floor-shift three speed manual. The shifter does look a little dated by 1980 standards, but it's definitely an interesting conversation piece, especially on a Malibu wagon. On the inside, everything looks to be in great shape, with minimal to no wear, which makes sense considering the car's low mileage. Manual steering is not ideal, but I dig the manual windows and the fact that this car has power brakes (I'm guessing disc brakes, but you never know). What are your thoughts on this clean, survivor low-spec Malibu station wagon?