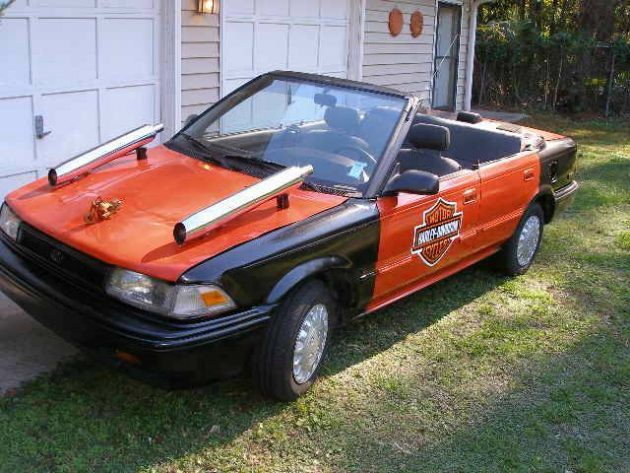 Here at Barn Finds, we pride ourselves in finding the rarest vehicles the market has to offer.  We feel that these important vehicles deserve a home in the garage of the most dedicated enthusiasts the hobby has to offer.  While much of the automobile industry's history is well known, every once in a while someone stumbles upon a rare prototype of some sort.  Studying one of these unique, unknown gems makes you contemplate the "what if…" scenarios that could have changed the face of motoring.  This time, I think we have set the bar a little higher in regards to rare discoveries.  Take a gander at this 1990 Toyota Corolla Harley Car found on craigslist in Brunswick, Georgia for the bargain price of $1,500.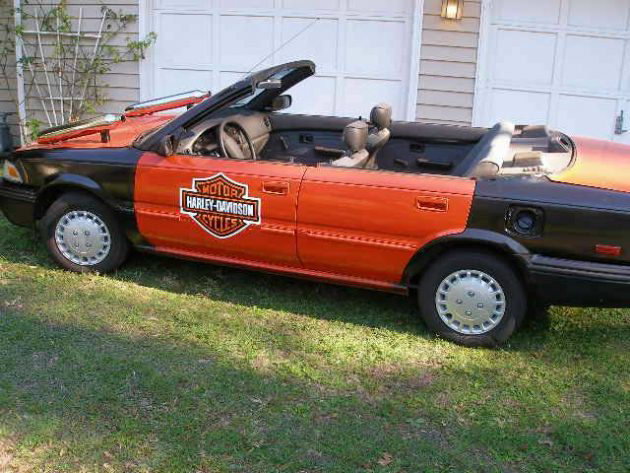 The last time I was in a Harley-Davidson dealership, I didn't see one of these.  It could be because all the good Harleys are always on back order.  Or, it could be that this is a rare prototype from the time Harley collaborated with Toyota in a joint venture project.  If it is a prototype, I can see the influences of both great companies in this rare car.  Of course, you would have the durable and reliable Corolla platform to start with.  Harley's part is obviously the wind in your face experience so common to Harley riders worldwide.  Unfortunately, the seller doesn't give us much information as to what is under the hood.  My guess is Harley's EVO engine, which was produced during that time frame.  These were good engines, but I wonder if the four wheeled body would help with the vibration issues that destroyed batteries on a regular basis in the two wheeled models of the time.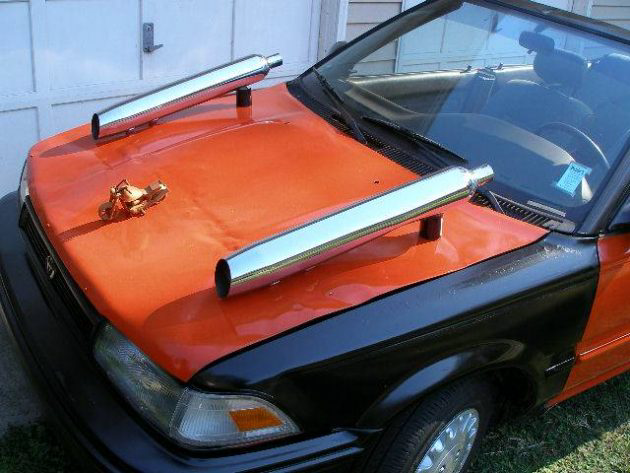 As stated previously, we have no information as to what lies under the hood.  I don't think that the mufflers on the hood are functional, as they are mounted backwards.  Perhaps this model has no sound abatement devices attached to it.  I have heard that loud pipes save lives.  The hood ornament is distinctive and ornate, but the hood has seen better days.  My guess is that it was damaged in some sort of crash testing.  I think I see a logo on the grille.  One can only speculate, but maybe it is like the Chrysler-Maserati logo, where the Maserati symbol is held hostage inside the Pentastar Chrysler logo.  Just imagine a Toyota circle logo with a Harley Davidson logo yearning to break free from its Japanese captor.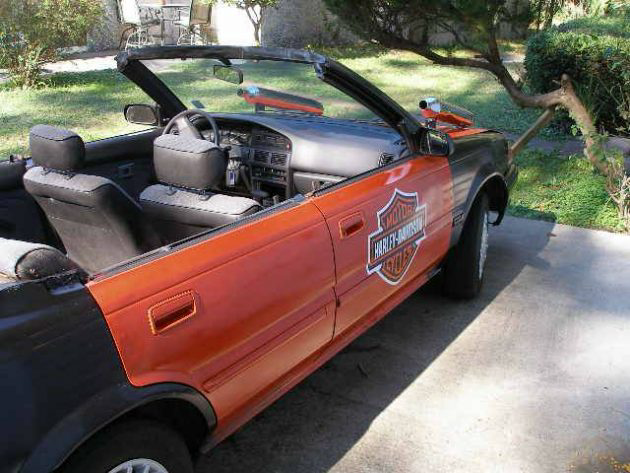 Perhaps this beautiful creation's most distinctive feature was its downfall.  The last successful four door convertible was made by Lincoln in the 1960s.  These types of open air more doors were very successful in the pre World War II era, but they never captured the imagination of the modern motorist.  Open four doors are rather labor intensive in regards to putting up the top.  The type of weather protection this collaboration would have used is not mentioned.   It could be a Phaeton with side curtains, or it could be a convertible sedan with roll up windows.  However, my bet is on these never having a top at all if they made it to production.  Harley riders are a tough lot, and the best of them ride in all manner of weather.  Why dilute the experience with an ungainly top?
The real problem with more door convertibles, however, is structural rigidity.  When you take away the top, it makes it a lot harder for vehicles to pass crash tests.  Factor into that that the Toyota Corolla is a unibody type vehicle, and everybody knows that vehicles of this construction require a lot of structural reinforcement when you remove the top.  Once again, the government kill joys probably insisted on crash testing these if they made it into production due to their four wheels.  Two wheeled vehicles are, however, not subject to crash testing.  If they could have made this concept work with two wheels, these pioneering partner companies could have changed the world.
The owner does tell us that this vehicle has 140,000 miles, and that it runs great.  For me, that just validates the idea that this could have been the best of both worlds: Toyota reliability and Harley adventure.   If produced, I am sure it would be a hit.  Just imagine the options that could have been offered, such as wire wheels, saddlebags, and those cool leather tassels.  People love the freedom that motorcycles offer, but they love taking their friends with them on their journeys.  It is sad to see that only one of these was built, but it does my heart good to see that the sole survivor of what could have been a game changing class of vehicles is still warming hearts and helping people get sun burns in beautiful coastal Georgia.
By the way, would you be mandated by law to wear a helmet when riding in this vehicle?
(Yes Virginia, this is satire.  Even though the car exists and is for sale, the above is not to be considered as an example of the author's automotive knowledge.)