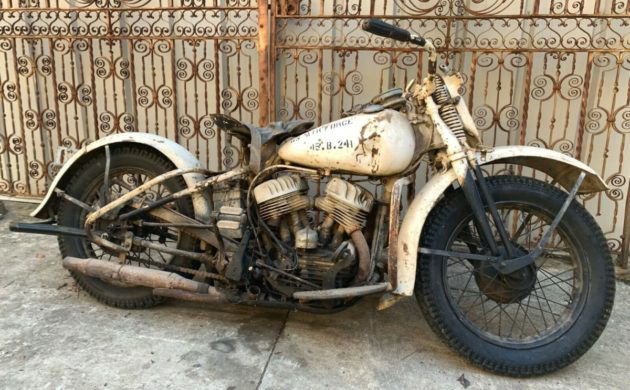 This 1942 Harley-Davidson WLA is a hard-to-find military-issue example, one of the flatheads built in support of the U.S.' efforts in World War II. The WLA is the American model while the WLC went to Canada, and Harley actually produced this wartime bike for multiple other Allied countries. Given how many went into civilian hands and were otherwise converted to street use after being sold off as surplus, finding one with its military decor still intact is truly a find. Check out this patina'd example here on eBay with one bid to $9,500 and no reserve.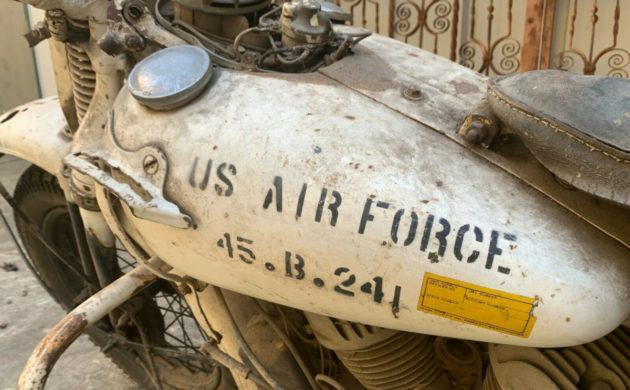 What makes the condition of this bike even more impressive is that it is one of those examples that was decommissioned and sold off as surplus, landing in civilian hands. Given the tendency – at the time – for such bikes to be made to look like regular street bikes, it's particularly impressive that its later owners didn't change the original look of the bike with its military identification. The seller points out that out of the many thousands of WLs earmarked for military use, relatively few were made for the Air Force, potentially making this example even rarer than most.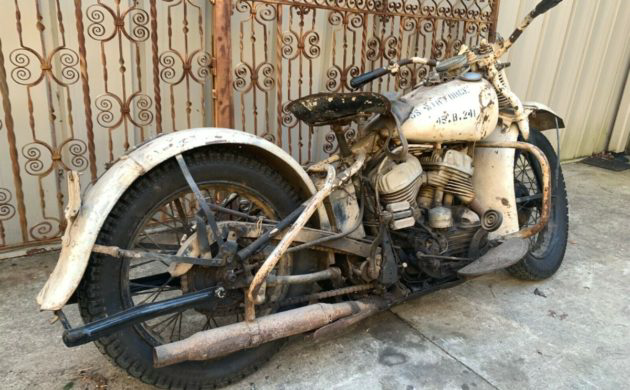 The flathead has been part of a museum exhibit up until recently, and is only for sale in order to create more room for future exhibitions. Despite its relatively complete appearance, some parts have gone missing and likely been missing for years. These parts include the carburetor, fuel line, exhaust header pipe, headlight, horn, and a few other items. The Harley does come with some rare parts still attached, including the military-grade ignition switch and speedometer, oil bath air cleaner, crash guards, and speedster-style handlebars. Despite the missing parts, the engine still turns over.
With the durable 45 CI flathead engine and three-speed transmission, this bike should come back to life without too many heavy lifting. Really, the main priority for the next owner will be to preserve that awesome military veneer and ensure the period-correct parts are sourced to put this one back to reliable, running condition. Vintage flatheads have been coming alive as of late, fetching strong bids and lots of action on eBay – and if the seller's claims that this is one of less than a handful known to exist, it's sure to find a home at the end of the auction.