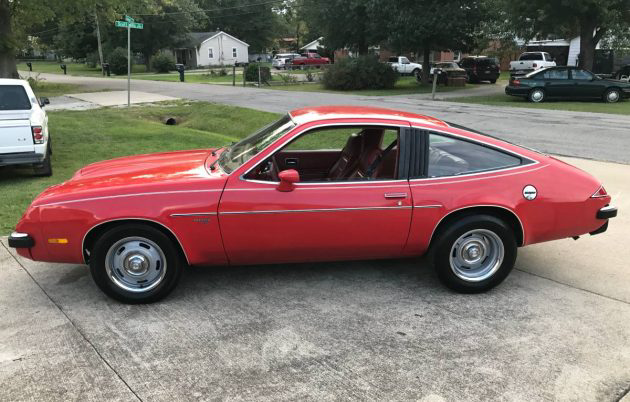 By sheer coincidence, reader and Barn Finder extraordinaire Rocco B. sent us this sharp, 42,000-mile 1977 Chevrolet Monza 2+2 as I had the July, 1972 issue of Road & Track sitting on my desk with the Ferrari 365 GTC/4 on the cover. Now, Bill Mitchell-era GM styling was never terribly shy about naming its influences—the '63 Riviera was said to have been inspired by custom-bodied Rolls-Royce, and the first Toronado paid homage to the Cord 810—but never was their aping quite as blatant as it was with the Ferrari-inspired Monza. Certainly R&T took note when it did a styling analysis of the Monza in January, 1975. All of this is good for you if you have Ferrari dreams but not quite Ferrari scratch. While a '72 365 GTC/4 just sold at Pebble Beach for $352,000, this Monza could be yours for just $5,000! It's even red—check it out on craigslist out of Fairdale, Kentucky (archived ad).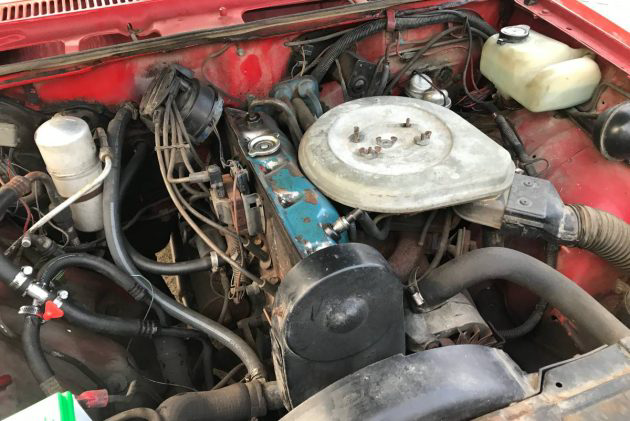 Not so Ferrari-esque is the powerplant, a 2.3-liter inline four shared with the Monza's platform-mate, the Vega, good for 84 horsepower and hooked up to a three speed automatic. No wonder the speedometer only goes to 80, not even as high as the government-mandated 85 of a couple of years later! Although the Wankel twin-rotor engine planned for the Monza never materialized, several V8s were optional, up to Chevy's 350, so swap options—who knows, maybe a Ferrari V12 would even fit!—are many if you're not a stickler for originality. If you are, the car is said be ready to drive as-is, too.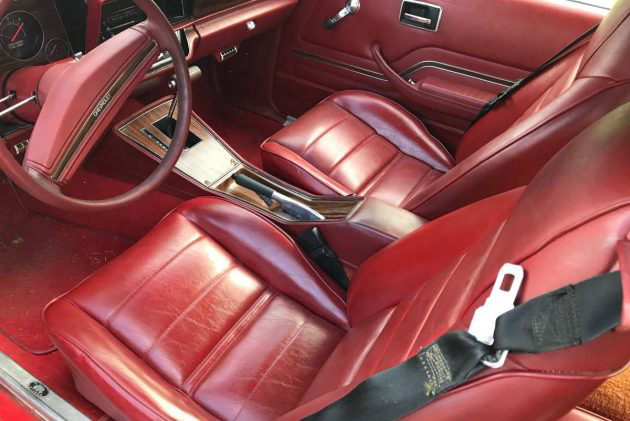 The all-vinyl interior looks very original, very clean, and very, very red. Something about red carpet just drives the point home. It looks like there might be a little discoloration of the carpet on the transmission tunnel between the rear seats—or it could just be overexposure in the photo—but the fully carpeted cargo area has suffered no such fate, despite lousy fit, some warping of the plastics back there, and likely fairly indifferent initial build quality.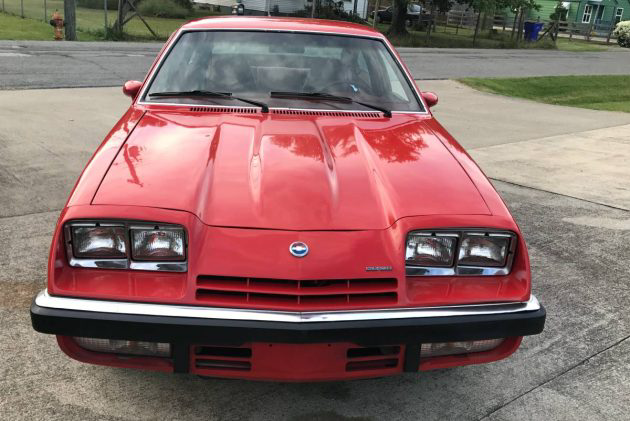 An early adopter of rectangular sealed-beams, the Monza's frontal aspect is its greatest departure from its Pininfarina inspiration. In the case of this car, the front end shows off the very nice paint especially well. The seller doesn't use the phrase "rust-free," so no promises there, but the body is described as "good" and the underside as "solid." I think the Monza has a more convincing case as a cut-rate Ferrari than the contemporary Ford Granada had as a Mercedes knockoff, so for $5,000 this strikes me as a pretty sweet little ride.