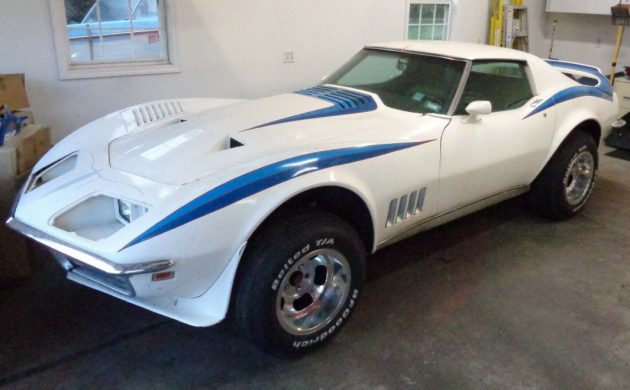 When it came to custom Corvettes in the seventies, you had two options: all show or all go. Usually, it was all show. The independent rear Corvette wasn't the straight line racer's first choice. The custom car craze was in full effect though, and the Corvette's fiberglass body made changes easy compared to working with steel. Body kits from companies such as Eckler's changed ordinary Corvettes from mild to wild. One company, Baldwin Motion, managed to offer both custom designs and lots of horsepower. Famous for both their professionally built cars and the parts they offered to individuals, Baldwin cars are highly collectible. However, is this 1968 Corvette being sold here on eBay in Macedon, New York a real deal Baldwin car or a collection of Baldwin parts?  With bidding at just $1,975, is the market answering that question for us?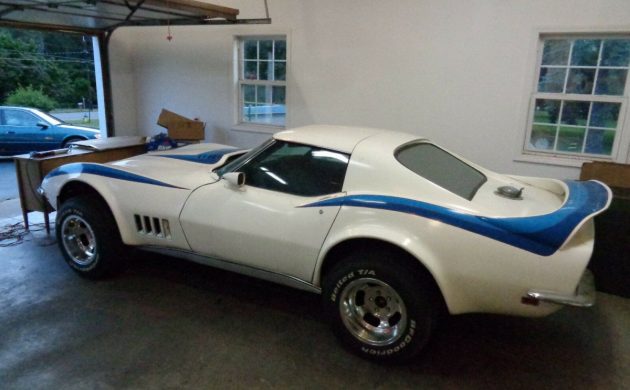 The story of Baldwin Motion and their cars is complicated, and the cars can be divided up into various categories of authenticity. For the purposes of this story, we can boil things down to the simple fact that cars produced by Baldwin Motion that were sold with factory window stickers at Baldwin Chevrolet are obviously the most valuable. Cars that were brought in by customers to Baldwin Motion's shop were next down on the ladder. Finally, cars built by customers with Baldwin parts and tribute cars finish out the bottom rungs.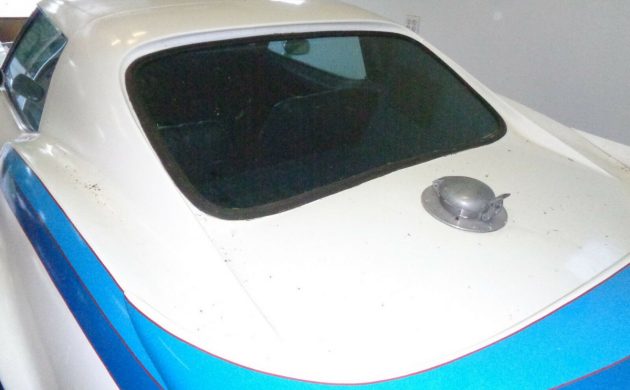 According to the seller, this is a car he believes that was converted by the first owner using Baldwin parts. However, the car was sold at a Chevrolet dealer 11 miles from the Baldwin Motion "factory," so it might be a factory car. Maybe. The car is described to be outfitted to Baldwin Phase III standards. These include the unique slanted back glass, a LeMans gas cap, fender flares, and Motion Phase III headlights. These were later modified with Eckler bucket headlights. Other Eckler parts include a Greenwood hood, top fender vents, and an Eckler's rear spoiler. Eckler's, for those of you who are not familiar, was the most famous Corvette parts house and body kit maker of the seventies and eighties. Many of the custom Corvettes you see on this site from time to time wear Eckler's fiberglass body kits.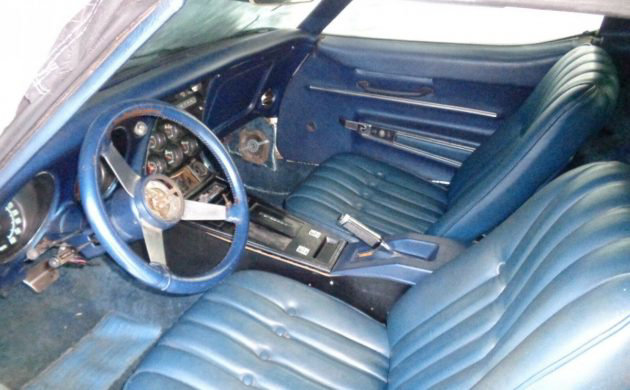 The interior is said to need carpeting and door panels. The steering column is also incorrect for a 1968 car. As for the seats, these are not representative of Corvette seats for that year. They must have been custom upholstered by some guy who really likes Oldsmobiles. At least they look soft and comfy!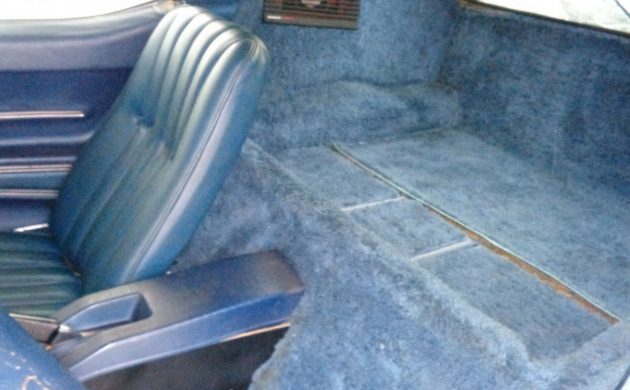 A look in the rear shows the vast improvement in space that one of these Baldwin Motion back glass setups offers. The area more closely resembles that of a 1963-67 Corvette than any of the cramped Mako Shark cars until they offered the sugar scoop back glass. While it is hard to improve on the spectacular lines of early C3 cars, this modification is certainly not a detriment. The goofy eighties era speaker cover would have to go through.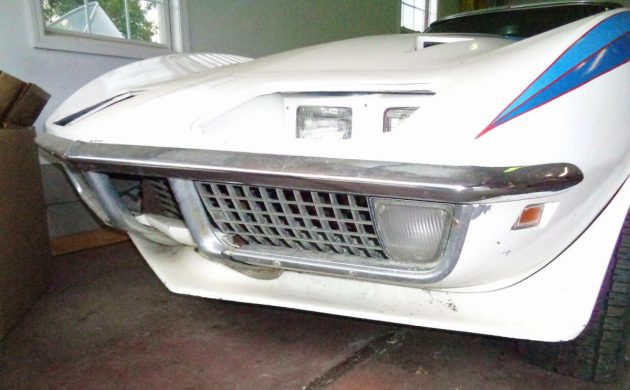 Sorry, there are no pictures of the engine. There isn't one. We don't even have a picture of the engine plate that rests on the center console of these cars. We do have a lot of pictures of the frame and underbody assemblies of this car. All of them show a car that has had very little time on bad roads. Overall, the underside is in much better than average condition for a New York car. The biggest clue of all is that the slight indecision in the description is backed up by the seller's claim to have restored two Baldwin Motion Corvettes previously. These services are also available to the purchaser if they so choose.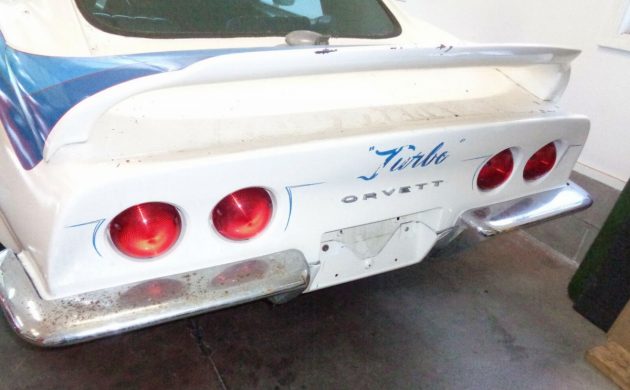 I guess the best way to approach this one is that it is a very good starting point for a seventies style custom Corvette with period parts.  Detroit Speed and Van Steel Corvettes currently offer some wicked new suspension kits for C3 Corvetttes that are tearing up autocross circuits.  Paired with a built up LS engine and finished out with a more modern interior, this could make for a very sweet ride. What would you do with this custom Corvette?