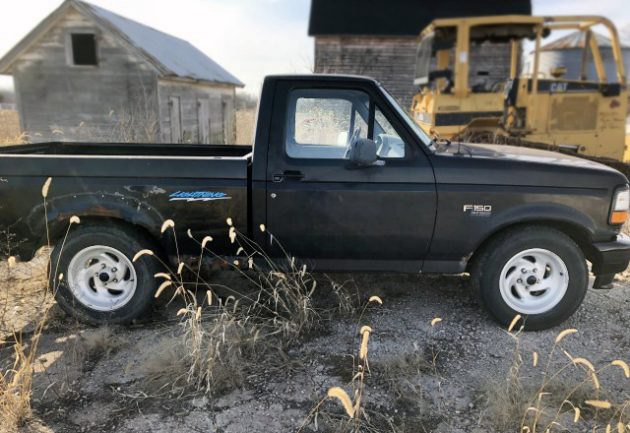 These photos are among the most disappointing that I have ever seen in a listing that has a main goal of selling a vehicle. That doesn't mean that the vehicle depicted by those photos is disappointing, quite the opposite. This ancestral being is a 1994 Ford F-150 SVT Lightning. I know, pretty cool! It's listed on Cars.com in Elmwood, Illinois with an asking price of $3,000. Is that a repair or a flare over the RR wheel?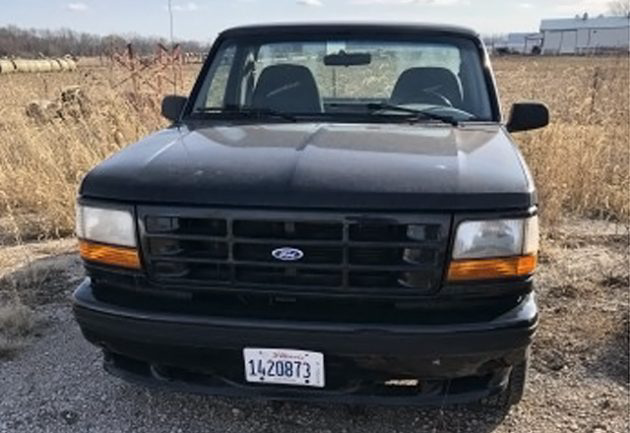 This is the generation of Ford Lightning that I personally would want. This isn't the fastest Ford Lightning or probably even the nicest or the best handling, but the 1993 through 1995 Lightning is the one that started it all for Ford. The Special Vehicle Team (SVT) at Ford had what seems like it would have been a fun job, to come up with high-performance vehicles based on current Ford models. As FoMoCo said about the Lightning, "For all intents, the F-150 Lightning is a Mustang GT with a cargo bed." Cool.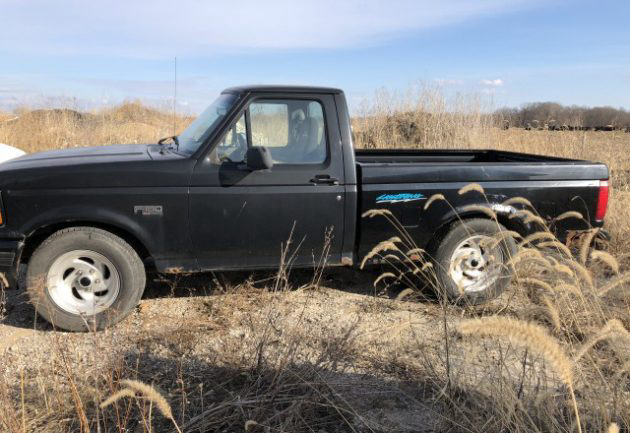 I know, the two side photos are both cut off, not to mention being hidden by prairie grass of some sort. The dull cab and shiny box combo is unusual, I'm not sure what's going on there? And you can see some rust in the typical cab corner areas. At least it looks complete, the wheels would be one thing that I assume go missing on these trucks, especially ones that are sitting in a field somewhere in Illinois. There were only 1,382 black Lightnings made in 1994, along with 1,460 white versions and the rarest of the bunch are the red trucks, of which only 1,165 were made. From the seller's description: "Rustic 1994 ford pickup with 78,000 original miles." NADA lists the average retail value of $5,200 and a high retail of $7,675. There isn't much room for restoration here, unfortunately. A nice paint job will bring it dangerously close to that high number without doing any bodywork first.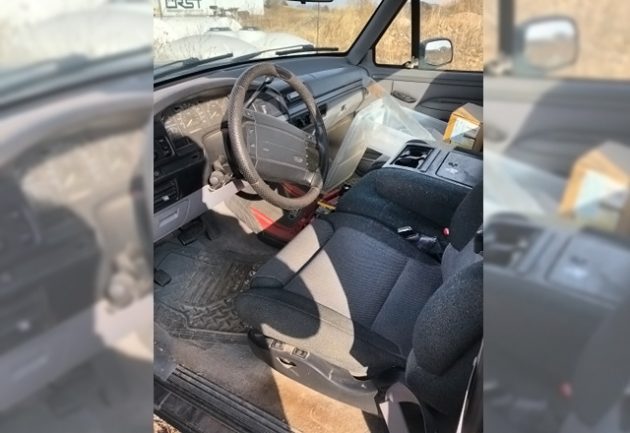 This is the only interior photo and it was in a vertical format, hence the odd layout here. It's hard to tell too much other than it appears to be somewhat of a storage unit inside. The driver's seat looks like it's in great condition and I would assume that the passenger seat is just as nice. With 78,000 miles it shouldn't be worn out yet. These '93-'95 trucks all had four-speed automatic transmissions from the factory. The seller says that it has a "New AC unit, and new CD player." Unfortunately, there are no engine photos showing THE MAIN SELLING POINT OF THESE TRUCKS! I'm not bitter, maybe they couldn't get the hood open. I'm sure the seller would send you a photo if you were genuinely interested in this truck. The engine should be a high-output 351 cubic-inch V8 with 240 hp and 340 lb-ft of torque. That doesn't sound like a lot of power today but in the early-mid-90s it was pretty nice and it was good for a 0-60 time of 7.2 seconds. Are there any current or former owners of a Ford Lightning out there? Can this truck be saved without breaking the bank?
Have something to sell? List it here on Barn Finds!