UPDATE 4/3/21 – This Mustang has been relisted here on eBay because of a non-paying bidder. It's listed with no reserve and is getting a lot of action. How high will it go this time around?
FROM 3/20/21 – This 1965 Mustang is one of those cars that you could restore while you drive it. It's in good running condition and looks fine from a distance, but Father Time and Mother Nature haver exerted their influences after more than 55 years. Some of the work has already been done and it may not take a lot to finish the job. Located in Minnie, Kentucky, this pony car is available here on eBay for $14,100, with the reserve having already been met.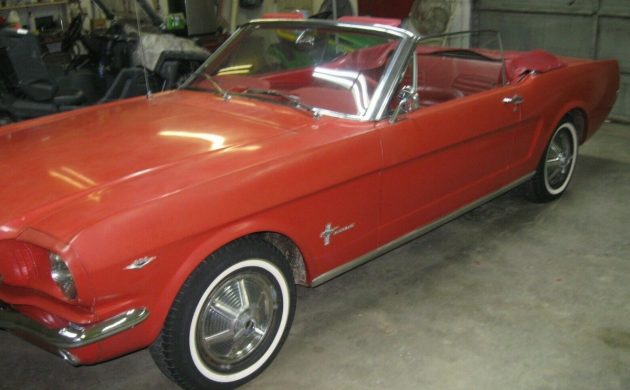 After a successful mid-year introduction in 1964, Mustang sales shot through the roof during the car's first full year of production. Nearly 560,000 units rolled out of Ford's plants for 1965, keeping everyone busy on overtime. Of that number, more than 65,000 were "standard" convertibles and a similar number across all body styles were painted Rangoon Red. A little creative math suggests that maybe 7,000 Rangoon Red convertibles could have been built.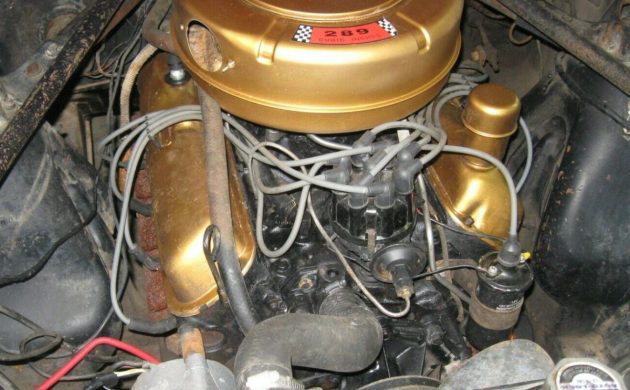 The seller purchased this car off a friend who had fallen on difficult times. He had begun working on the Ford which is said to have been in storage for 25-30 years prior. It's a rather common 'Stang in that it has a 289 cubic inch V8 with a 3-speed manual transmission. We're told it runs well and makes no sounds except the ones that it should. Some of the mechanical handiwork of the friend included a new gas tank and fuel sending unit, fuel pump, alternator, pan gaskets, battery and a rebuilt carburetor. The tires have about half their tread life left, but they look like older rubber so a check of the date codes would be in order.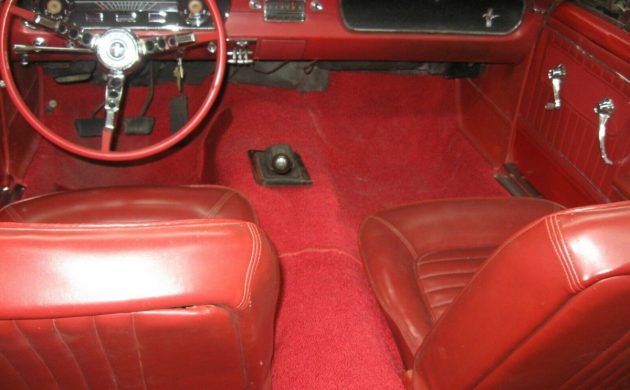 Inside the car, the interior presents well. Other than rib wear on the driver's side bucket seat back, it looks good and very red! The friend did some work in there, too, like new carpeting, a dash pad, sun visors, door panels, door scuff plates and a new bezel for the instrument cluster. While the exterior of the car was treated to new bumpers front and rear, there is a small dent in the passenger side door along with a couple of little rust spots. Also, there is a little bend and rust in the driver's side torque box. Otherwise, the body may be good.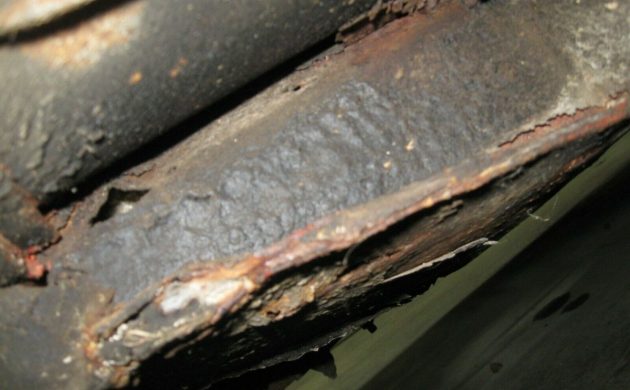 As we mentioned, you could drive this car for a while without worrying much about stuff. And take care of new paint and a convertible top later. The latter isn't torn or anything, just old, and opens and closes as it should (power operated). In its present condition, the current bidding is on the low end of the resale value of a '65 Mustang convertible. But once all the work is completed, this number could easily double or even triple, so this looks like a car with profit potential, if that's part of your selection criteria.