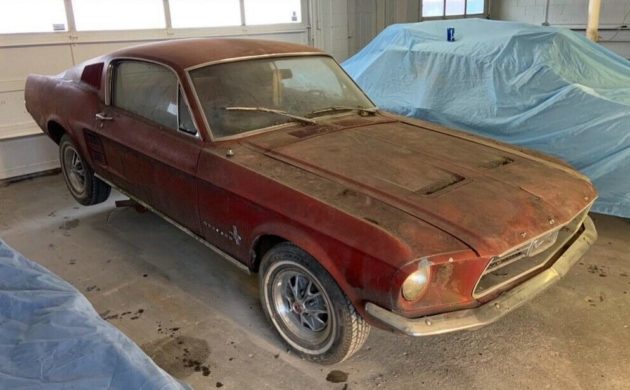 Update 2/4/20 – Well, it looks like there was actually a reserve on this one. The seller just didn't tell anyone. After getting bid up to $22,500, this Mustang has reappeared here on eBay with bin price of $24,000. Hmm…
From 1/24/20 – There are plenty of people who will argue that the Fastback was the best looking of the 1st Generation Mustangs, and when you look at this 1967 model, it is easy to see why they make this claim. Even though it exhibits all of the signs of a Mustang with many of the typical rust problems of the era, it still looks very attractive. It deserves to have someone who is willing to return it to its former glory, and it would seem that there are plenty of people who are willing to put up their hand and to take this one on. Located in Des Moines, Iowa, you will find the Mustang listed for sale here on eBay. It would be fair to say that bidding on the Mustang has been pretty lively, with a total of 45 bids pushing the price along to $22,500. At that price, the reserve has been met. In addition, there also 173 people who are currently watching the listing.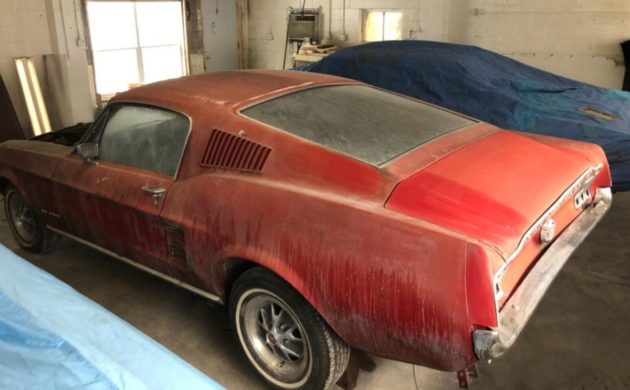 At first glance, the Candy Apple Red Mustang doesn't look too bad, but when we start to examine it closely, it becomes apparent that it is suffering from many of the typical rust issues that could plague these classics. There is rust visible in the lower rear quarter panels, the rockers, lower corners of the doors, and lower fenders. Having said that, none of this looks to be particularly bad, and I believe that the majority of those issues could be addressed with patches, rather than the wholesale replacement of panels. It is a bit hard to see the state of the floors, but there is definitely rust present there. At a minimum, there is some significant rust in the front floors, and I feel that this will be beyond simple patching. Given the fact that this is in the area where the floors join the rockers, there's probably a pretty decent chance that this will have impacted the torque boxes as well. In fact, if you look around certain aspects of the car, there is evidence that it has spent some time in a pretty damp environment because some of the surface corrosion that is present is actually quite heavy. It also looks like there might be some rust visible in the rear frame rails, so this is a car that will almost certainly need some pretty decent levels of metalwork underneath. All of the external trim and chrome appears to be present, and it, along with the glass, looks to be in pretty reasonable condition.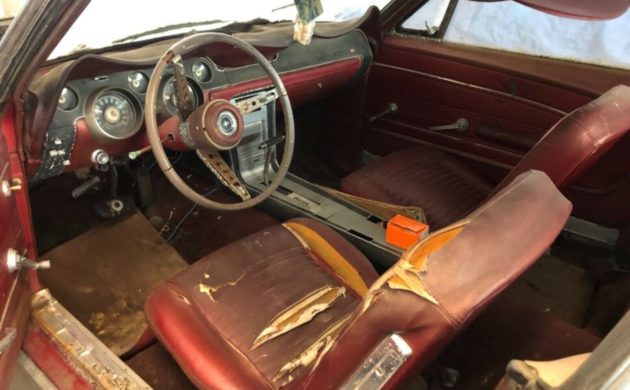 The Red interior of the Mustang is essentially complete, but it will also require full restoration. The fold-down rear seat doesn't look that bad, but a full interior trim kit will be required if this Mustang is going to look presentable once again. One plus is that the owner does state that a new red dash is included in the sale. The original radio has been replaced by a radio/cassette player, but otherwise, the interior does look to be original. My greatest concern revolves around the high level of corrosion on the steering wheel spokes. That is one of the indicators that I was referring to when I talked about signs of a damp environment. That level of corrosion must raise some questions about the state of items such as electrical connectors and other components under the dash. The only way to be sure that all is well will be to essentially remove the entire wiring harness and check every single connector and relay. It is going to be a time-consuming task, but finding and fixing any faults at that point would be a lot better than trying to trace an irritating fault that develops further down the track.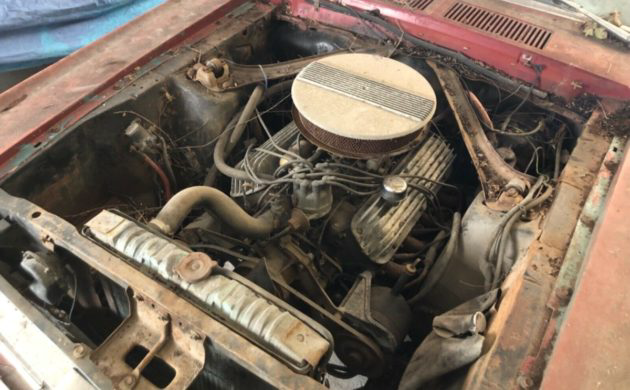 While it might not have been the most potent vehicle on the block, this Mustang does offer a potentially nice mechanical combination to its next owner. Nestled between the shock towers is a C-Code 289ci V8, while the car also features a 3-speed automatic transmission, power steering, and power brakes. The Mustang doesn't run, and judging by the text in the description, it hasn't run for quite some time. The owner states that he has made no attempt to coax the vehicle back to life, but he also doesn't indicate whether the engine even turns freely. One thing that I will say is that I'm not sure just how standard the engine is because apart from the obvious dress-up items that it wears, I can also spot a set of aftermarket headers, while the exhausts are side-exit, rather than finding their way to the back of the vehicle. That is something that would certainly be worth investigating further, and that sort of information could be invaluable before any attempts are made to kick the little V8 back into life.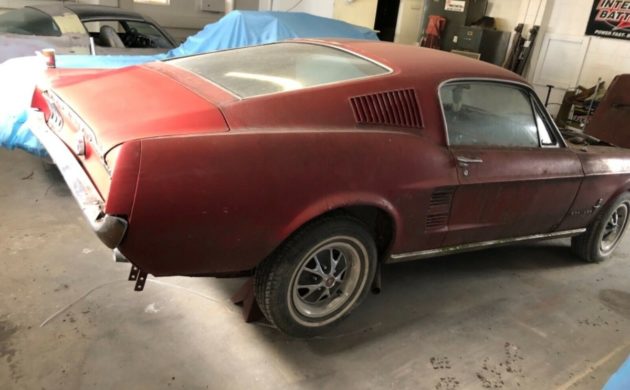 This Mustang Fastback is not the most solid project car that we've seen here at Barn Finds, but it also a long way from being the rustiest. It is a car that has generated plenty of interest since being listed for sale, as evidenced by the solid bidding up to this point. With that in mind, I would be interested in knowing whether we have any readers who are willing to join the bidding war.